No detail is too small and no task too big for research administrative officer Mustafa Nateqi
Nateqi's can-do attitude and dedication earn him a Credo Award.
October 7, 2021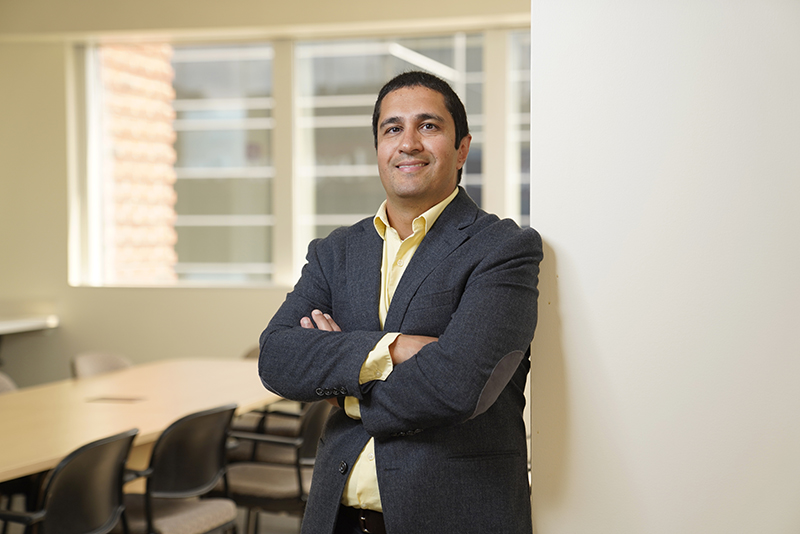 Photo by Donn Jones
Mustafa Nateqi's vocabulary doesn't include the phrases "I can't" and "I don't know." His motivation and fortitude stem from growing up with parents who instilled in him to be a hard worker, driven and a quick learner. He'll find a way to get a job done or get the answer needed.
"From a young age, my parents continually enforced in me to work hard in both school and in my work career in order to become successful and maintain a comfortable life for myself and for my future family," Nateqi said.
As a research administrative officer, he employs those skills to simultaneously juggle finance, operations and human resource management for the Division of Pediatric Hematology/Oncology and for the Vanderbilt/Meharry Center of Excellence in Sickle Cell Disease.
He is entrusted with helping secure and manage multimillion-dollar research grants for pediatric hematology and oncology as well as sickle cell disease while also carrying out special projects and multi-year expenditure plans, among other duties.
For his work and perseverance, he was named a Credo Award winner during the August 2021 virtual Leadership Assembly.
"Mustafa goes above and beyond every day in his role as administrative research officer. He is the best research administrator I have ever worked with in more than 25 years of conducting research," said award nominator Debra Friedman, MD, professor of Pediatrics, director of the Division of Pediatric Hematology/Oncology and E. Bronson Ingram Chair in Pediatric Cardiology. "He's got incredible humility…He never complains, he never says no, and most importantly, he takes such ownership of the work that he does. And to me, that exemplifies what Credo is. I would not be able to do the work I do every day if I didn't have him next to me, helping me with the finances, and the grants and the administration."
Nateqi came to Vanderbilt in 2008 to work as an accountant for the federal grants team in Finance. A few years later, he moved up to a senior accountant position for Vanderbilt Health Services. In 2011, he took on his current role as research administrative officer, in which he has been working with Friedman and Michael DeBaun, MD, MPH, professor of Pediatrics and Medicine, Vice Chair for Clinical Research in Pediatrics and the J.C. Peterson MD Professor of Pediatric Pulmonology.
"He maintains the fiduciary responsibility of ensuring that our grants are compliant with federal regulations and Vanderbilt regulations, and Mustafa has been immaculate in his approach. No financial detail is too small, and no task is too big. When submitting NIH grants, he is always organized and thoroughly prepared," DeBaun said.
Nateqi says his goal is to make those he serves his highest priority.
"I feel truly honored and am appreciative to have been awarded the Credo Award," Nateqi said. "It means a great deal to me to know that Drs. Friedman and DeBaun, with whom I have worked for the past 10 years, nominated me for such a prestigious award."
Nateqi earned a Bachelor of Business Administration in accounting and a Master of Business Administration in Finance from Middle Tennessee State University. While finishing his degree, he worked as an accountant for the retirement community McKendree Village Inc, before joining Vanderbilt.
If you are a VUMC employee, you can nominate a colleague for an Elevate Credo Award, Five Pillar Leader Award, or Team Award. Visit the Elevate website to fill out a nomination form. Employees demonstrate credo behaviors when: they make those they serve the highest priority; respect privacy and confidentiality; communicate effectively; conduct themselves professionally; have a sense of ownership; and are committed to their colleagues. Elevate award nominations are accepted year-round. If a nomination is received after the cut off for an award selection period, the nomination will be considered for the next period. VUMC Voice will post stories on each of the award winners in the weeks following their announcement.