It was a normal workday at Kroger. Then Charles Fisher almost died.
After his collapse, a team formed to save his life: coworkers and bystanders who knew CPR; first responders who used a defibrillator; and doctors and nurses at Vanderbilt
January 3, 2019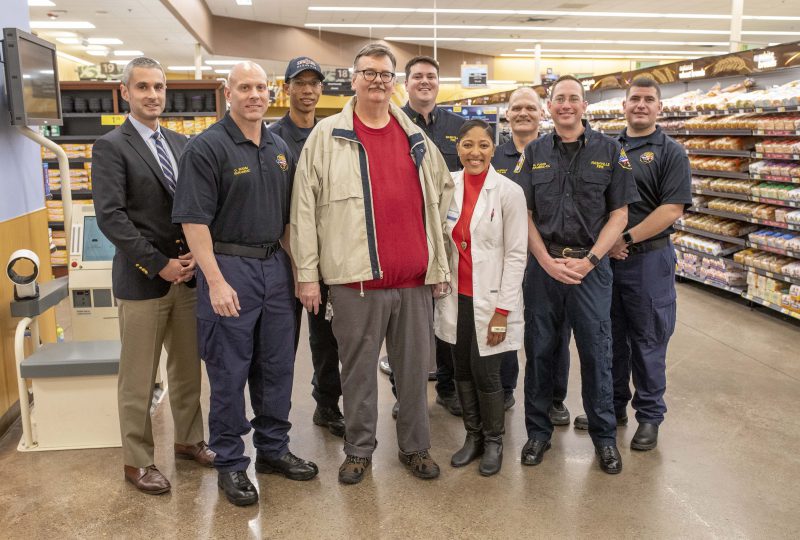 Charles Fisher, center, surrounded by his lifesavers, including Kroger Pharmacist Shaneika Walker, who is credited with saving his life, along with Dan Munoz, MD, left, and Nashville Fire paramedics Don Boehm, Ramone Bolling, Taylor Hudson, Jimbo Murray, Matthew Fuson and Blake Goddard. (Photo by John Russell/Vanderbilt University)
Charles Fisher began 2019 with an extra bit of appreciation for life.
About a month earlier, he was minutes away from death.
It was 11:50 a.m. on Nov. 28, and Fisher, a 44-year Kroger employee collapsed to the floor near the entrance of his longtime store. There, next to the greeting cards, magazine rack and beer display, a battle would be waged to save his life.
Today he is alert and talking, thanks to a fast-thinking Kroger pharmacy manager and two bystanders who immediately initiated CPR, a rapid response from Nashville Fire Department personnel who quickly defibrillated him, and medical care in the Cardiovascular Intensive Care Unit (CVICU) at VUMC.
"Two strangers and a co-worker gave Mr. Fisher a chance at life. And superb care by Nashville Fire, by our Emergency Department, and by the CVICU team helped ensure the great outcome."
As a result, Fisher did not suffer brain damage, said Daniel Muñoz, MD, MPA, assistant professor of Medicine and medical director of the CVICU.
"Mr. Fisher is a living, breathing example of the massive difference our fellow citizens can make when they step in to perform CPR," Muñoz said. "Two strangers and a co-worker gave Mr. Fisher a chance at life. And superb care by Nashville Fire, by our Emergency Department, and by the CVICU team helped ensure the great outcome."
From his hospital bed a few days after the incident, Fisher had a simple message for all the people who worked in concert to save his life: "Thank you," he said. "That's the only thing you can say."
Shaneika Walker, the pharmacy manager at the Melrose Kroger, 2615 Franklin Pike, was certified in CPR, a requirement for dispensing vaccines. She said she never had to perform CPR in a real-life situation until she rushed to Fisher's side shortly after he collapsed. She checked for a pulse and found none.
"He was starting to turn purple," she said. "I pushed him over and started chest compressions."
 Fisher was suffering from ventricular fibrillation, a life-threatening condition in which the heart quivers instead of pumping. It leads to cardiac arrest, and if not immediately treated, it is fatal.
Besides Walker's quick work, two bystanders offered help. One, a CPR-certified nurse, began respirations. Another came to relieve Walker from doing chest compressions, which are a physically-demanding endeavor, doing about two more rounds. Walker resumed the chest compressions from there, and soon first responders from Nashville Fire Department entered the store.
"I give credit to God because I wasn't nervous," Walker said. "Not one time did I think he's not going to make it."
At 11:57, seven minutes after the initial 911 call, Nashville Fire responders joined the scene. Responders quickly defibrillated Fisher to return his heart to a normal rhythm. "I know we administered four shocks," said Nashville Fire Paramedic Matthew Fuson.
By 12:13, Fisher was on his way to VUMC, arriving at 12:21.
Once at the CVICU, Fisher was given targeted temperature management, also known as therapeutic hypothermia. The treatment lowers the body's natural temperature to between 89 and 93 degrees Fahrenheit to preserve brain function after cardiac arrest. After 24 hours, he was warmed to his normal temperature.
Fisher doesn't remember much about the whole experience. He recalls going to work on Nov. 28 at the usual time, 4 a.m. As the store's scan coordinator, he is responsible for ensuring the merchandise throughout the store has the correct price tags. The next thing he remembers is waking up two days later in his hospital room.
Fuson, who is also a supervisor with Vanderbilt LifeFlight Event Medicine, described it as a flawless response.
"He had everything in his favor," he said. "He had early CPR and early defibrillation" from the responding crew. Without that, "He would have been dead when we got there."
Fuson said he could count on one hand the number of times he's responded to circumstances similar to Fisher's in his 13 years on the job — and the patient had survived as intact as Fisher. He said it's rare for a bystander to perform CPR before medics arrive.
"I arrive on scene a lot and nobody is doing anything," he said. "They're scared. They're scared that they're going to hurt the person. But it's the only chance that they have. If you don't perform CPR, then there's no chance to live.
"The staff that was there at Kroger… they are definitely his guardian angels. They're the ones who were there, knew what to do and did the right thing."
Fuson said Fisher's case underscores the need for everyone to become certified in CPR. "It's critical," he said.
"I appreciate it," Fisher said of everyone involved in his medical care. "They did a good job."