Office of Outpatient Referral Assistance wins Elevate Team Award
"They always go above and beyond to help me with getting approval or redirecting patients. No matter how busy they are, they are willing to stop and help me."
January 22, 2020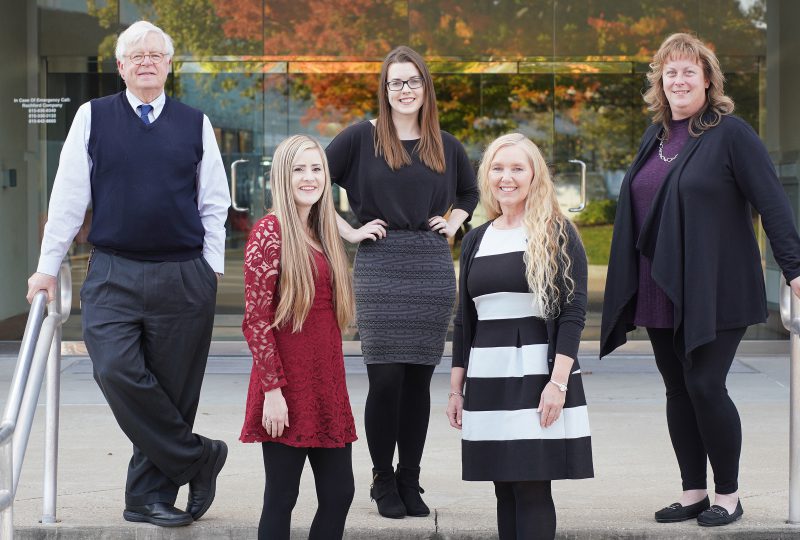 Photo by Joe Howell
The Office of Outpatient Referral Assistance (OORA) was started in 2011 to assist physicians and practices in providing appropriate access to outpatient care for uninsured and under-insured patients with either Vanderbilt Medical Group follow-up care or scheduling help with non-Vanderbilt resources.
The three-person team collaborates with nearly every Vanderbilt Health clinic and does it so well that colleagues across campus nominated them for the Elevate Team Award, which recognizes efforts by two or more people to improve a process, solve a problem or advance organizational culture at Vanderbilt University Medical Center. OORA is staffed by manager Susan Roy, LMSW, MMHC, Kelsey Garner, LCSW, and Olivia Sells, RN, and the three were recognized at the most recent Leadership Assembly.
"They always go above and beyond to help me with getting approval or redirecting patients. No matter how busy they are, they are willing to stop and help me. This team works so hard and deserve much recognition for the work that they do," said Danna Hammers, RN, GI Endoscopy Lab, in her nomination letter.
Angela McHone, senior patient service specialist at the Vanderbilt Eye Institute, echoed that sentiment. "They are always available to answer our questions by phone, email, or in person," she wrote. "They never complain about any question and are always patient focused in every aspect. They are dedicated to our patients and consider their needs utmost. Everything this team does has an impact on the Service Pillar and most importantly on the Patient Experience. They either assist with getting a patient seen that needs to be treated or they help with redirecting patients to in-network care that will be a better fit for the patient and makes better use of Vanderbilt's services."
Recently, a very ill patient was referred to VUMC for a second-opinion consult by an outside facility. OORA arranged the patient's consult and communicated the results to the outside facility, which then stated the patient was going to receive the recommended treatment at a third facility. When OORA learned that the patient never connected with the third facility, the team became the patient's advocate, obtained approval for the patient to receive treatment at VUMC, and then connected the patient to the Vanderbilt Health providers within days.
OORA's follow-up and swift action prevented the patient from falling through the cracks of the health care system, and the patient was able to start life-prolonging and life-enhancing treatment.
OORA has seen steady growth of patient and guidance referrals by Vanderbilt Health providers, increasing from 403 in 2012, to more than 10,000 per year, presently.
"We are very honored to receive the award and accept it on behalf of our leadership, Dr. Rob Hood and Dr. Paul Sternberg, as well as Drea Gaffney and Grace Upleger in Patient Financial Services. We thank all the Vanderbilt physicians and providers who trust OORA to make a difference with their patients," Roy said.
Hood, the medical director for OORA and recipient of a 2018 Five Pillar Leader Award, says he feels fortunate to be a part of the OORA team for the past eight years.
"OORA's mission, to address the obstacles which our clinicians face when being asked to provide care for the uninsured or for those who are out of network, is important and very challenging work. To ensure that such patients receive their needed care (be it at Vanderbilt or elsewhere) while also ensuring that neither our institution nor our patients experience unnecessary financial risk requires the efforts of a first-rate team," he said. "The commitment and work ethic of Susan Roy, Kelsey Garner and Olivia Sells are extraordinary," he said.
If you are a VUMC employee, you can nominate a colleague for an Elevate Credo Award, Five Pillar Leader Award, or Team Award. Visit the Elevate website to fill out a nomination form. Employees demonstrate credo behaviors when: they make those they serve the highest priority; respect privacy and confidentiality; communicate effectively; conduct themselves professionally; have a sense of ownership; and are committed to their colleagues. Elevate award nominations are accepted year-round. If a nomination is received after the cut off for an award selection period, the nomination will be considered for the next period. VUMC Voice will post stories on each of the award winners in the weeks following their announcement.