Painted stones offer messages of hope along VUMC pathways
"Just Breathe." "You are Loved." "Shine." "Hope." "Joy."
April 10, 2020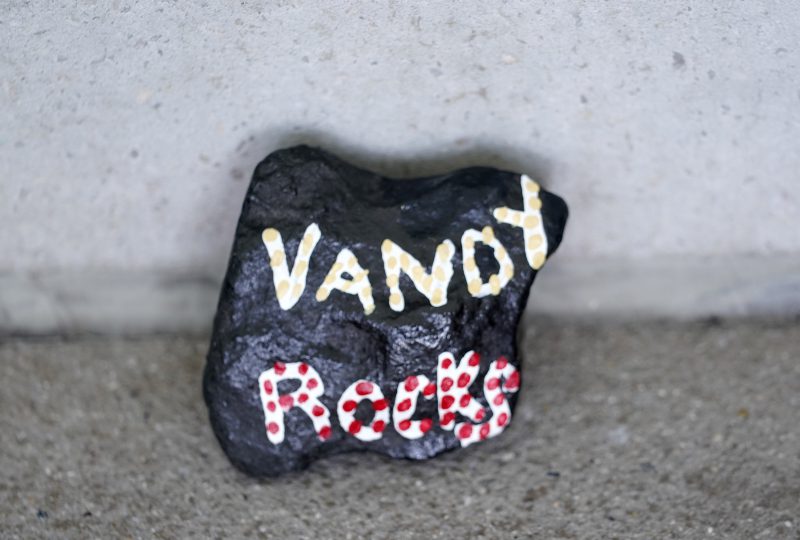 One of the rocks painted with messages of hope visible to VUMC employees as they walk around the Medical Center campus. Photo by Donn Jones
Just in case anyone needed a reminder: Vandy rocks. And so do the staff, nurses and doctors.
From the elevator lobby in West Garage or walking across the South Garage Skybridge into Monroe Carell Jr. Children's Hospital at Vanderbilt, those reminders dot paths along the way.
"Just Breathe." "You are Loved." "Shine." "Hope." "Joy."
These colorfully painted inspirational inscriptions cover each rock. Painted rocks are also sometimes called kindness stones, meant to spread joy and inspiration to those who encounter them. Maybe especially now, kindness counts.
The stones were created and placed around the Vanderbilt University Medical Center campus by nurses in the Radiology Recovery Unit at Children's Hospital. The idea came from Michele Riley, RN, and Stevie Crossland, RN, BSN. They had help from friends Heather Grimes, RN, and Sarah Beth Gray, a Child Life Specialist.
Their hope is to share joy with staff as they arrive to work and let them know everyone is in this together.
For Riley, one rock, in particular, has a lot of meaning: "hugs," it says.
"We wanted to do something to lift everyone's spirit during this stressful time. Anybody that knows me well, knows I'm a big hugger," Riley said. "I usually hug staff and patients many times every day. This season of social distancing is especially difficult for me. This is my way of 'hugging' our amazing Vandy family and our sweet patients."
The group grabbed the rocks from their own back yards to bring kindness to the Vanderbilt community. They are also planning another batch to be placed near Medical Center East.
"Our wonderful Radiology Recovery unit at Vanderbilt Children's loves creating art to fill our patient care area with welcoming and sensory-friendly decor," Crossland said. "I thought the rock painting would be a great way to share light and love to our staff members during this dark moment.
"My team member Michele Riley was wonderful and eager to help with the project. I'm glad everyone is enjoying our Vandy rocks."