Patient Flow Discharge Lounge staff wins Elevate Team Award
"This team is fully invested in the vision of creating capacity, so that we can meet the needs of our patients in our community."
November 22, 2022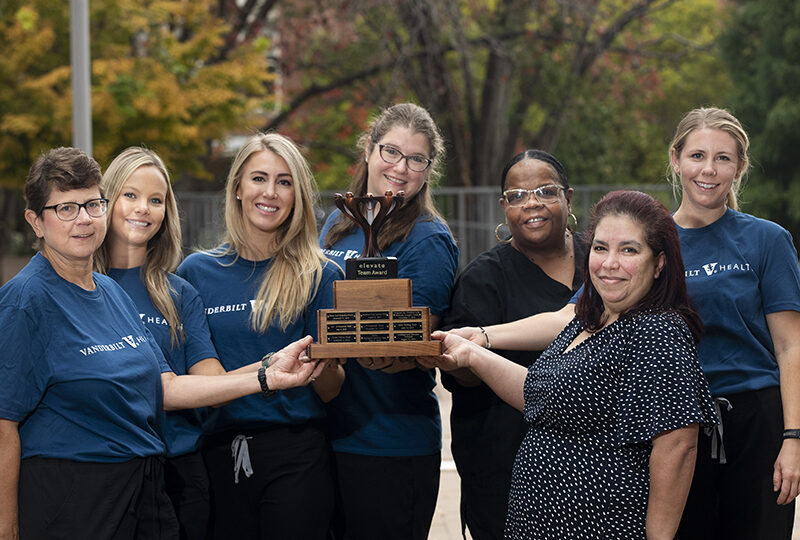 Patient Flow Discharge Lounge Team (from left): Briana Gale, Discharge Lounge RN; Barbara Watson, Discharge Lounge RN; Whitney Sparks, RN, BSN; Leonie Fogler, Discharge Lounge RN; Doris Gooch, Clinical Technician; Schiara González Parker, RN, MBA; and Kalli Witker, RN, MSN, CEN. Photo by Susan Urmy

For many years, Vanderbilt University Hospital has used a Discharge Lounge for patients who have been discharged from the hospital but who are waiting for a ride home, medication, or medical equipment.
The lounge was typically opened at times of high capacity, when it was important to discharge patients as efficiently as possible. It was staffed with float nurses, when overall staffing would allow.
In January, VUH opened the Discharge Lounge on a permanent basis, staffed 9 a.m. – 7 p.m. weekdays by a dedicated group of four full-time nurses.
That team of dedicated nurses — Leonie Fogler, RN, Briana Gale, RN, Whitney Sparks, RN, and Barbara Watson, RN — won the Elevate Team Award at the November 2022 virtual Leadership Assembly. They were joined in the award by Schiara Gonzalez Parker, the director of patient flow, and Kalli Witker, administrative coordinator, who oversees the lounge.
Lee Ann Liska, chief operating officer of VUH, who nominated the group for the award, was full of praise for their work and for its impact on patient experience and patient flow at the hospital.
"They often transport the patient directly from the floor to the lounge, saving valuable nursing and transport time. They provide discharge teaching and instructions, arrange for the delivery of medication, and other homegoing equipment," she said.
"This team is fully invested in the vision of creating capacity, so that we can meet the needs of our patients in our community."
The lounge has comfortable chairs, blankets, televisions, and music for entertainment. The staff even decorates it for special occasions. Since the creation of the full-time Discharge Lounge, the number of patients served has grown dramatically to more than 500 per month.
"The Discharge Lounge has been able to create new capacity within VUH. This allows for earlier use of beds, increased patient flow, and decreased excess days," Liska said.
"They diligently work to ensure that patients leave the lounge with everything they need to go home safely. They reinforce teaching, verify medication and equipment delivery, and check for follow-up appointments. They are a wonderful resource to answer patient and family questions and/or address their fears and concerns. The staff also ask for patient feedback about their experience with VUH. They want to make health care personal."
If you are a VUMC employee, you can nominate a colleague for an Elevate Credo Award, Five Pillar Leader Award, or Team Award. Visit the Elevate website to fill out a nomination form. Employees demonstrate credo behaviors when: they make those they serve the highest priority; respect privacy and confidentiality; communicate effectively; conduct themselves professionally; have a sense of ownership; and are committed to their colleagues. Elevate award nominations are accepted year-round. If a nomination is received after the cut off for an award selection period, the nomination will be considered for the next period. VUMC Voice will post stories on each of the award winners in the weeks following their announcement.