Paula Ciero fun toy toolkit puts children at ease during clinic visits
From fidget bracelets to sound tubes to "squishies," Ciero finds ways to make children smile.
December 6, 2022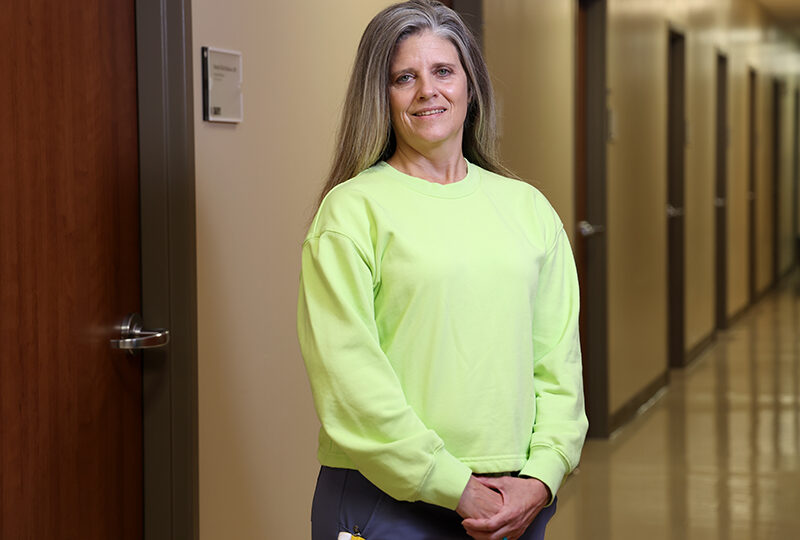 Paula Ciero. Photo by Donn Jones.
Paula Ciero, medical assistant in the Vanderbilt Pediatric Allergy and Immunology Clinic, recently was recognized with a Credo Award for her commitment to patients and her colleagues. But for Ciero, seeing the smiles of children who come into clinic after successful treatments is reward enough.
Always wanting to work with children, Ciero switched 10 years ago from working in adult health care to join Monroe Carell Jr. Children's Hospital at Vanderbilt. She started in the pediatric post-anesthesia care unit holding area — transporting patients — then moved to the adolescent clinic for about two years before she ultimately landed in her current clinic home five years ago.
The young patients and her colleagues are what motivate her to come to work every day.
"I have loved it because kids are truly amazing little humans. They are so resilient. I just fell in love with it and admire their strength and their ability to stay positive through all the hard times," said Ciero whose passion and dedication were recognized with a Credo award during the November 2022 virtual Leadership Assembly.
Her colleagues note many characteristics make her a "shining example of credo behaviors," and identifying only a couple of reasons to celebrate Ciero is difficult.
Patients in the Allergy and Immunology Clinic often have long clinic visits, sometimes lasting three to four hours. Children can be nervous about blood draws or skin testing.
Her nomination includes just one of Cicero's many efforts to ease their worries: "Paula saw this need and researched sensory toys for patients and selected a couple options to provide to our patients. She found what we call "squishies," which are squish balls in the shape of animals that fit in tiny hands. Patients squeeze these to let out some energy as well as distract from the procedures at the visit — they are also really cute! She also found fidget bracelets and sound tubes for older patients to use. When patients return months later, they remember these tools given to them, and some even bring them back with them! But most of all, they remember Paula and the way she made them feel — seen, acknowledged and cared for."
Ciero says she has special toolkit. "I love being able to grab all my fun stuff — anything that will take their mind off things."
But her caring spirit also extends to her co-workers. In one story, Ciero went out of her way to help a co-worker with mobility issues. She would arrive to work early every day and have a wheelchair waiting for this staff member to take to clinic.
"She does not do this for the recognition; she does it because that is who she is, a servant leader, leading by example. She is the epitome of VUMC Credo, and we are so lucky to know her and call her a colleague," the nomination stated.
Ciero was surprised by her award.
"They tricked me," she said with a laugh about her co-workers, adding that they pulled her into an early morning meeting and sprayed her with confetti.
"They are one of the reasons I come to work every day. To be able to know and celebrate what is going on in their lives is important. I also love working with the providers. They are a good group. They really take care of us," Ciero said.
If you are a VUMC employee, you can nominate a colleague for an Elevate Credo Award, Five Pillar Leader Award, or Team Award. Visit the Elevate website to fill out a nomination form. Employees demonstrate credo behaviors when: they make those they serve the highest priority; respect privacy and confidentiality; communicate effectively; conduct themselves professionally; have a sense of ownership; and are committed to their colleagues. Elevate award nominations are accepted year-round. If a nomination is received after the cut off for an award selection period, the nomination will be considered for the next period. VUMC Voice will post stories on each of the award winners in the weeks following their announcement.