Scenes from VUMC show changes and dedication in COVID-19 planning and reaction
The Medical Center mobilized to prepare to care for COVID-19 patients while continuing to care for each other as colleagues.
April 3, 2020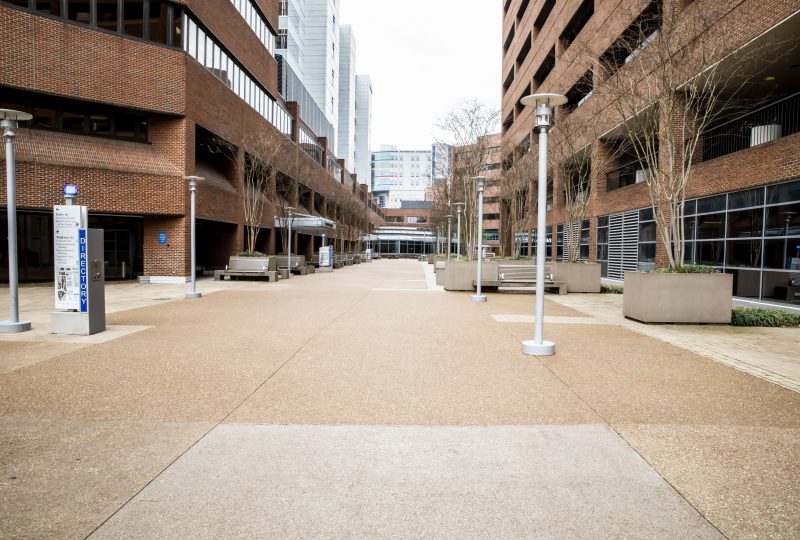 The Medical Center plaza at midday, normally filled with people, grew much quieter as more people worked from home and social distancing became necessary. Photo by Susan Urmy
Photos and reporting by Susan Urmy, Donn Jones and Erin O. Smith
VUMC officials began planning in January for the pandemic of the coronavirus that causes COVID-19. That planning, as well as the reaction to events as they unfolded, have brought together colleagues from all over the Medical Center as they work through, in the midst of an unprecedented situation, how to best care for patients and protect and enable employees.
At the beginning of March 2020, restaurants and movie theaters were open, sports fans were looking forward to the NBA playoffs, March Madness and the beginning of the baseball season, and a trip to the grocery store did not seem like a risky act.
The past few weeks have changed the world, and, of course, have changed Vanderbilt University Medical Center.
VUMC News and Communications photographers Susan Urmy, Donn Jones and Erin O. Smith provided these glimpses into some of VUMC's people and places during this historic time.