Sister surgeons share a winding road that led to VUMC
From Canada to Florida to VUMC, the "Gillaspie Girls" are building careers after "falling in love with surgery."
June 2, 2022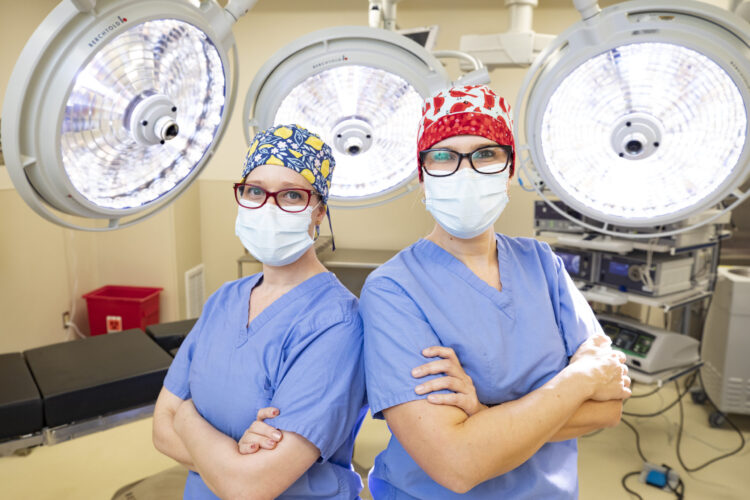 Devin Gillaspie and Erin Gillaspie, the "Sister Surgeons" as they call themselves, share a rare space as sibling female surgeons practicing at the the same medical center. Photo by Erin O. Smith
Erin Gillaspie, MD, MPH, has a number stuck in her head that she's not likely to ever forget: 289.
That's because the Vanderbilt University Medical Center thoracic surgeon is only the 289th female surgeon in her specialty in the United States.
"There aren't a lot of women in my field in particular – so few, that they actually number us when we pass our boards," said Gillaspie, assistant professor of Thoracic Surgery at Vanderbilt and director of the thoracic robotic program. "So, I'm No. 289 in history."
According to the Association of American Colleges, as of 2019, women made up just 22% of all general surgeons, and women are even less represented among specialized surgery fields such as orthopaedics, neurosurgery and thoracic surgery.
Over the past two decades, there has been a dedicated commitment to employ and train surgeons who better reflect the demographics of the population served by VUMC.
"We grew up in a home where innovation and discovery was encouraged, even if it was messy."
Under the leadership of R. Daniel Beauchamp, MD, who served as chair of the Section of Surgical Sciences from 2001 until 2018, women increased to represent 53% of the section's trainees, while more than 30% of all trainees were African American, Hispanic, Native American, South Asian or East Asian. During Beauchamp's tenure, the number of female surgical faculty also more than doubled, and minorities came to represent nearly 20% of all section faculty.
That commitment to diversity has continued with Beauchamp's successor, Seth Karp, MD, H. William Scott Jr. Professor and chair of the Section of Surgical Sciences. Today, there are notably more women serving in key leadership roles in the section.
If Gillaspie needs evidence that times are changing, she need only scan the faculty and trainee ranks of the eight departments and 11 divisions that make up VUMC's Section of Surgical Sciences. Over the past two decades, the roster has become much more diverse, with more women and underrepresented minorities filling the seats, including many serving in leadership roles.
If Gillaspie wants proof a little closer to home, she can just look over at her companion as she makes her way across the undergraduate campus each evening. After the operating rooms and clinics wind down, Gillaspie walks home with her sister, Devin Gillaspie, MD, a fellow in the Division of Acute Care Surgery. They live on adjacent floors of a nearby apartment complex, and their walk allows them to relax and compare notes from the day's work.
"We're only 17 months apart, and we joke all the time that we should have been twins," Erin said. "We grew up being best friends, and we're still best friends. It was always understood that if you invited one of us, you're getting the Gillaspie Girls."
The sisters spent their early childhood in Canada, and Erin remembers saving her allowance during first grade to buy a microscope. The sisters took turns peering at slides prepared from things discovered in the backyard. When it came time for her sixth-grade science fair project, Erin went with her dad to a University of Toronto library to photocopy plans to build a Tesla coil. They're not embarrassed to admit they were nerds.
"We grew up in a home where innovation and discovery was encouraged, even if it was messy," Erin laughed.
They'll never forget the day an orthopaedic surgeon spotted them in a hallway, remarked "You must be Jane's girls," and invited the girls to watch a surgery.
The family relocated to Florida when the sisters were tweens, and their mother, Jane, went to work at Englewood Community Hospital. There, the sisters were volunteers, delivering mail to patients and various departments. They'll never forget the day an orthopaedic surgeon spotted them in a hallway, remarked "You must be Jane's girls," and invited the girls to watch a surgery.
After getting their Mom's OK and other needed approvals, the girls put on scrubs and stood at the foot of the operating table. They were told if they felt lightheaded, to fall backward and not forward. Erin remembered being amazed as they watched a total knee replacement. Devin was equally enthralled, but admitted her thoughts were more along the line of 'Wow, is that gonna work when they're done?!'"
They knew the patient and her new knee were just fine when they spotted her walking the next day.
Erin asked to observe more surgeries, and she began volunteering to help "turn over" operating rooms and mop floors. In return, she was allowed to watch a variety of surgical procedures. That solidified her career plan.
"Our grandfather had died of lung cancer when we were little, and the idea that I could give other little kids the opportunity to spend more time with their grandparents was one of the best gifts I thought I could give this world," she said. "So, from 13 onward, I had a path. I was going to be a thoracic surgeon."
Erin earned an undergraduate degree from the University of Florida in Gainesville and a medical degree from the University of Miami Miller School of Medicine. She completed a residency at the Bassett Medical Center in Cooperstown, New York, and a fellowship in thoracic surgery at Mayo Clinic in Rochester, Minnesota. In 2016, she came to VUMC to interview for a faculty position in Thoracic Surgery.
Professor of Surgery Emeritus, John Tarpley, MD, took her on a whirlwind tour of the Medical Center and then returned her to Au Bon Pain to meet another faculty member. Waiting there was Carmen Solórzano, MD, a female surgical leader from her past who had mentored both sisters at the University of Miami and who had served as a faculty sponsor for a group Erin co-founded there, Women Interested in Surgical Endeavors (W.I.S.E.).
"You could have knocked me over with a feather because I didn't know she had moved to Vanderbilt," Erin said. "Knowing she was here and to see her be so successful in building her programs, and to hear her speak about the support for women in surgery here was so inspiring."
Erin's clinical areas of interest include the surgical management and treatment of lung cancer, metastatic pulmonary nodules, mediastinal tumors, chest wall tumors and deformities, esophageal cancer and benign esophageal disorders.
She started a robotic thoracic surgical program at Vanderbilt, and over ensuing years, three additional thoracic surgeons have trained in robotic thoracic procedures, greatly expanding this program. The focus of Erin's research is on lung cancer treatments and the development of novel technologies for minimally invasive approaches to surgery and robotic surgery.
Devin's route to surgery was a bit more winding. She also began observing in the operating room during her senior year of high school. And while she also leaned toward a health care career, she was dead-set against surgery. She earned an undergraduate degree in microbiology at University of Florida at Gainesville, then a master's degree in molecular medicine from University of South Florida College of Medicine.
She had shadowed an infectious diseases physician, and that specialty captured her interest. After graduate school, she moved into Erin's former apartment to attend University of Miami Miller School of Medicine.
"But then, on my colorectal rotation, I had some phenomenal surgeons – Dr. Laurence Sands and Dr. Abdullah Al-Haddad – who allowed me to participate in surgeries," Devin said. "I got to make an incision for a hemorrhoidectomy, which was the first incision I ever made on a person. I thought it was just the coolest thing."
When Devin called Erin to share the experience, her older sister thought, "She's a goner. She's going to be a surgeon."
Devin remembered being alarmed during her medical school trauma rotation when a car accident victim was brought in, writhing in pain, with a compound ankle fracture. She watched the medical team remain calm while she felt frantic inside. But during her general surgery residency at Danbury Hospital in Connecticut, she fell in love with the acuity and quick decision-making of trauma surgery.
"In so many ways, it's been this extraordinary adventure for the two of us, where we kind of started out on this very similar pathway, diverged for a bit and then came back together again."
In 2020, Devin moved to Nashville to begin an acute care surgery fellowship at VUMC. Having her older sister (and Erin's cuddly poodle, Poppy) just a floor away as she acclimated to a new city during the COVID-19 pandemic gave her a much-needed sense of peace and security.
"In so many ways, it's been this extraordinary adventure for the two of us, where we kind of started out on this very similar pathway, diverged for a bit and then came back together again, both having fallen in love with surgery," Erin said.
The sisters credit past mentors for how they've developed as surgeons. For both, Solórzano remains a big influence, and Erin credits three female thoracic surgeons – two at Bassett Medical Center, Margaret Bernadette Ryan, MD, and Karen McGinnis, MD, and Shanda Blackmon, MD, at the Mayo Clinic – for being extraordinary role models.
There is no question male mentors have shaped their paths, too. Mark Allen, MD, and Dennis Wigle, MD, thoracic surgeons at the Mayo Clinic, influenced Erin as a surgeon. Devin often catches herself copying the mannerisms of Stuart Bussell, MD, a colorectal surgeon at Danbury Hospital.
"He is an incredibly gifted surgeon, has such a phenomenal bedside manner and is one of the most lovely human beings on the planet," Devin said. "I find myself in patients' rooms, doing things he would do. And it is completely involuntary, and it's just because you find things in people that you want to emulate."
"It's true," Erin said. "We as physicians are formed by the people who inspire us along the way. Our bedside manners, what we do in the operating room, how we approach cases, how we think through complex situations, are so influenced by the people who were dedicated and invested in us through the course of our training."
The Gillaspies certainly look forward to the day when women and other underrepresented minorities in every medical field aren't so easily counted. 
On the topic of the need for more female surgeons in all specialties, the Gillaspie sisters are well-versed on several studies that examine the effect of gender on surgical outcomes. A 2017 retrospective study in The BMJ found that patients of female surgeons have lower death rates, a small but statistically significant decrease in the number of health complications and lower rates of readmission than those of male surgeons. The study included more than 100,000 patients treated by 3,314 surgeons.
A December 2021 study published in JAMA Surgery looked at 1.32 million patients treated by 2,937 surgeons and found both male and female patients experienced better health outcomes when they had female surgeons. The disparity was more pronounced for female patients who experienced notably fewer complications, readmissions and death after being operated on by a woman.
While the Gillaspies acknowledge the significance of such studies, they stress the "underlying whys" behind the disparities must be uncovered.
 "If we – both men and women – weren't technically adept or weren't taking great care of our patients, we wouldn't be surgeons at institutions such as Vanderbilt," Erin said. "It is imperative that we understand the additional factors that lead to that difference in outcomes. We have to understand the why so that we can make that better.
"Above anything else, what a brilliant time it is to get to be in medicine," Erin said. "Admittedly things are hard with COVID, but the changes we're seeing are amazing, the opportunities for diversity in our field, the changes we're seeing with the continued evolution of treatment paradigms in cancer and other fields. It's incredible how everybody is working together, lifting each other and inspiring each other. And at the end of the day, the needs of the patient come first, and knowing how we all work together with that mission – what a gift that is."
The Gillaspies certainly look forward to the day when women and other underrepresented minorities in every medical field aren't so easily counted. When it becomes commonplace for patients from minority groups to look at their surgeon and see a face that looks much like theirs.
And they promise they'll be an active part of that transformation.
"One of my treasured experiences and something that really inspired my passion for mentorship happened when I was in residency," Erin said. "There was a little girl at the hospital with her mom, and she came running down the hallway toward me. I couldn't tell exactly what she needed, but she tugged on my white coat and looked up at me with her big, bright eyes and said, 'Excuse me, are you a doctor?' I knelt down and said, 'Yes, I'm a doctor, and I'm a surgeon.' And she thought it was simply extraordinary.
"I was so lucky to be able to share my story with her, that I too was once a little girl who dreamed that one day I would be a surgeon. And that's something that I hope to inspire in every girl, no matter what age they are – that they can grow up to be anything that they dream."