"Standing Ovation" mural unveiled in honor of National Nurses Week
The mural inside Vanderbilt University Adult Hospital depicts several Nashville music legends giving a standing ovation to a health care worker in honor of National Nurses Week.
May 6, 2021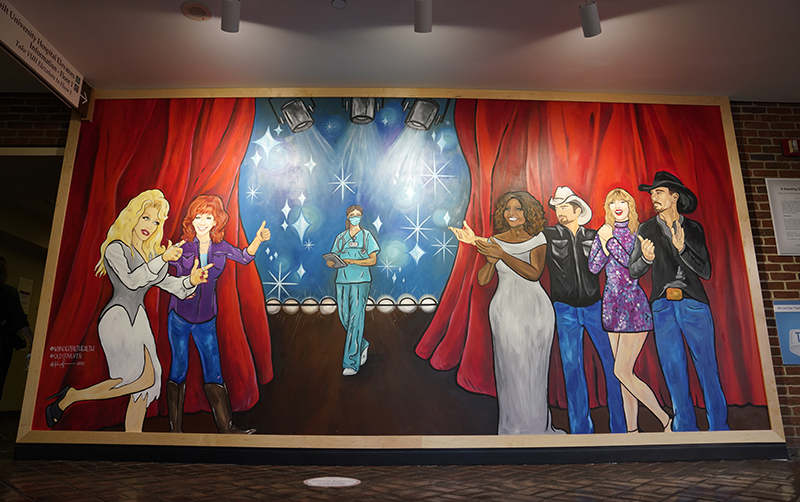 Photo by Donn Jones
A mural has been unveiled in Vanderbilt University Adult Hospital (VUAH) depicting several Nashville music legends giving a standing ovation to a health care worker in honor of National Nurses Week.
The mural, aptly titled Standing Ovation, features Dolly Parton, Reba McEntire, Cece Winans, Taylor Swift, Brad Paisley and Tim McGraw, all prominent entertainers with Nashville ties and supporters of VUMC. In the middle stands a health care worker, being applauded by the musicians for the performance of a lifetime – serving on the front lines of the COVID-19 pandemic.
VUMC employees can easily pose in front of the mural, taking the place of the painted health care worker, and receive their own standing ovations from the notable figures. VUMC health care workers are encouraged to take photos and selfies at the mural.
Artist Whitney Herrington, a Tennessee native, began work on the mural on April 30. The finished mural was revealed on May 6 – the first day of National Nurses Week.
"The American Nurses Association and the World Health Organization designated 2020 and 2021 as the Year of the Nurses," said Robin Steaban, MSN, RN, NEA-BC, chief nursing officer at VUAH. "It's well deserved, as nurses stood squarely in the middle of the pandemic facing this country. They never wavered in caring for those affected, often setting their personal needs aside.
"In this mural, the health care worker represents many disciplines," Steaban said. "I am so thankful these larger-than-life celebrities wanted to give our front-line workers a moment in the spotlight. I am unendingly grateful for this tribute to the best of the best – Vanderbilt nurses and all of our front-line staff and faculty."
"We are so grateful for the support of these music industry leaders for our nurses," said Marilyn Dubree, MSN, RN, Executive Chief Nursing Officer at VUMC.  "Health care workers across the Vanderbilt system have indeed given the performance of a lifetime."
"As we celebrate National Nurses Week, it's not surprising that our nurses are receiving recognition from across the community for their outstanding work. After all, they and their profession are the most trusted members of our society. I want to congratulate all of our nurses on this well-deserved honor," said C. Wright Pinson, MBA, MD, Deputy Chief Executive Officer and Chief Health System Officer.