Suzanne Duckworth recognized for empowering, supporting new nurses and medical assistants
"She's never without a smile or positive comment about her team. She's genuine in her desire to see others grow and develop and has demonstrated this repeatedly."
March 31, 2022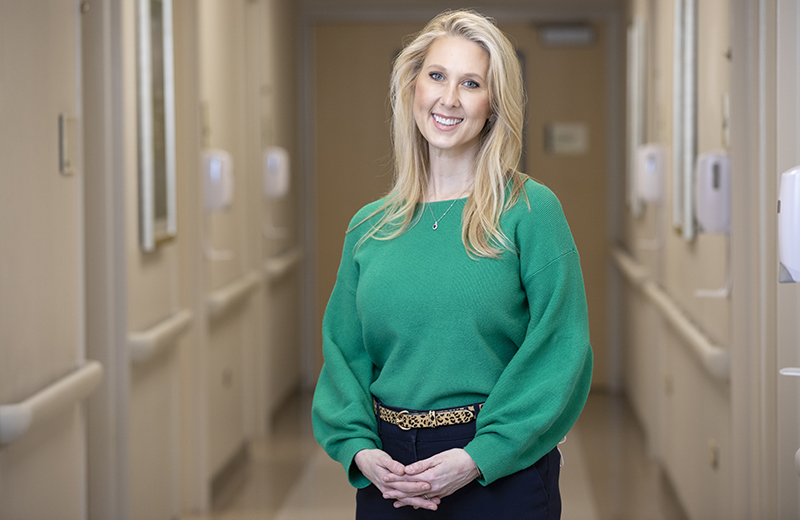 Photo by Erin O. Smith
Suzanne Duckworth, MSN, RN, is one of the first people that new nurses and medical assistants working in Vanderbilt Adult Ambulatory Clinics get to meet. As a Nursing Education Specialist, she and her team have created an onboarding and orientation program to welcome each new nurse. But it goes beyond that.
She gives every new hire her cell phone number, and she is happy to meet them in person at their clinic. "I always tell them, you can contact me anytime," she said, "because I'm rarely sitting at a desk."
It's just one example of how Duckworth consistently makes her staff, and the patients and families they serve, her highest priorities. That commitment to excellence has earned Duckworth the Credo Award, which was presented to her during the February 2022 virtual Leadership Assembly.
Beyond onboarding new staff, Duckworth creates individualized educational plans for each one.
"It's important for me for the staff to know that they're not only seen but they're heard, and that anything that concerns them concerns me," she said.  "And I make that my duty to help them, walk through it with them, or find an answer or just see what we can do to improve that."
Her nominators raved about her.
"Suzanne is a delight for me and others to work alongside," said one nominator. "Her positive demeanor and energy bring enthusiasm to lift others up and encourage participation in work that can at times be challenging. She's never without a smile or positive comment about her team. She's genuine in her desire to see others grow and develop and has demonstrated this repeatedly."
"I have never seen Suzanne without a smile on her face," writes another nominator. "Her genuine warmth and welcoming personality make any interaction a positive one. She has a wealth of knowledge and if unable to answer a question at the moment, will follow up in short order to ensure the information is shared. I am grateful that we have people like Suzanne on our team…she makes all of us look better."
Duckworth came to Vanderbilt in 2019, just months before the COVID-19 pandemic changed her team's entire workflow. In-person orientations soon turned virtual. Ever the optimist, she said that virtual meetings have made it possible for her to connect with more people in Vanderbilt's clinics, which are spread out over VUMC's large service area. That said, she still loves to drive to individual clinics and meet staff in person.
One of Duckworth's biggest passion projects has been creating a professional career ladder for medical assistants. She developed an educational system for MAs with two levels. All MAs start out as an MA I and can advance to MA II and MA III. Obtaining a new level requires a year of educational programs. The system recognizes MAs for continuing education and empowers them to work at the top of their license. She also helped create a new yearly award for MAs, which started last year.
"They've taught me so much," she said. "I always like to say, if you're not learning, you're not growing. I can honestly say every day I learn something new, and it's such a great feeling. And it's the same thing with them."
Duckworth spends so much time recognizing others that she feels a bit sheepish getting an award of her own, for what she sees as just doing her job.
"Every time it comes up, I get little cheek aches because I just smile so big," she said. "I want to say thank you, honestly, to the organization and for this great award. I do wish I could share it with everybody, because I feel it's a team effort, but I thank Vanderbilt for everything that they instill within their staff."
If you are a VUMC employee, you can nominate a colleague for an Elevate Credo Award, Five Pillar Leader Award, or Team Award. Visit the Elevate website to fill out a nomination form. Employees demonstrate credo behaviors when: they make those they serve the highest priority; respect privacy and confidentiality; communicate effectively; conduct themselves professionally; have a sense of ownership; and are committed to their colleagues. Elevate award nominations are accepted year-round. If a nomination is received after the cut off for an award selection period, the nomination will be considered for the next period. VUMC Voice will post stories on each of the award winners in the weeks following their announcement.