Sylvia Groth once commuted to work on cross country skis to keep an appointment with her patient. As a native Minnesotan, a little snow couldn't stop her.
Her dedication earned her a Patient and Family Choice Award.
May 16, 2022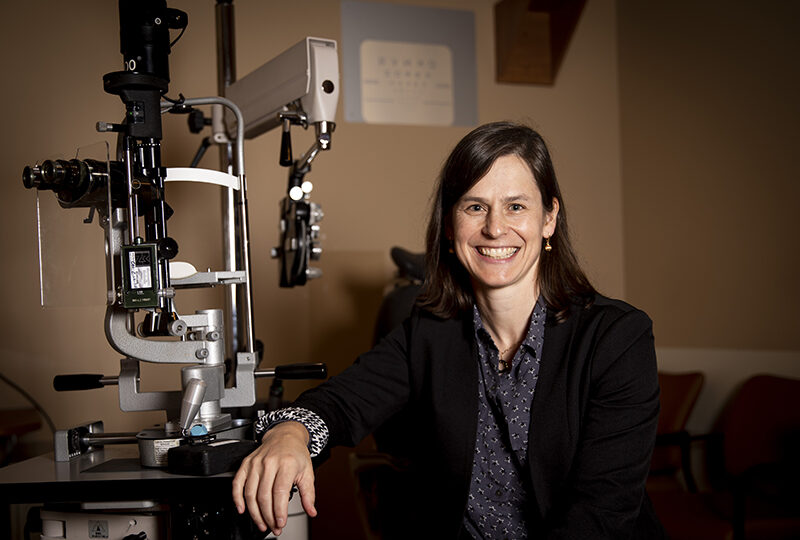 Sylvia Groth, MD. Photo by Susan Urmy
Glaucoma is a sneaky disease that damages the optic nerve, which is vital for good vision. It is one of the leading causes of blindness for people over the age of 60, and often has no warning signs. The damage, which can't be reversed, is so gradual that patients often don't notice a change in vision until the disease is advanced.
The diagnosis is frightening for patients and requires both compassion from a treating physician and a good game plan.
Sylvia Groth, MD, gives her patients both.
Groth, assistant professor of Clinical Ophthalmology and Visual Sciences, will receive one of four Patient and Family Choice Awards being given across Vanderbilt University Medical Center. She is receiving the award for VUMC's Ambulatory Clinics.
The award honors Vanderbilt staff who act with compassion and excellence to provide an exceptional experience for patients and their families. The four awards — given for the Ambulatory Clinics, Vanderbilt University Hospital, Monroe Carell Jr. Children's Hospital at Vanderbilt and Vanderbilt Psychiatric Hospital — will be awarded each year by the Patient and Family Advisory Councils to the people who most exhibit the values of the Vanderbilt Patient and Family Promise. Only patients and their family members can submit nominations. More than 1,600 nominations were submitted for the first year.
"It's such an honor to receive this award," Groth said. "It reinforces everything I've come to value about medicine, and it's incredibly refreshing to be awarded this. It's quite a phenomenal thrill for me."
Groth received her medical degree from the University of Minnesota Medical School, did an internship at Presence St. Francis Hospital in Evanston, Illinois, a residency at the University of North Carolina, Chapel Hill, and a glaucoma fellowship at Stanford University. She sees patients of all ages both at the Vanderbilt Eye Institute on VUMC's main campus and at VEI Franklin.
The patients who nominated her say that she is "more than I expect from a doctor" and "professional, competent and caring." One nomination said that she carefully explains a diagnosis, makes sure it's well understood, and takes time for questions that her patients have.
"As a physician, Dr. Groth is the total package: a compassionate caregiver, a talented diagnostician and a skilled surgeon," said Paul Sternberg, MD, G.W. Hale Professor, chair of Ophthalmology and Visual Sciences, director of VEI and the Medical Center's Chief Patient Experience Officer. "In a relatively short time at the Eye Institute, she has established a marvelous reputation as a highly sought-after glaucoma specialist. As you can tell from this award, she is beloved by her patients, and we are very fortunate to have her on our team."
Groth said taking her time with patients is important.
"Glaucoma is a disease that is progressive, and we don't have any way to turn back the clock," she said. "I feel like spending time on the front end to clearly connect with the patient about the disease and explain why we're treating with medicine or surgery allows them to really understand why we're doing what we're doing. I'm someone who likes to understand the rules of the game, the playing field, and the thought process behind it. So, I think it's important to pull my patients into that thought process as well."
And she understands the emotions that go along with the diagnosis.
"It's scary to know you could go blind, and it takes someone to show up and listen to those fears and validate that it's a really rough condition. I try to focus on the positives. I'm an eternally optimistic person, but you have to recognize that glaucoma is really cruddy, and it's OK to be frustrated about it. That's natural."
One nomination mentioned that a patient's appointment was cancelled due to snow in January. But the patient didn't get the message and drove two hours for the appointment. When Groth, who was at home, found out the patient had showed up at the clinic, she came back in to the clinic.
"I live fairly close, and I have cross country skis. I'm still a Minnesotan at heart, so I didn't let the weather stop me from coming back. They were so appreciative, and it was kind of nice because I got to spend a little more time with them than usual."
Many of Groth's patients are older, and she believes it's especially important to explain things carefully to them. Her patience and compassion for older patients comes naturally.
Her father is a primary care physician still practicing in San Diego. "I grew up seeing the connections he made with his patients when we encountered them around town. They were really devoted to him. He made it his mission to connect with them, and it really spoke to me about the relationships you can have with your patients," she said.
Groth is also extremely close with her grandparents, one of whom is still living, and turns 99 this summer. "Having very important people to me from that generation gave me great respect for older people, and I learned to never brush them off."
Groth said it's important to acknowledge that some older patients may take longer to get their questions out and to process information. "To be able to match that speed while juggling a busy clinic can be challenging, but it's important to take the time to listen."