Tammy Masnica knew nothing about horses — until the purchase of one brought her family together
"Olaf," a 13-year-old American Saddlebred, changes lives one simple gesture at a time
May 30, 2019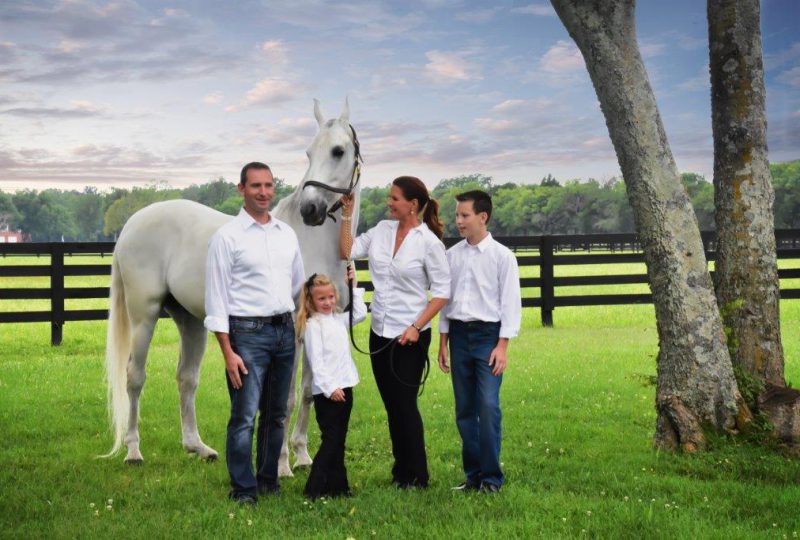 Stan and Tammy Masnica with children Rae and Alex — and Olaf. Photo courtesy Masnica family
Tammy Masnica never imagined she'd become a "horse mom" — or the mother of her husband's children — but the two titles came closely tied.
Several years ago, Masnica, director of Space and Transitions for Vanderbilt University Adult Hospital (VUAH), and her husband, Stan, found themselves in a lengthy legal process for obtaining custody of her husband's son, Alex, and daughter, Rae. Due to the stress of the situation and only being able to spend every other weekend with the children, Masnica found herself searching for activities to alleviate tension and bring the family closer together.
That's when she came across a Groupon for horse riding lessons at Harris Riding Academy in Murfreesboro, Tennessee.
"Olaf stuck his head out of the barn, and Rae said, 'I want to ride that horse.' It was love at first sight"
"Rae has always loved horses," said Masnica. "We tease and say that she's part horse. She'll walk around on all fours pretending to do horse jumps and practices the art of dressage. We have toy Breyer horses everywhere, and she has her own arena upstairs in her playroom.
"We didn't have Shopkins or Barbies or anything like that when she was younger."
When Masnica and Rae attended their first lesson at Harris Riding Academy, the first horse Rae laid eyes on was R. Haitian Legacy — affectionately known as "Olaf." An American Saddlebred, Olaf's coat is pure white, and he has a swan-like neck, a chiseled face and a long, flowing tail, making him stand out among his neighbors.
"Olaf stuck his head out of the barn, and Rae said, 'I want to ride that horse.' And I said, 'Honey, I don't even know if that horse is part of the program.' And she said, 'But he's the most beautiful horse I've ever seen.'
"It was love at first sight," said Masnica.
Olaf was the first horse Rae had ever ridden. Two weeks later, he was listed for sale.
"I thought to myself, 'I don't know anything about horses. I don't know what to do here. This is so crazy.' But, I knew someone would buy him immediately — he was stunning, and he seemed to have such a lovely personality," said Masnica, who had never owned a horse. "So, I ended up jumping in with both feet, and my husband and I purchased Olaf — but we didn't tell the kids."
Fearing the purchase would interfere with the family's legal case, Masnica and her husband kept Olaf a secret for almost two years. Masnica and Rae were the first in the family to enroll in the lesson program, followed by Alex. The family would often stop by the academy and feed him extra carrots, but Rae and Alex, now 9 and 13, assumed Olaf was still owned by Harris Riding Academy.
On July 31, 2018, the Masnica family obtained legal custody of Rae and Alex, and the following spring, Masnica adopted the children as her own.
On Labor Day 2018, the couple decided to make the big reveal.
The night before, the family had Will Harris, owner of Harris Riding Academy, stage a call to their house to tell them Olaf had been listed for sale.
"My daughter was in the second grade and had saved more than $700 to try to buy Olaf." said Masnica. "She would not buy a toy, a gumball, anything. Will had made a promise to Rae that she would be the first person he would notify if Olaf ever went up for sale."
Harris told the family to meet him at the barn the next day and asked Rae to bring her purse. When Harris greeted the Masnicas, all he said was, "I guess I should let you know that a loving family has purchased Olaf. Follow me."
Harris led the family around the corner, where Olaf was standing behind a banner that read, "We welcome R. Haitian Legacy, 'Olaf,' to the Masnica family. A dream come true."
Along with a new saddle, Alex and Rae's grandparents gave the children a letter signed from Olaf.
"It talked about how the kids had found their forever home, and so had he," said Masnica.
The exchange was followed by an "Olaf reveal party" at the Masnica household, complete with a bounce house and all of the children's new friends in the neighborhood. The children were again surprised when Harris personally delivered Olaf to the Masnica home for a neighborhood meet-and-greet that day.
"I can't give Harris Riding Academy enough credit for all they've done in bringing our family together and to help provide this loving environment for the kids," said Masnica. "We were going through all the trials and tribulations of life, and now it's finally coming to an end, and we're actually a family.
"It has just been so wonderful. We are so blessed."
Aside from the difference Olaf has made for the Masnica family, he is an active member of the community, bringing joy to fans of all ages. He routinely visits elementary schools, where he teaches children about the anatomy and breeds of horses, and he's the top choice for "fantasy unicorn photo shoots," where he sports a horn and poses for photos with young girls dressed as princesses.
Masnica and her VUMC colleague Sam Werner, director of Space and Transition for VUAH, created a fitness class led by Olaf that involves weight lifting, stretching and strength training — all of which is done on horseback.
Olaf competes in academy horse shows and is the breed ambassador at the Southern Equine Expo, where he visits the petting booth so riders can meet and learn about the American Saddlebred. Despite his large size, he gives riding lessons to even the youngest of riders.
For his promotional and community efforts, he was named the March 2019 "Diplomat of the Breed" by the American Saddlebred Horse Association.
"People just gravitate toward him, and I think he's so used to getting attention from the public and visitors that he looks for it. He feeds off it," said Masnica.
But, for Masnica, nothing is as important as the role Olaf has played in the lives of her children.
"For someone who was afraid of horses, riding has given Alex newfound confidence. It's almost like he learned what's possible if he's willing to roll the dice and take a chance at something he fears," said Masnica.
"Rae has been in awe of Olaf since the day they met. She always tells me that if she has a bad day at school or if someone makes fun of her, she can go and tell Olaf about it, and somehow, he makes her feel better.
"That's just who he is as a horse," said Masnica. "Olaf is extraordinary. He knows his job, and he does it well."
Photos courtesy Masnica family