Team project improves electrolyte protocol for patients
VUH 8 South team wins award for improving patient care
December 28, 2021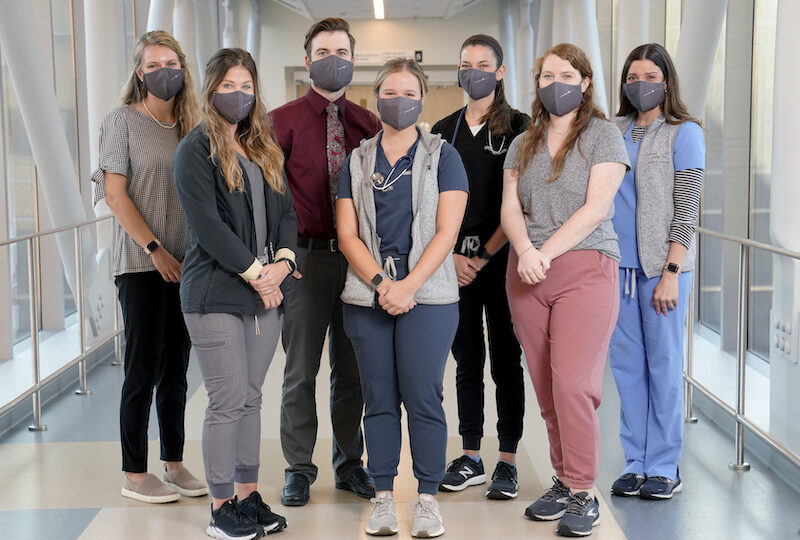 Photo by Donn Jones
When caring for patients on the Vanderbilt University Hospital (VUH) 8 South stepdown units, colleagues noted that it took an average of more than two hours to address a patient's hypokalemia (low potassium levels). Electrolyte imbalances, particularly potassium, can lead to adverse patient outcomes, especially when those imbalances are prolonged.
They seized the process improvement opportunity and formed the Electrolyte Protocol Project Committee with the goal to reduce the time patients remained hypokalemic and at increased risk of adverse arrhythmias.
The committee implemented a nurse-driven electrolyte replacement protocol currently used in the VUH ICUs. It resulted in more than a 70% reduction in time to address the imbalance, reducing the window patients are at increased risk.
"Not only did we reduce the time, but we were also drastically more accurate with correct doses to treat certain ranges of hypokalemia than providers who veered from such protocol. In addition to patient care improvement, we have also increased nursing satisfaction by giving the bedside nurse autonomy in decision making, so they can tailor the treatment to that specific patient," said Andrew Ezzell, BSN, RN, CCRN, PCCN, clinical staff leader of 5N, cardiovascular ICU.
The VUH 8 South Electrolyte Protocol Project Committee received the Elevate Team Award at the November virtual Leadership Assembly for their work and dedication to making their patients and fellow nurses their highest priority by developing a quality improvement project to reduce a patient's risk for adverse events as well as empowering staff and peers to be more engaged in patient care.
Team members who were recognized include Meghan Sheppard, CSL, VUH 7 North; manager Jennifer Travis Rachel Webb, RN, VUH 8 South; manager Sarah Dawson Brooke Breidenbach, RN, VUH 8 South; manager Sarah Dawson Emily Loughery, RN, VUH 8 South; and manager Sarah Dawson.
"My teammates on this project, as well as the other staff on 8 South, are among the best in the world, in my opinion," Ezzell said. "Not only do they care about the patients they see today, but they're continuously improving their environment and their practice to better take care of the patients of tomorrow."
If you are a VUMC employee, you can nominate a colleague for an Elevate Credo Award, Five Pillar Leader Award, or Team Award. Visit the Elevate website to fill out a nomination form. Employees demonstrate credo behaviors when: they make those they serve the highest priority; respect privacy and confidentiality; communicate effectively; conduct themselves professionally; have a sense of ownership; and are committed to their colleagues. Elevate award nominations are accepted year-round. If a nomination is received after the cut off for an award selection period, the nomination will be considered for the next period. VUMC Voice will post stories on each of the award winners in the weeks following their announcement.