Telehealth team wins Elevate Team Award
"In a time of crisis and uncertainty, the Telehealth team quickly adapted to the changing guidelines and mobilized the organization to establish a robust and effective way to reach and serve our patients in their homes."
September 2, 2020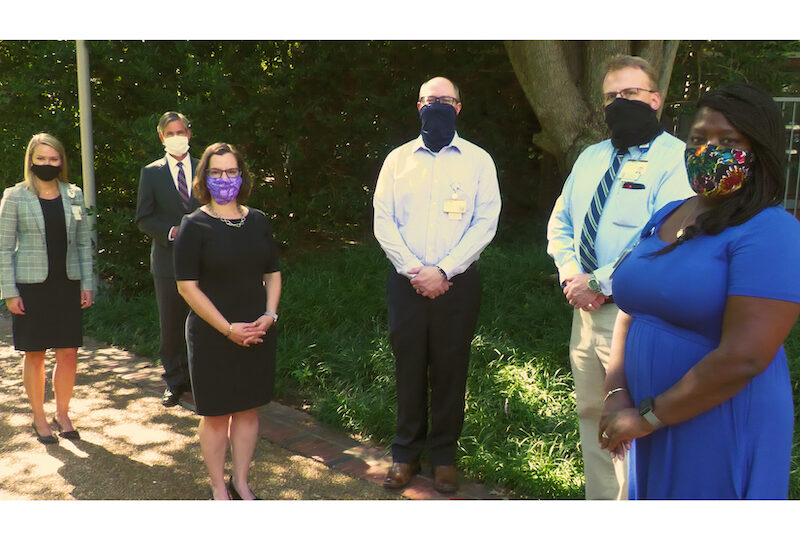 Members of the VUMC Telehealth team include, from left, Director Amber Humphrey; David Charles, MD; Michelle Griffith, MD; Matt Ryan; Drew Flowers; and Latonya Drumwright. Photo by Nick Alonzo
In early March as Tennessee's first case of COVID-19 was reported, fewer than a dozen direct-to-patient telehealth visits took place daily at all of Vanderbilt University Medical Center's outpatient clinics. Less than a month later, that number escalated to more than 2,000 daily telehealth appointments.
That dramatic transformation would not have been possible without the rapid response of VUMC Telehealth, a four-person department established in 2014 and directed by Amber Humphrey. This team initially worked nights and weekends, calling on collaborators throughout the institution to ramp up telehealth options at VUMC. The goal was to protect the safety of patients and their families as well as clinical employees during the pandemic, with as little disruption of outpatient clinical care as possible.
"The success of our telemedicine initiative during the COVID pandemic is a remarkable example of how individuals from multiple teams across the Medical Center can pull together to achieve what was previously thought unachievable," said Paul Sternberg, MD, Chief Patient Experience Officer. "This was a true interdisciplinary, intraorganizational effort which really impacted each of our Pillar Goals: People, Service, Quality, Finance and Growth, and Innovation."
For the team's dedications and work to ramp up telehealth efforts across the institution, the group was honored with the Elevate Team Award during the Aug. 12 virtual Leadership Assembly.
From early March until July 30, 70% of VUMC providers conducted 141,667 outpatient telehealth visits. On April 14, a peak of 2,700 telehealth visits took place.
"During the last weeks of March and in early April when stay-at-home orders were in place, many patients cancelled appointments, but about 50% chose to keep their appointments," said Amber Humphrey, director of VUMC Telehealth. "We were able to see them via telehealth, with our providers caring for their patients from their homes."
These herculean efforts did not go unnoticed.
"Without a rapid transition to telehealth, we would not have been able to adequately provide care for our patients," said Kimryn Rathmell, MD, PhD, chair of the Department of Medicine. "We typically see more than 2,000 patients in clinic visits daily, and many had health problems that could not wait. The telehealth team commitment to the IT adjustments, training, communication and facilitation to make the experience work for both providers and patients was extraordinary and a major feature of our navigating through the COVID-19 pandemic wave."
Dane Chetkovich, MD, PhD, chair of the Department of Neurology, also praised the effort, writing, "In a time of crisis and uncertainty, they quickly adapted to changing guidelines and mobilized the organization to establish a robust and effective way to reach and serve our patients in their homes. They should all be commended for their innovation, flexibility, and perseverance that has led to an effective way to continue to operate in a way that helps patients and providers maintain physical distancing and safety in our clinics."
The VUMC Telehealth team relied upon established relationships throughout the Medical Center, even calling individuals after hours and on the weekends to do everything from loading telehealth training for providers into the Learning Exchange to completing additional programming in eStar and My Health at Vanderbilt to make telehealth connections possible.
"The response was always very warm," Humphrey said. "Everyone jumped into action and did what needed to be done. They felt this was their opportunity to contribute to our response to COVID-19."
One group the team didn't already have a connection with was the Patient Access Center, but that group, too, quickly pivoted to support telehealth.
"We had to come together really quickly and harmoniously because Patient Access was, in unprecedented volumes, rescheduling people to telehealth and telling those individuals what telehealth looks like and feels like," Humphrey said. "I'm so pleased with the relationships we've built with the Patient Access Center during the pandemic."
Since early June, telehealth visits have lessened to 700-800 visits daily as patients return for in-person appointments, and Humphrey predicts VUMC will continue to tally 500-1,000 daily telehealth visits. Federal and state guidelines, as well as the rules of insurance providers and Medicare (payers), will dictate how telehealth can be used after the pandemic, she said. But she's reassured that all the players are in place and ready to make any adjustments necessary to make it happen.
Those playing key roles in VUMC's telehealth expansion include:
Physician champions: Cecelia Theobald, Dan Cottrell and Sara Horst (Medicine); Cheryl Cobb (Behavioral Health); Barron Patterson and Yaa Kumah-Crystal (Pediatrics); John Zic (Dermatology); Colleen Morton (Hematology-Oncology); and Kelly Brown (Neurology)
Health IT: Jared Cobb, Mike VanMaanen and the My Health at Vanderbilt team; Julia Lyle, Brent Moseng and their team
VUMC IT: David Cochran, Chuck Tilton, Colleen Egan, Fady Eilia, Krista Widener, and Jenn Brown
Change Management: Monika Stuard and Bryan Pewitt
Compliance: Bob Mangeot and Ted Case
Patient technical support: Vanderbilt University School of Medicine students led by Kaustav Shah and organized by Kyle Harris
Revenue Cycle: M.M. Burrows and Deb Bohlen
Training and Education (Learning Exchange): Diana Ormsby, Amanda Reece and Ariel Dunham and CeCe Lopez
Marketing: Iain Montgomery and Amy Bynum
Epic Training/Hubbl: Shawn Coomer
Office of Legal Affairs: Amy Hampton and Adrienne Kepner
Patient Access: Trey Bryant and Angie Hunter
Patient Education: Lane Stiles and Lori Parker-Danley
Interpreter Services: Hope Collins and Niyme Griffin
If you are a VUMC employee, you can nominate a colleague for an Elevate Credo Award, Five Pillar Leader Award, or Team Award. Visit the Elevate website to fill out a nomination form. Employees demonstrate credo behaviors when: they make those they serve the highest priority; respect privacy and confidentiality; communicate effectively; conduct themselves professionally; have a sense of ownership; and are committed to their colleagues. Elevate award nominations are accepted year-round. If a nomination is received after the cut off for an award selection period, the nomination will be considered for the next period. VUMC Voice will post stories on each of the award winners in the weeks following their announcement.