Terri Brady is driven to improve mental health services for children
"When you get up every day and know the work you do matters, and the people you work with feel the same way, it's pretty easy to be inspired."
August 30, 2022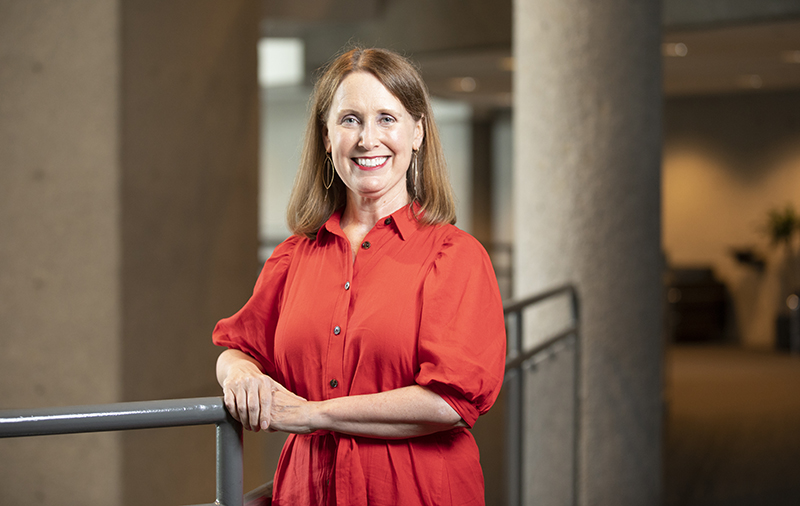 Terri Brady, RN, MBA. Photo by Erin O. Smith.
Terri Brady, RN, MBA, will tell you she's a nurse, first and foremost. Taking care of patients has been her life for many years, with 14 of them at Vanderbilt University Medical Center.
Since April 2016, first as director and now senior director of Network Operations and director of Pediatrics for the Vanderbilt Health Affiliated Network (VHAN), her reach has extended to thousands of patients touched by Vanderbilt's clinically integrated network of physicians, nurses and allied professionals who are transforming health care and strengthening communities.
For her dedication to her job, Vanderbilt's patients, and for the respect shown to her colleagues, Brady was presented the Five Pillar Leader Award at the August 2022 virtual Leadership Assembly.
"I became a nurse because I wanted to get up every day and have a job where I felt like I was making other people's lives a little better," she said. "It's a stressful job, but you can come home at the end of the day and know you've helped someone. I think that's carried through to every job I've had."
As director of Pediatrics for VHAN, Brady coordinates with about 40 community pediatric practices on cost and quality initiatives. Led by Brady, VHAN has launched a behavioral health consult line for pediatrics, especially important with the rising need for mental health services for children, adolescents and teens.
Brady cares about the network's community of patients, one nomination read.
"Terri has been an exemplary champion for our network patients and their families for behavioral health care access," one nomination read, relating the story of how Brady intervened when a therapist with a specific specialty for early intervention was experiencing barriers with an insurance payer. "Terri graciously contacted the insurance company advocating for this need, which prompted the therapist's paneling to be finalized. Since then, a large number of families have been able to access this early intervention service for their children through their insurance plan thanks to Terri's advocating."
Since VHAN is a data-driven organization, Brady's desire to always ensure that the data presented to practice members is of the highest quality is especially important, one nominator wrote.
In coordination with payers, Brady initiated adding depression screening to the VHAN Pediatric Modifier, raising depression screening from 10% overall in 2017 to 46% of VHAN practices screening 90% of their patients in 2021. In addition, she created the quarterly Behavioral Health webinar series to be attended by one provider at each practice at their convenience.
She led the development of a Behavioral Health consult line — a system for providers to connect with a licensed clinical social worker to develop a behavioral health care plan, assist with level of care determinations, provide assistance locating community resources or connect to psychiatry if medication assistance is needed. The line recently received its 2,000th call to assist VHAN-participating pediatricians with managing the behavioral health needs of their patients. The growth of the line has included extending hours, bringing on an additional LCSW and plans to add a line for adults.
Brady is also bringing the Project ECHO model of learning to VHAN's pediatric network this fall, which will allow providers to increase their confidence in treating patients with depression in the office setting. Project ECHO, developed at the University of New Mexico, is a virtual evidence-based model for increasing access to high quality care through empowering local providers to build new practice skills on multiple topics. The first topic offered will be on pediatric depression.
"This will hopefully help create some subject matter experts out in the community to help manage the increase in pediatric depression that we are seeing," Brady said. "Our pediatricians used to have to deal with otitis (ear infection) every day. Now they are dealing with depression and anxiety."
Brady is not only invested in the community, but in her colleagues as well, according to one nominator.
"She is invested in each member of the team and their needs for continued workplace well-being," the nominator wrote. "Terri is always willing to help and guide her team members most importantly in leading by example. She has never asked me to do anything that she herself would not be willing to do or has done."
Brady moved to Nashville and VUMC 14 years ago from Charlotte, North Carolina, where she had lived since she was 8. When she first joined VUMC, she worked at the Clinical Trials Shared Resource leading a team of research nurses and data analysts that oversees clinical trials in melanoma and urological cancers.
She said she is honored to be recognized with the Five Pillar Leader Award.  "To know the people I work with feel I'm worthy of the nomination and this award means the world to me," she said.
"I care about the people I work with," Brady said. "They inspire me every day to work harder and serve them well. But I'm also really passionate about improving the health care of the patients our practices see. It's what we do. When you get up every day and know the work you do matters, and the people you work with feel the same way, it's pretty easy to be inspired."
If you are a VUMC employee, you can nominate a colleague for an Elevate Credo Award, Five Pillar Leader Award, or Team Award. Visit the Elevate website to fill out a nomination form. Employees demonstrate credo behaviors when: they make those they serve the highest priority; respect privacy and confidentiality; communicate effectively; conduct themselves professionally; have a sense of ownership; and are committed to their colleagues. Elevate award nominations are accepted year-round. If a nomination is received after the cut off for an award selection period, the nomination will be considered for the next period. VUMC VOICE will post stories on each of the award winners in the weeks following their announcement.