The COVID Mass Vaccination Site Team faced a daunting task – put 200,000 shots in arms in six months. The team never wavered.
The accomplishment earned the group the Elevate Team Award.
September 30, 2021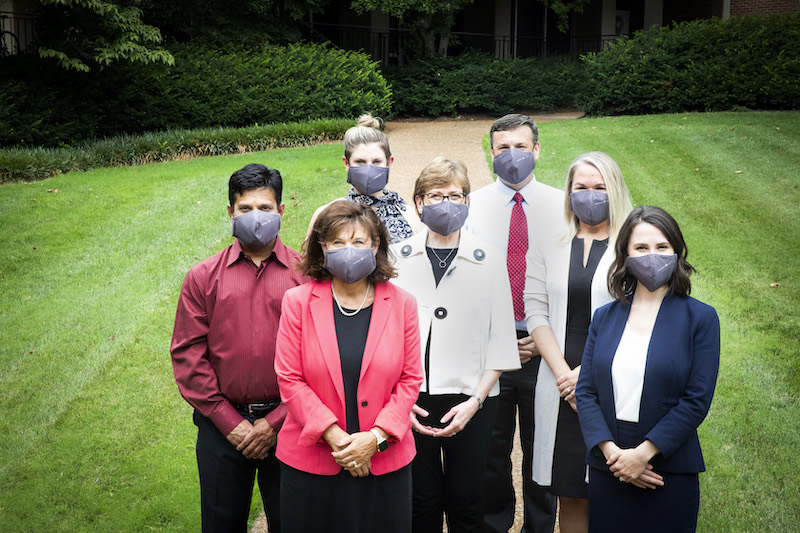 Photos by Susan Urmy
The COVID Mass Vaccination Site Team faced a challenge unlike anything Vanderbilt University Medical Center had ever seen — how to vaccinate hundreds of thousands of employees and patients in a pandemic while providing enough room for social distancing and without impacting the function of the Medical Center.
It required a team of more than 100 people in leadership positions who pulled in hundreds more to staff or support the process — most of whom had day jobs with multiple other responsibilities.
The mass vaccination team was responsible for putting more than 200,000 shots in arms by July, an accomplishment that earned it the Elevate Team Award during VUMC's Aug. 2021 virtual Leadership Assembly.
"Everybody on this team felt passionate enough about it to just do it," said team member Lindsay Miller, MSN, RN, whose day job is associate nursing officer for Surgery, Dermatology, and Orthopaedics Patient Care Centers. "It was a labor of love for all of us."
Over summer 2020, Miller worked with John Morris, MD, associate chief of staff of the Vanderbilt Health System, to design a mass vaccination program. They gamed out scenarios and mapped out staffing models.
The task was gargantuan and required assembling a small village of many disciplines, including the Labor Pool, Facilities Management, Health IT, Pharmacy, Guest Services, physician leadership, Vanderbilt Life Flight/Event Medicine, Finance, the Access Center and legal and regulatory experts.
Morris recalls telling the team, "No matter what our day jobs, no matter what our expertise, we will never have a greater opportunity to affect the lives of people in our community. This is the soul of personal medicine."
Then, blockbuster news: COVID-19 Vaccines with approximately 95 percent efficacy would be available for employees in December 2020 and patients in January 2021. The team created two mass vaccination sites on the VUMC main campus and one at One Hundred Oaks, with a capacity to serve up to 4,000 patients a day.
"Especially those early months were really hard, when people were working seven days a week and late into the evening sometimes," said team member Heather O'Dell, ACNP, MMHC, whose day job is lead nurse practitioner in the Liver Transplant Program at VUMC. O'Dell helped manage the day-to-day operations of the vaccination sites.
In addition to the mass vaccination clinics, Vanderbilt created a mobile program to reach underserved and homebound populations, under the leadership of Christian Ketel, DNP, APRN, assistant professor of Nursing.
The team's overarching goal was to vaccinate the most patients in the shortest time. That wasn't easy, especially early on, when vaccine supply was scarce, the amount available sometimes only known hours in advance. The team was tasked with communicating with patients as age and availability guidelines changed often. Team members not only had to keep up with high demand, but also hold back a sufficient amount of vaccine doses so patients would have a guaranteed second shot available.
"The information we had incoming every day was changing, and we had to respond to that quickly in order to be good stewards of the resources we were being given, and to maximum benefit for the community," O'Dell said.
"One of my favorite things about this whole project is just the relationship and people I've come to know in different areas of the Medical Center. There are a lot of really amazing people in every level and every area that I just had not had the privilege to get to know before this event."
The team wound down its work in July, as VUMC transitioned from the mass vaccination sites to focusing its vaccine efforts on walk-in clinics and primary care offices, while maintaining availability on the main campus and One Hundred Oaks.
Team members reiterated that the effort was successful not because of any one individual, but because of the whole team.
"It's not about me," Miller said. "It's not about Dr. Morris. It's not about Heather. It's about this whole group of people… I'm just thankful to be a part of it."
If you are a VUMC employee, you can nominate a colleague for an Elevate Credo Award, Five Pillar Leader Award, or Team Award. Visit the Elevate website to fill out a nomination form. Employees demonstrate credo behaviors when: they make those they serve the highest priority; respect privacy and confidentiality; communicate effectively; conduct themselves professionally; have a sense of ownership; and are committed to their colleagues. Elevate award nominations are accepted year-round. If a nomination is received after the cut off for an award selection period, the nomination will be considered for the next period. VUMC Voice will post stories on each of the award winners in the weeks following their announcement.