The inside story behind the Hillsboro Village "Hope" mural: a brother's love and a message for Children's Hospital
Lance Gregory wanted the message to be visible from the windows of Children's Hospital — in memory of his brother Cory
April 20, 2021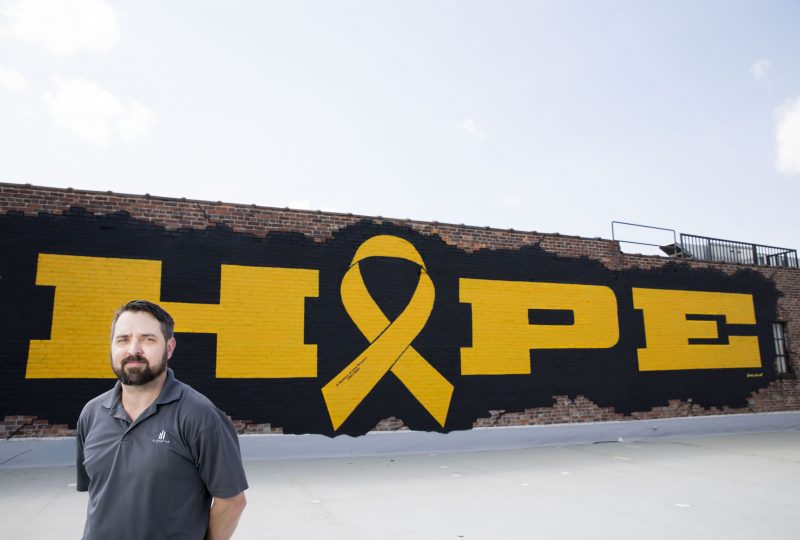 Lance Gregory and the "Hope" mural he commissioned in memory of his brother, Cory. Photo by Susan Urmy
People looking out the windows on the upper floors of Monroe Carell Jr. Children's Hospital at Vanderbilt get a clear view of Nashville's latest mural. In fact it's intentionally placed there for everyone inside Children's Hospital to see.
The word "Hope" is clearly emblazoned in bright yellow paint on the side of a brick building just off 21st Avenue South in Hillsboro Village. In place of the "O" is a yellow ribbon – symbolizing childhood cancer awareness.
But what cannot be seen from afar are five words: "In loving memory of Cory Gregory," followed by the years he lived – 1981-1988.
Cory's story is the reason why the mural was placed there. Commissioned by his brother, Lance Gregory, and created by artist Manuel Fuentes, the mural is intended to honor his brother and to provide a spot of brightness for viewers, especially the patients, siblings, families, nurses, doctors, trainees and staff at Children's Hospital.
"I wanted to do the word 'Hope' and write it big enough so that kids can see this from the hospital. It's to let them know, we know you're there. We see you. We're here for you. And sometimes, you have people that you don't know that are praying for you and that care about you, that have either been through it, or are going through it. And I want to encourage them not to give up hope," Lance said.
Cory and Lance Gregory were best friends and best playmates. The Portland, Tennessee, brothers, born only two years apart in the 1980s, bonded over sports and GI Joe action figures.
In a family of nine, which included seven siblings and their parents, Annetta and Kenneth Gregory, the two youngest in the family  always ended up together.
But when Cory was diagnosed with acute myeloid leukemia (AML) at age 4, it rocked the world of the entire family, particularly Lance's. He remembers Cory and his mother being gone to Lexington, Kentucky, for six months for treatments. He recalls being scared when Cory would get really sick; Lance would run off to hide. As Cory got sicker, he was admitted to  Children's Hospital, at that time "the hospital within the hospital" at Vanderbilt University Hospital. Cory died there at age 6 on March 6, 1988, two months before he would turn 7. Lance was 8.
Just a few months before Cory would have celebrated his 40th birthday in 2021, Lance, a chief operating engineer at Elmington Capital Group, got the idea for the mural. Elmington Capital Group owns the 21st Avenue South building, and Lance asked the group's permission to put up the mural. He credits Elmington Capital partner, Ryan Seibels, for approving the mural. In about four days' time in January, Fuentes was able to complete the 12 by 35-foot artwork.
"I wanted to dedicate it to my little brother because he fought so hard. And honestly, I wanted to do something that would make him proud," Lance said.
And in the process, Lance has made the rest of the family proud. He hadn't told his family or his parents, wanting it to be a surprise. So once complete — excited to share the work — he called his parents over FaceTime to show what he had done in honor of Cory and other children battling cancer.
"I got up on there on the roof and I FaceTimed my mom and dad. They loved it. They cried, which made me cry. They talked about how proud of me they are, and that he would be proud of me too," he said.
One of the family members, Kelly Robinson, who is Lance's cousin,  has worked at Children's Hospital for 20 years as a respiratory therapist. She got an early glimpse of the mural from the hospital, taking photos from the 10th floor waiting room to share with Lance.
"We were so excited. Keeping Cory's memory alive and inspiring the patients, families, and staff to have hope — that's what this mural is about, bringing a little bit of joy to their lives as they look out their hospital window and know that they can't give up," Robinson said. "Cory's spirit can continue to touch so many lives and encourage them to keep going. Knowing that we can keep spreading his love and positivity through this means more than you can imagine to our family."