The young woman was on the parking lot pavement without a pulse. A Vanderbilt nurse saved her life.
Keith Caldwell, a nurse at the Vanderbilt Health Clinic at Walgreens, called on years of experience to perform CPR until an ambulance arrived
December 28, 2020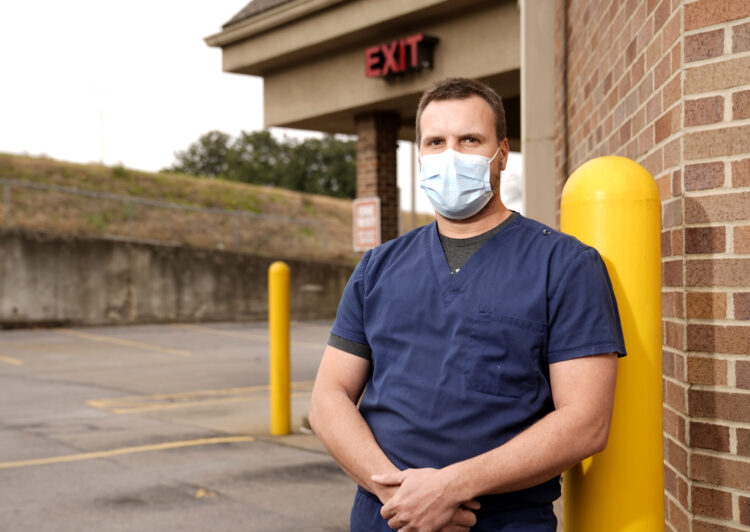 VUMC nurse Keith Caldwell at the drive-through at the Walgreens on Donelson Pike where he performed CPR on an unresponsive patient. Photo by Donn Jones
Keith Caldwell, MSN, FNP, a VUMC family nurse practitioner who works at the Vanderbilt Health Clinic in the Walgreens on Donelson Pike in Nashville, was catching up on paperwork around the middle of a recent workday.
"We had had quite a busy morning, then right before lunch there was a bit of a lull," he said.
The lull ended when Caldwell heard a commotion going on in the pharmacy area of the store, followed by a pharmacy tech yelling for somebody to call 911.
He dropped to his knees beside the woman and felt her neck for a carotid pulse. There's wasn't one.
Caldwell, a 2006 graduate of the Vanderbilt School of Nursing who had worked at the Walgreens since June, reacted almost by instinct, gathering supplies for what sounded like a medical situation.
Later he was able to talk to others and piece together what had happened.
A car had pulled into the pharmacy's drive-through pick-up area, and a man had banged on the glass window shouting that his girlfriend was unconscious in the car and needed Narcan, a drug that can rapidly reverse an opioid overdose.
In addition to the man and the woman, a boy about 18 months old was also in the car. Caldwell later heard that the three of them had been staying at a nearby motel when the man realized that the woman needed medical help.
When Caldwell ran outside to the pharmacy's drive through area, he saw a lot of activity: there was a bystander on a phone calling 911. The boyfriend had moved the woman out of the car to the pavement and was trying to rouse her. Customers who had just come by to pick up a prescription looked on in bewilderment. Traffic was flowing by only a few feet away on Donelson Pike.
"I thought if I could deliver high-quality CPR, she might have a fighting chance."
Caldwell, who has years of emergency room experience in his nursing career, blocked all that out and focused on his patient.
"There was a lady lying on the ground face up between two cars," he said. He noticed she was a thin, Caucasian female who looked to be in her 30s. "Her face was blue. Her eyes were fixed."
He dropped to his knees beside the woman and felt her neck for a carotid pulse.
There's wasn't one.
Caldwell started chest compression. "I thought if I could deliver high-quality CPR, she might have a fighting chance," he said. She had already been administered the Narcan nasal spray, but it had had no effect at that point.
After three minutes of CPR, he thought he saw her eyes move a little. There still was no pulse, so he kept doing chest compressions.
After four minutes, he heard sirens approaching. "It's amazing how long minutes feel when you're waiting for EMS," he observed later.
And then Caldwell felt a pulse. The patient came around enough to ask where she was and where her son was. He asked her some questions and she was able to answer.
By that point an ambulance had arrived, along with police and fire department first responders. EMS workers helped the patient into the ambulance to go to a hospital for evaluation.
And, as is often the case when someone is treated in an emergency circumstance, Caldwell went back in the Walgreens and prepared to see his patients for that afternoon, but he was aware of how unusual an outcome this was for someone with no pulse lying on the pavement of a parking lot.
Before the young woman left for the hospital, she was able to speak to Caldwell for just a moment.
"She was very appreciative," he said. "She was thankful. She realized the gravity of the situation she had gotten herself into."
"When I went home that evening and talked about my day it was a different situation than usual."
"Although our providers are typically not called on to provide resuscitation, they are skilled, highly trained, and ready to take care of both straightforward medical issues and the more complex patient population we encounter at Vanderbilt," said Clay Smith, MD, associate professor of Emergency Medicine and president and medical director of the Vanderbilt Health Clinics at Walgreens.
"The quick, decisive actions and excellent care by Keith saved this patient's life," Smith added. "But he is not alone in dealing with the fallout from the opioid epidemic. At least two more of our Walgreens providers in Middle Tennessee, Mary McRedmond and Donna Dubois, have performed life-saving stabilization of patients and have administered naloxone [Narcan]. It is such a privilege to be a part of this excellent team of advanced practice clinicians, medical assistants, and patient service representatives."
When he had some time to think about it later, Caldwell said he was thankful for several things: his coworkers who pitched in just as they do every day; for the training he had received; and to God for placing him in the right place and time to help.
"When I went home that evening and talked about my day it was a different situation than usual," Caldwell said. "I was afraid she was going to die. To have such a great outcome is just remarkable."