There is a bell on the transplant unit. It rings in celebration — and memory
Coleen Leszczynski's family dedicated the bell, to be rung every time a transplant patient leaves the hospital
August 20, 2021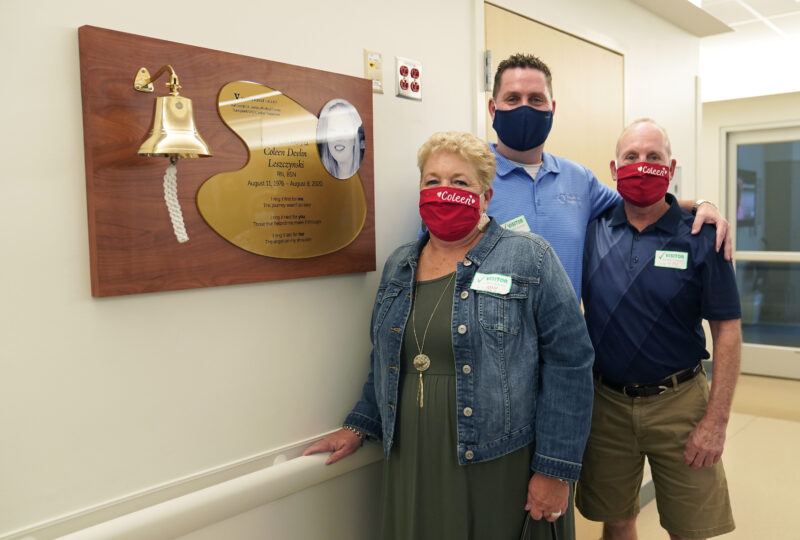 Mark Leszcynski, center, husband of Coleen Leszczynski, along with Coleen's parents James and Alice Devlin, with the bell dedicated in Coleen's memory and its accompanying plaque. The bell is on the seventh floor of Vanderbilt's Medical Center East, the unit where many transplant patients recover from their surgery. Photo by Donn Jones
All Coleen Leszczynski ever wanted was to be normal. Born with a congenital heart disease (CHD), she labored to breathe, having only three-quarters the oxygen capacity of a normal person. Still, she fought and fought to live, serving as a cardiac nurse in her native Philadelphia area for more than 16 years. She wanted to help people like her.
Coleen's journey led her to Vanderbilt University Medical Center, where in July 2020 she received a new heart. For two weeks, she reveled in being, well, normal. Unfortunately, she had complications and died on Aug. 8, 2020. She was 43.
On Aug. 4, 2021, Coleen's husband, Mark, and a caravan of more than a dozen family members traveled from the Philadelphia area to Vanderbilt to celebrate her life with the Vanderbilt Heart Transplant team. They donated a special plaque with Coleen's picture on it and a bell, which was installed on the seventh floor of Medical Center East. Transplant patients will be invited to ring the bell in celebration as they leave the hospital with their new organs. Its joyful noise will celebrate patients, their organ donors and medical team members that make transplants possible, and the life of Coleen.
Mark wrote a poem that is inscribed on the plaque:
I ring it once for you
For all those who helped me through
I ring it again for me
As it was not always easy
And I ring it last for her
The angel on my shoulder
"CHD patients have a real tough life of strife, disappointment, doctor's appointments and constant struggle. She felt this firsthand and wanted to share her experience to help others," Mark said. "Now she will do this great work by watching over the patients who come to this facility, with this plaque, every day."
Coleen's passion is now Mark's. Since her passing, Mark has raised more than $17,000 from family and friends for the Heart Transplant Research & Education Fund at Vanderbilt. He is committed to sharing everything he and Coleen learned with others.
The body of knowledge is smaller for adults with CHD because, a generation ago, such patients didn't survive into adulthood. Now they are increasingly doing so and receiving heart transplants. In the six months before Coleen's memorial bell was dedicated, VUMC transplanted seven patients with congenital heart disease, said Jonathan Menachem, MD, a transplant cardiologist and director of Advanced Congenital Cardiac Therapies at Vanderbilt Health. Vanderbilt is the largest heart transplant program by volume in the world. "We're going to continue to dedicate our efforts to making a difference in the lives of as many patients as we can," he said.
Mark said Coleen was born with a single ventricle instead of the normal two pumping chambers in her heart and had transposition of the great arteries, whereby the main pulmonary artery and the aorta are in reverse positions. She had two childhood surgeries to correct the condition as much as possible and give her the best chance at life.
"Basically, she was raised as if there was nothing wrong," Mark said. "Obviously, she was always different than everybody else. She played softball as a child. It was a little hard to run and do things as other people could do, but as much as she could, she was a normal child, had a normal upbringing."
A mutual friend introduced Mark to Coleen; they fell in love and were married 15 years ago. For many years, Coleen was able to sustain herself, working as a cardiac nurse. But the Leszczynskis knew from extensive research that eventually her heart would begin to fail. She would need a new heart.
In the last three years of her life, Coleen's condition worsened and her episodes of arrhythmia increased. The Leszczynskis navigated two hospital systems close to home, waiting for a transplant, but ultimately, she was not considered a good candidate at either one.
Her search for a heart led her to Menachem and the Advanced Congenital Cardiac Therapies program at Vanderbilt. Though Menachem is a die-hard New York Yankees fan and Coleen loved the Philadelphia Phillies, a fact they would often kiddingly joust about, they hit it off right away. During her time at Vanderbilt, Coleen became a beloved patient among physician and nursing providers alike.
"I now realize that hope is actually the force that allows us to live like Coleen did. It provides us a vision when there's no way to see it. It provides passion when it's hard to picture your life ahead. It provides joy when there's always hardship."
"She was a phenomenal person, and one of the toughest people we have ever treated," Menachem said. "She never complained. She did whatever she was asked, and probably exceeded expectations. She fought really, really hard, knew what she wanted, knew how she was going to get there, and she couldn't have done anything any different. The fact that she did so well for so long is a testament to how tough she was."
In July 2020, Coleen got what she had always hoped for: a new heart. The operation was a success, and she woke up from her surgery and immediately started making plans. She bought a pair of running shoes online, excited about the possibility of walking all around her neighborhood. She couldn't wait to go dancing and swim and play catch with her nieces.
"She got what she wanted," Mark said. "Not for as long as she wanted, but she got those two weeks of feeling like everybody else in the world and understanding and having the ability to see her life like everybody else had."
It's that joy, that feeling of hope, that Mark hopes every transplant patient feels as they ring that bell, with Coleen's happy face looking down at them.
"I used to think that hope was this ultimate force that gave us the chance to dream," Mark said. "I now realize that hope is actually the force that allows us to live like Coleen did. It provides us a vision when there's no way to see it. It provides passion when it's hard to picture your life ahead. It provides joy when there's always hardship. It makes the life ahead one that has the capability to be something so simple as normal."