Thurman Stevens takes extra steps to ease patients' anxiety
Stevens said he stays on the lookout for patients who may need some extra help.
March 13, 2020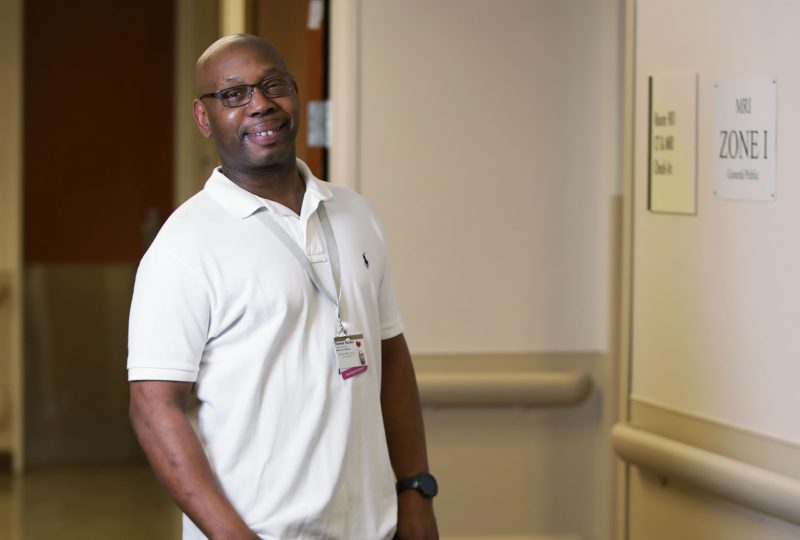 Photo by Erin O. Smith
Thurman Stevens, a patient care technician in Radiology at Vanderbilt University Medical Center, takes extra steps to provide comfort and guidance to patients who are anxious about undergoing medical procedures or navigating hospital mazes.
He was named Credo Award recipient at the February Leadership Assembly because of his calming presence, work ethic and empathy for patients. Rachel Hale, RN, nominated him for the award after observing him in action with a patient who was worried about making it to his next appointment location. Stevens asked the patient about his schedule and his concerns in a discreet manner then assured him he would obtain a wheelchair and take him to his next destination.
"The patient was beyond thankful, and the patient's anxiety was put at ease," Hale wrote in the nomination. "This is just one example of Thurman's behavior of serving his patients, maintaining patient privacy and confidentiality, being professional and communicating effectively. Thurman treats every patient he comes into contact with in this manner, and I witness it multiple times throughout the day."
Stevens said he stays on the lookout for patients who may need some extra help.
"People who are sick and aren't feeling well often don't know where they are going," he said. "They just want to be reassured they can get to their tests on time. It's important to them, and they're scared. I just try to give them a calming word. If I can, if I have the time, I like to try to get them there to the next test. If I can't, I do try to get them really close because sometimes I still have another patient who's next. I just try to let them know 'we are thinking about you and making sure you are alright.'"
Stevens, who has worked at Vanderbilt for 16 years, also takes ownership of quality and cleanliness in Radiology. He volunteered to work on a Saturday morning, a scheduled day off, to clean the CT scanner rooms thoroughly. Besides mopping the floors, he removed adhesive from the scanners and even cleaned the wheels of the rolling chairs. It's a task he now does monthly.
The additional cleaning protocols were ones he brought over from the Emergency Department, where he previously worked as a clinical technician. Stevens had started his career in environmental services before moving into that role, where he became the lead technician. He transferred to Radiology after falling in love at work with the woman who became his wife, Sharon Hughes Stevens.
"I transferred because my wife works in the ED," he said. "I couldn't be the boss of her."
Paul Searfoss, BS, CNMT, ARRT, manager of diagnostic administration for CT/MRI, offered him the job in Radiology. From day one, Stevens started taking on additional tasks, Searfoss said.
"Multiple areas request Thurman to assist in training new staff, and he is sought out because of his strong work ethic and dedication to our patients," Searfoss said.
To place a nomination for an Elevate Credo Award, Five Pillar Leader Award, or Team Award, visit the Elevate website to fill out a nomination form. Employees demonstrate credo behaviors when: they make those they serve the highest priority; respect privacy and confidentiality; communicate effectively; conduct themselves professionally; have a sense of ownership; and are committed to their colleagues. Elevate award nominations are accepted year-round. If a nomination is received after the cutoff for quarterly award selection, the nomination will be considered for the next quarter. VUMC Voice will post stories on each of the award winners in the weeks following their announcement.