United Voices of Vanderbilt choir spreads cheer with Children's Hospital performance
One year after its formation, the Medical Center choir has added new leaders and new harmonies
December 17, 2018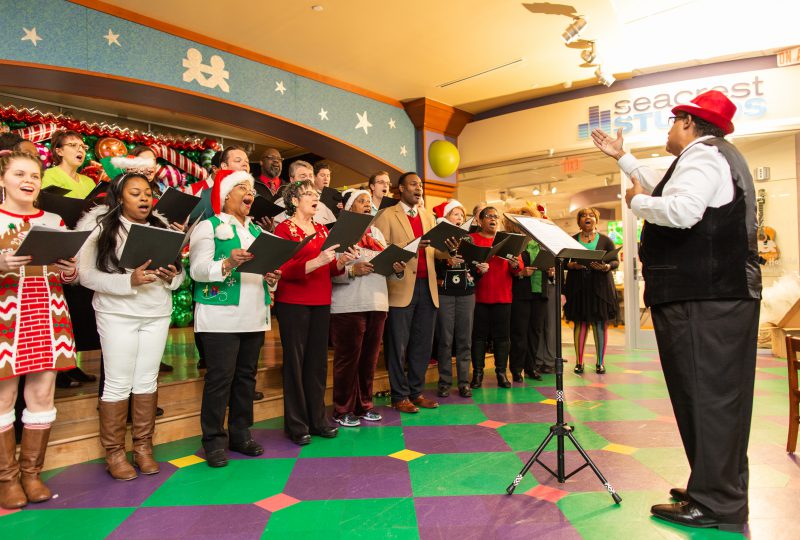 Ronnie Yates leads the United Voices of Vanderbilt choir in a performance of holiday favorites at Monroe Carell Jr. Children's Hospital at Vanderbilt. More than 30 employees sang songs for young patients, their families and hospital staff. Photo by Nathan Morgan
On the one-year anniversary of their first performance, the United Voices of Vanderbilt choir performed Christmas carols and much-loved holiday hits on the performance stage at Monroe Carell Jr. Children's Hospital at Vanderbilt.
The event was broadcast by Seacrest Studios so patients and families who couldn't leave hospital rooms could still enjoy the holiday harmonies.
The choir's practice and fellowship was very apparent as members' jingle-bell topped hats and reindeer antlers bobbed along to subtle choreography and slick, not-so-subtle four-part harmonies.
"We are doing a lot more harmony this year and a few more complicated songs," said choir leader Ronnie Yates, access specialist II for VUMC. "I also have help with directing, with Stephanie Holt (insurance management specialist in Patient Financial Services) and Greg Crutchfield (administrative officer for Physical Medicine and Rehabilitation and the Department of Otolaryngology) stepping in to lead the choir on a few tunes."
Brandi Taylor, a medical receptionist for the Children's Hospital Emergency Department, has been on the job just two weeks, but said the instant she learned about the choir, she jumped into rehearsals, put on her Santa hat and showed up to sing on the front row.
"I'm so excited," she said. "I look forward to more events with this group, and I'm loving my time working here at Vanderbilt."
Another new member of the choir was Adam Nagy, MD.
"I've sung my whole life – I started singing in church choir when I was six," Nagy said. "I did my residency here, and I'm just finishing up a fellowship in neurology. I didn't sing very much during my residency. I got a little busy! My fellowship has eased up a little, and I wanted to get back into singing. This was something that was easy and right here on campus."
Regina Hockett, executive secretary in the Office for Diversity Affairs, took the lead in organizing the choir in 2017, and said the group has a roll of more than 200, but 40-50 members consistently attend rehearsals for performances.
"When we have our rehearsals every week, we have a lot of people dragging in after work, but then we all have this big burst of energy," Hockett said. "I hear from a lot of members that they love it, that it makes their day better, and they end up singing all the way home. It's a great outlet for people. They come into rehearsal, and it just slings that weight off of them."
This year, the choir was accompanied on the keyboard by well-known Nashville jazz musician Julius Fisher, Yates's friend, who volunteered his talent to support the group.
The United Voices of Vanderbilt choir was created by the Office for Diversity Affairs and Vanderbilt University Medical Center Human Resources to perform at various VUMC events.
The next performance of United Voices of Vanderbilt will be at the Medical Center's Martin Luther King Day events on Monday, Jan. 21, 2019.
Yates is also hoping to build buzz on campus about the group's planned summer concert, which he described as a "celebration of two kings, Elvis Presley and Michael Jackson."