Vanderbilt ER nurse receives wedding surprise from "Say Yes to the Dress"
Holly Beth Jones will receive a wedding gown from the show, which is honoring front-line health care workers
September 8, 2020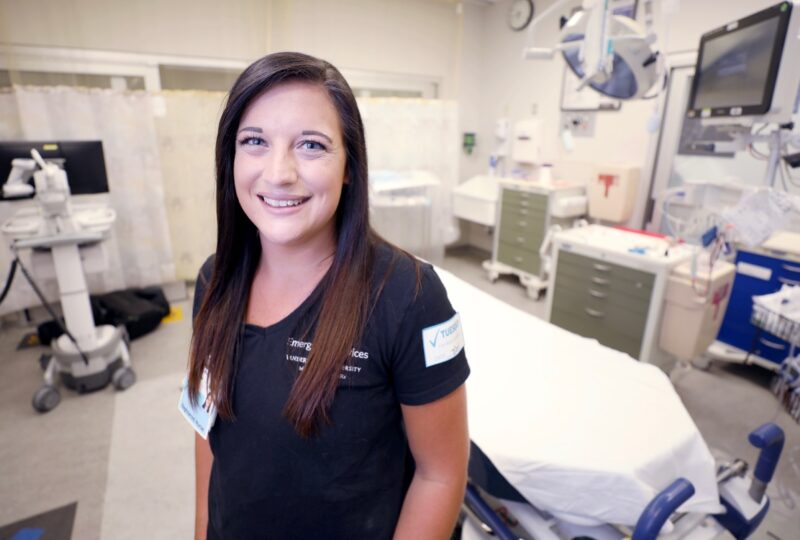 Holly Beth Jones, RN, BSN, looks to her 2021 wedding from the Vanderbilt Adult Emergency Department. Photo by Erin O. Smith
Holly Beth Jones, RN, BSN, was excited and nervous about talking to Lori Allen — the star of "Say Yes to the Dress: Atlanta" — on national TV. Jones had been told that Allen wanted to talk to brides who were trying to plan a wedding during the coronavirus pandemic. Allen was promoting a book, and the book publicist knew one of Jones' good friends.
"I was scared, but it was an opportunity that I didn't want to pass up," said Jones, a nurse in the Vanderbilt Emergency Department. "I thought I was going to be asking for advice about dress shopping and wedding planning in general."
Instead, Allen surprised Jones. During the live segment, Allen announced that she wanted to publicly thank Jones for her work on the front lines of health care by giving her a free $5,000 wedding gown. Allen will work with Jones to select a gown from the designer Eve of Milady.
Jones was stunned.
"It was a complete shock. I couldn't really find the words to express how grateful and excited I felt," Jones said.
Allen selected Jones for the thank you gift after learning that Jones changed careers to become a nurse while her mother was ill with liver cirrhosis. Jones was in the first semester of nursing school when her mother died in October 2017.
"I had worked at Vanderbilt scheduling colonoscopies and endoscopies for the GI lab before I decided to become a nurse. Patients were always excited to hear from me," Jones said, laughing.
"When my mom's health was declining, I went to a lot of appointments with her. Seeing how she was treated — how our family was treated — really drove it home for me that nursing was what I needed to do," Jones said. "I had worked a few different jobs, and none of them were super fulfilling. I could see myself being a nurse…I thought 'this is what I'm looking for.' So I took a leap of faith, and here I am."
Jones has worked in the adult emergency department for almost two years.
"I love the fast-paced environment and being comforting, reassuring and efficient while maintaining the expected standard of care," she said. "It's a challenge, and I love a challenge."
The challenge has been exacerbated by restrictions related to COVID-19, Jones said. For many months, visitors were not allowed in the emergency department. "It's been a very difficult, very strange time."
In addition to working and planning a wedding, Jones is taking an emergency medical technician (EMT) course for RNs. She hopes to one day become a flight nurse.
Jones and her fiancé, Calum Cruickshank, are planning a July 2021 wedding in Barbados. They selected a date next year because Jones felt she needed the extra planning time. "The longer, the better, because it will take me that long to figure out décor and food and everything else," she said.
One thing she won't have to worry about: the gown.