Vanderbilt nursing legend Carl James dies at 75; remembered for his decades of service to patients and colleagues
For more than 40 years he cared for countless patients and was also a mentor, counselor and guide to generations of new nurses coming to work at VUMC
February 27, 2023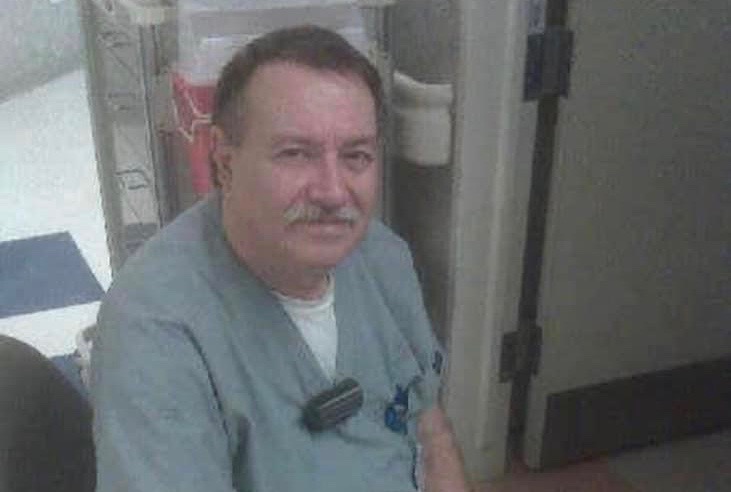 Carl James at "home" on the 9 North Surgical Stepdown unit. Photo courtesy Marsha Sesay, RN
Carl James, RN, a nurse with more than four decades of service to Vanderbilt patients, mostly on the 9 North Surgical Stepdown unit, died Feb. 17. He was 75.
Mr. James' time at the Medical Center actually predated the opening of 9 North; he came to work at Vanderbilt in 1973 as an LPN on the B-2100 unit in the "old" VUH, now called Medical Center North, and retired after almost 45 years, in 2018.
"He was a living legend to me and so many others who learned our 'real world' nursing skills on 9 North."
He earned his RN while also working at the hospital, and in the many years he was at Vanderbilt he cared for countless patients and was also a mentor, counselor and guide to generations of new nurses coming to work at VUMC.
One of those "new" nurses was Executive Chief Nursing Officer Marilyn Dubree, MSN, RN, NE-BC, who came to Vanderbilt in 1976. Among those she met early in her career at Vanderbilt was Mr. James.
"Carl James was a Vanderbilt nurse at his core," Dubree said. "As a young nurse leader, I encountered Carl and quickly knew that his advocacy for his patients and patient care were only surpassed by his commitment to his team. He was beloved by those who worked with him and in his quiet way, showed many nurses and clinicians the strength of being a Vanderbilt nurse.
"He was proud to be part of our nursing community and he watched that community evolve over forty years."
Another nurse whom Mr. James helped train was Lucy Eilken, RN. "He was a living legend to me and so many others who learned our 'real world' nursing skills on 9 North," she said.
Angela Anderson, RN, a charge nurse in Surgical Stepdown, recalled one particular way that Mr. James showed his care for his coworkers: he volunteered to work on the holidays so others could be home with family.
Mr. James was born in Springfield, Tennessee, in 1947, the third of four children of Uldine and Webster James. He attended grade school in Cedar Hill and finished high school at Springfield High School.
His sister Linda Lipford recalled his love of nature.
"After buying his home in Nashville his yard was filled with all kinds of plants and flowers," she said.
After Mr. James retired from Vanderbilt in 2018, he moved to Jackson, Tennessee, to live near his sister. Among his interests was Indian pottery, and his sister remembered that wherever he lived he wanted to keep some of his favorite pieces nearby.
"Even when he had to go to assisted living and then to the nursing home, some of his collection was on display in his room," she said.
His sister said that despite his many interests — nature, pottery, traveling, history — his greatest joy was found with his patients and coworkers.
"The happiness years of his life was his 40 some odd years working at Vanderbilt," she said.
At Mr. James' request, no memorial service is planned.