Vehicle crashes are a leading cause of death and injury for children; how to know you're using a car seat safely
"The misuse rate in car seats in Tennessee was almost 87% in 2020."
September 21, 2021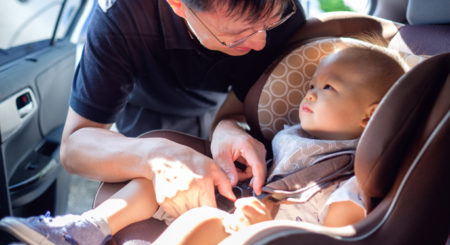 During the COVID-19 pandemic, parents have juggled many priorities, including how to keep their children safe and healthy.
Vehicle crashes are a leading cause of death and injury for children in the United States, said Purnima Unni, MPH, CHES, Pediatric Trauma Injury Prevention manager at Children's Hospital.
When correctly used, child safety seats decrease the risk of death by up to 71% for infants and 54% for children ages 1 to 4, according to a National Highway Traffic Safety Administration (NHTSA) study.
"Unfortunately, the misuse rate in car seats in Tennessee was almost 87% in 2020," said Unni. "The key to keeping your child safe is to make sure your child is in the right seat for their age, weight and height as well as making sure that the seat is installed correctly in your vehicle."
According to a NHTSA survey, the following are the five commonly observed mistakes made by parents and caregivers when using and installing car seats and booster seats:
Wrong Car Seat: Whether you're keeping your baby in an infant seat or you've moved your child into a booster seat, it's important to use the car seat that fits not only your child's height and weight but their age and maturity level too.
Forgetting to Register the Car Seat: It can be easy to overlook the small registration card that comes with every new car seat, but it's an important tool in keeping your child safe. Registering your car seat allows the car-seat manufacturer to alert you in the event of a recall. If you've misplaced the registration card you can go online to your car-seat manufacturer website and complete the registration link.
Car Seat Is Facing the Wrong Direction: Children should ride in rear-facing car seats until at least age 2. Parents should keep them in that position until they outgrow the height or weight limits for the car seat's position. Rear-facing car seats provide better head and neck protection in a crash than forward-facing seats, absorbing crash forces across the car seat's shell.
Loose Car Seat Installation: Car seats should be installed snugly into a car. When you grab the car seat at its belt path (the area where the latch system or seat belt attaches or goes through the car seat) and give it a tug, it shouldn't move more than an inch.
Using Both the Latch System and Seat Belt for Installation: Many parents think more is better when it comes to car seats, and they will install their car seat with both the latch system and the seat belt. In this case, more can be dangerous: Car seats haven't been crash-tested with both seat belts and latch systems securing them, so it's not known how the car seat will or won't perform in a crash. When installing a car seat, use either the seat belt — making sure it's locked — or the latch system.
 Unni offers the following tips to help parents ensure their child's car seat is installed and used correctly:
Right Seat: Check the label on your car seat to make sure it's appropriate for your child's age, weight and height.
Right Place: Keep all children in the back seat until they are 13 years old. Doing this, along with correctly using the appropriate child restraints, greatly reduces the risk of injury.
Right Direction: You want to keep your child in a rear-facing car seat for as long as possible. When he or she outgrows the seat, move your child to a forward-facing car seat. Make sure to attach the top tether after you tighten and lock the seat belt or lower anchors.
Inch Test: Once your car seat is installed, give it a good shake at the base. Can you move it more than 1 inch side to side or front to back? A properly installed seat will not move more than 1 inch.
Pinch Test. Make sure the harness is tightly buckled and coming from the correct slots (check manual). Now, with the chest clip placed at armpit level, pinch the strap at your child's shoulder. If you are unable to pinch any excess webbing, you're good to go.
"Car seats are difficult to install," said Unni. "It's important to read the instructions from the car seat manufacturer as well as the car manual."
Unni stressed that there are experts throughout the community to assist with proper installation. Register for a FREE online virtual class sponsored by Children's hospital at: https://www.eventbrite.com/e/virtual-monthly-child-passenger-safety-class-tickets-125226573051
To learn more tips about car seat safety visit https://www.vumc.org/injuryprevention/car-seat-tips
Photo by iStock