VUH's Radiology Command Center Team earns award for quick action to address contrast imaging global supply shortage
The team's quick actions meant contrast imaging studies were reserved for people with emergent health situations, like heart attacks and strokes.
September 7, 2022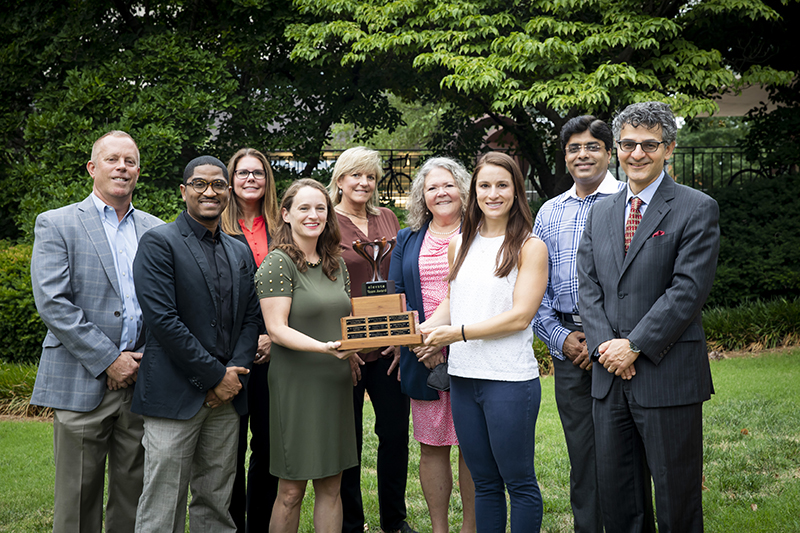 Vanderbilt University Hospital Radiology Command Center Team (from left): Michael O'Neal, Laveil Allen, MD, Sarah Allen, Kate Frederick-Dyer, MD, Lise Ridings, Sheryl Redlin-Frazier, Joanna Shechtel, MD, Sumit Pruthi, MD, Reed Omary, MD.  Photo by Susan Urmy.
A COVID–related lockdown in Shanghai, China, in April stopped production of Omnipaque ™ (iohexol) at a major GE Healthcare production plant, disrupting supply chains and resulting in a global shortage of all types of iodinated contrast material (ICM) used in patients undergoing CT scans, MRIs and other imaging studies.
GE Healthcare notified customers to expect an 80% reduction in order fulfillment that could last six to eight weeks. Vanderbilt University Medical Center (VUMC) identified a reserve of seven to 10 days' worth of ICM on hand and recognized that thousands of patients would be affected across the Medical Center because of the acute shortage.
A Vanderbilt University Hospital Radiology Command Center Team (RCCT) immediately assembled to address the crisis, and its quick action resulted in a 50% reduction in ICM usage at VUMC within a matter of days, leaving ICM available for emergent studies where no other suitable option is available, such as in the evaluation of acute myocardial infarctions and strokes. To the team's knowledge, patient care was not compromised due to the ICM shortage.
For its rapid response and successful implementation of a plan to manage VUMC's supply of ICM, the RCCT received the Elevate Team Award at the August 2022 virtual Leadership Assembly.
The RCCT collaborated with 86 stakeholders across the Vanderbilt Health System, including pharmacy, IT, nursing, physician leaders, and patient access, as well as radiology managers at regional hospitals. The group met daily to provide updates on ICM stores, use and downstream effects, such as increased demand for MR and ultrasound imaging.
"The RCCT developed mitigation, communication, prioritization and procurement strategies for the ICM shortage," said Laveil Allen, MD, executive medical director of Imaging CSC, section chief of Emergency Radiology, and team leader. "These strategies paralleled the recommendations later released by the American College of Radiology, utilizing methods developed by the RCCT. Because of our early awareness of the crisis, mitigation efforts, and creative sourcing of ICM, we are now able to scan all patients across VUMC who need ICM."
Working with Allen on the RCCT were executive sponsors Reed Omary, MD, MS, Carol D. and Henry P. Pendergrass Professor and chair of the Department of Radiology and Radiological Sciences; Patty Wright, MD, VUMC chief of staff for Adult Ambulatory Services for Davidson County; and Paul Sternberg Jr., MD, chief medical officer. Other team members were Joanna Shechtel, MD, medical director of MRI; Kate Frederick-Dyer, MD, medical director of CT; Taylor Davis, MD, section chief of Neuroradiology; LeAnn Stokes, MD, section chief of Interventional Radiology and patient quality and safety officer for Radiology; Brent Savoie, MD, JD, vice chair of Informatics and section chief of Cardiothoracic Radiology; Sumit Pruthi, MBBS, section chief of Pediatric Neuroradiology; Cameron Henry, MD, radiology resident; Sarah Allen, CNMT, MBA, associate operating officer of Radiology; Sheryl Redlin-Frazier, RN, MSN, director, Interventional Radiology and Radiology Nursing Communications; Madison Agee, IT Communications; Lise Ridings, Customer Care Team; and Michael O'Neal, Pharmacy Procurement.
If you are a VUMC employee, you can nominate a colleague for an Elevate Credo Award, Five Pillar Leader Award, or Team Award. Visit the Elevate website to fill out a nomination form. Employees demonstrate credo behaviors when: they make those they serve the highest priority; respect privacy and confidentiality; communicate effectively; conduct themselves professionally; have a sense of ownership; and are committed to their colleagues. Elevate award nominations are accepted year-round. If a nomination is received after the cut off for an award selection period, the nomination will be considered for the next period. VUMC Voice will post stories on each of the award winners in the weeks following their announcement.