VUMC nurse Tamara Slagle was losing her sight. A cornea transplant allowed her to keep the job she loves.
"My day-to-day living has gotten easier, and my job too."
July 7, 2021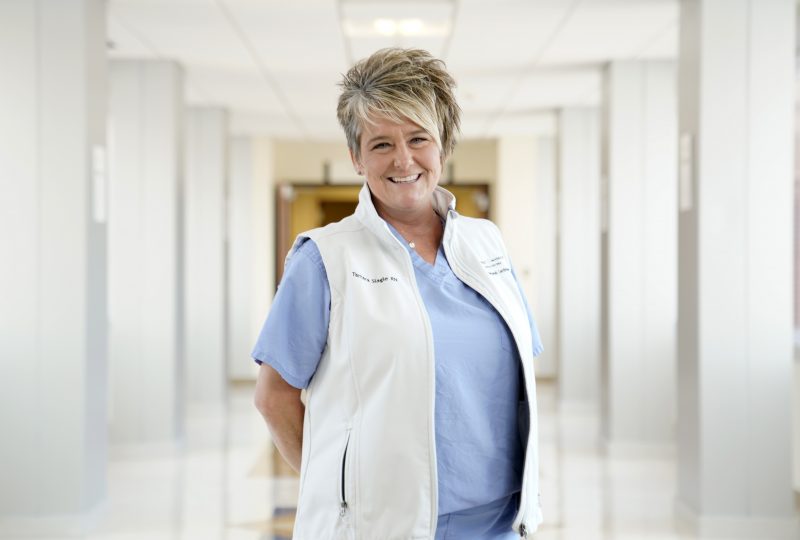 Tamara Slagle wasn't sure she would be able to continue in her career if her vision continued to worsen. A cornea transplant restored lost sight. Photo by Donn Jones
Tamara Slagle, RN, had perfect vision until 2016 when her eyes began bothering her, and she was diagnosed with dry eyes by the one optometrist in her hometown of Burnsville, North Carolina, population 1,647.
Slagle, 47, the mother of two adult sons, continued to have issues with her eyes after moving to Spring Hill, Tennessee. Her husband encouraged her to see an ophthalmologist. At her appointment, the Spring Hill physician asked her how long she had had Fuchs' dystrophy, a condition in which fluid builds up in the cornea, the clear layer on the front of the eye, causing the cornea to swell and thicken.
Slagle, who is a nurse in the Vanderbilt University Adult Hospital's cardiac catheterization lab's holding department, had never been diagnosed.
Fuchs' dystrophy usually affects both eyes and can cause vision to gradually worsen over years. The disease, which can be inherited but also occurs in people without a family history of the disease, typically starts in a person's 30s and 40s. But many people don't develop symptoms until they reach their 50s or 60s.
Slagle's disease was progressing rapidly.
"When Dr. Tran took the suture out of my eye after a few weeks, it was amazing that I could see so well."
Some medications and self-care techniques may help relieve the symptoms of Fuchs' dystrophy, but when the disorder is advanced the best way to restore vision is with cornea transplant surgery.
Cornea transplant (keratoplasty) is a surgical procedure to replace part of the cornea with corneal tissue from a donor. The cornea is the transparent, dome-shaped surface of  theeye where light enters. It's in large part responsible for the ability to see clearly.
Slagle's vision had declined to the point that driving home at night was becoming a struggle. She would see four tail lights on the car ahead of her instead of two. So, her husband had to drive her to and from work, and her co-workers pitched in at work when she needed help.
She was referred to the Vanderbilt Eye Institute (VEI) and Uyen Tran, MD,  professor of Clinical Ophthalmology and Visual Sciences, in July 2020. Tran confirmed the diagnosis and told Slagle she would need a cornea transplant in the future.
The news that you have an eye disease that is causing you to lose your sight could be hard to deal with. Slagle remembers Tran's kindness and professionalism.
"She assured me and comforted me. She has always been upfront and honest. I've loved the way she's treated me," Slagle said.
When Slagle returned for a six-month checkup on Jan. 4, 2021, the disease had progressed significantly — so significantly that Tran performed a cornea transplant on her right eye only two weeks later, on Jan. 19, 2021. Slagle plans to receive a transplanted cornea on her left eye in the future.
"When Dr. Tran took the suture out of my eye after a few weeks, it was amazing that I could see so well," Slagle said. "My day-to-day living has gotten easier, and my job too."
"This is a procedure that will restore sight to people who have a corneal disease due to trauma, inherited conditions and infectious and inflammatory diseases," Tran said. "The success rate is dependent on the underlying condition. In general, corneal transplantation has a success rate of up to 95%. However, there is always a lifelong small risk that the recipient will reject the donor tissue."
According to the National Eye Institute, there are about 40,000 corneal transplants in the United States each year. Tran said there are about 350 transplants at VEI each year.
Corneas used in transplants come from people who have died, but not those who died from unknown causes or from donors who had diseases that can spread, previous eye surgery or eye disease.
Unlike other transplants, there's no tissue matching required, and in the United States, donor corneas are widely available so there's usually not a long waiting list.
During the procedure, the donor cornea, cut to fit the recipient's eye, is placed in the opening and the surgeon uses sutures to stitch the new cornea into place.
After transplantation, Slagle had to remain flat on her back for 72 hours, other than getting up to use the restroom, to help hold the cornea in place. She had to wear an eye patch to protect the transplanted cornea, couldn't wear makeup, rub her eyes or push, pull or strain for any reason.
It was inconvenient, but she says it was well worth it to help her get back to the life she loves.
"I love being a nurse and taking care of people," she said. "Nursing is my life, other than my family. The transplant made a real difference."