VUMC surgical tech cheers on daughter Grace West on NBC's "The Voice"
Daryl Rembinski's family moved to Nashville from Detroit to support Grace's singing career
May 2, 2023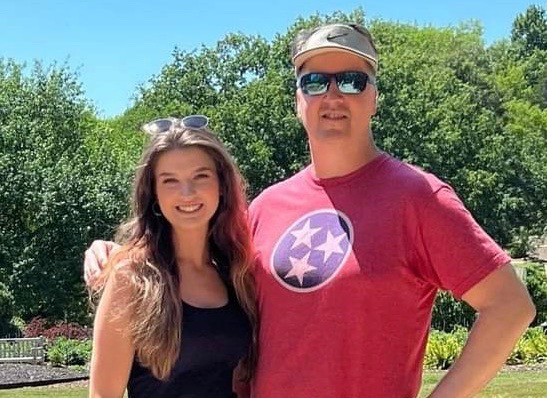 Grace West with her dad, VUMC surgical tech Daryl Rembinski.
UPDATE after the Voice finale broadcast on May 23:
Grace West, who made it to the finals of the vocal competition "The Voice,"  came in second place in the 23rd season of the NBC show.
The $100,000 and a record deal with Universal Music Group were awarded to singer Gina Miles.  First and second place were the closest margin in the show's history, according to the show's host Carson Daily.
Grace's father, VUMC employee Daryl Rembinski, said he and his wife attended both days of the finale.
"We thought Grace's performances were flawless, and it looked like Blake Shelton had a great time watching all of them," he said. "Grace actually received shout-outs and tweets from all of the original artists whose songs she covered during The Voice, including the queen of country music, Dolly Parton."
Rembinski said that his daughter and Miles, who won the competition, became close friends.
"Grace stayed true to her classic country sound with song selections, and her duet of "Lonely Tonight" with Blake Shelton was amazing to watch," he said. "Just seeing my baby girl doing a duet with a country superstar live for the world to see was hard to believe."
The original article, published earlier in May, is below:
Daryl Rembinski laughs when he thinks about his daughter, Grace, walking around years ago in her diaper singing songs into a pretend microphone from "Barney & Friends," the hit children's TV series about a purple anthropomorphic dinosaur who happily sang and danced with children.
But she was never satisfied just to sing, unnoticed. "She wanted us to stop what we were doing and watch her," Rembinski remembers, laughing. "Even in diapers, she wanted an audience."
Grace West (she uses West as her last name on the stage), now 19, is a contestant on the 23rd season of NBC's "The Voice." Rembinski, a surgical tech at Vanderbilt Health Belle Meade, and his wife, Jill, a nurse practitioner at a private practice in Franklin, Tennessee, are definitely watching their daughter perform on the show that airs on Mondays on NBC at 7 p.m. CDT.
West has advanced to the next episode each time since she first appeared on the show on March 20. The judges have praised her "pure and classic" voice. She has been in Los Angeles filming the series for about two months, Rembinski said.
The Rembinskis moved to Nashville from Detroit two years ago after West signed a songwriting publishing deal on Music Row.
"All of use moved down here as a unit so Grace could pursue her dream," he said. West, who began performing at venues in Detroit when she was 12, was "discovered" several years ago when a family member of someone with a Music Row connection heard her sing.
"They asked if it was OK if they sent a tape to their family member, and we said yes. A couple of weeks later they wanted to meet us," Rembinski said. The publishing company signed her when she was 16.
"The Voice" format includes Blind Auditions, Battle Rounds, Knockouts, Playoffs and the Live Performance Shows. The judges are country music entertainer Blake Shelton, who has announced it's his last his season on the show, Chance The Rapper, Irish singer/songwriter Niall Horan and singer/songwriter/TV personality Kelly Clarkson. If chosen on the Blind Auditions, contestants are assigned to a team. West is on "Team Blake." There are 10 assigned to each judge.
In the first episode, for her Blind Audition, West wowed the judges by singing Pam Tillis's  "Maybe it was Memphis."
In the Blind Audition, the decisions from the coaches are based purely on voice. The judges' rotating seats are turned away from the singers so they can hear them, but not see them. If a coach is impressed by the artist's voice, they push a button to select the artist for their team. Then the coach's chair will swivel so they are facing the artist they selected. If more than one coach pushes the button, the artist can choose which coach they want to work with. If a coach doesn't push the button, the artist is eliminated from the competition. On West's Blind Audition, both Shelton and Horan pushed their buttons to choose West, then each pitched why she should choose them as her coach.
Her grandfather was a guitar player so she grew up around music and sang in her church choir and musical theater productions. She started playing guitar when she was 12.
Shelton said he could relate to West because he moved to Nashville when he was 17 with a publishing contract. "I actually hear Pam Tillis in your voice," he said. Horan said, "Your voice is impeccable. People of America are going to love you."
Clarkson then told West she should choose Shelton because "he really helps artists out." West chose Shelton as her coach as her parents were shown in the background wiping tears and applauding their daughter.
"She was the last member picked on his team, his last pick ever (because Shelton is leaving the show after this season)," Rembinski said. "Blake came backstage after, and we got to meet him. It was pretty surreal."
In the second show, a Battle Round, she performed a duet of Randy Travis's  "I Told You So" with competitor Carlos Rising.
After the performance Clarkson described West's voice as "pure."  Shelton said, "You're doing what you were born to do, and it's country whether you like it or not when it comes out of your mouth, and you embrace it. That's what makes you a classic."
After announcing that West defeated Rising in the Battle Round, Shelton said, "Grace has an edge on a lot of contestants in this competition because she's so authentic in what she does. Grace could be a huge artist in country music, and I want to be a part of that journey."
In the April 24 Knockout episode, West, dressed in red leather pants, a red tank top and a black bejeweled jacket, performed Dolly Parton's "Here You Come Again"
As she sang, Shelton said to his co-judges, "That's the real deal, man." West moved on to the Playoff Round which was aired on NBC on May 1, where she again advanced, this time with a performance of the Judds' song "Love is Alive."
Her bio on "The Voice" says her original songs include "By the Way," and "You Owe Me That." It mentions that she has 34,000 followers and more than 183,000 likes on her TikTok page. Her website thegracewest.com describes her music as "pop-country with an old-school vibe" and says that her grandfather was a guitar player so she grew up around music and sang in her church choir and musical theater productions. She started playing guitar when she was 12.
"My wife and I have no musical ability at all," Rembinski said.
The family took "a leap" in moving to Nashville to support West, but Rembinski said he's glad they did. They have a 17-year-old son, D.J., who is a junior at Ravenwood High School in Brentwood.
"We found jobs pretty quickly, and it's all paying off. That's why we came out here as a unit, so she could have full support while she's doing her music stuff," he said.
Rembinski's thoughts about West's experience on "The Voice": "Grace has been singing since she began talking," he said. "She's got a great voice and has a knack for this stuff. The show is helping her get the attention of a mass crowd. It's been an out-of-body experience seeing my little girl recognized and all the compliments she gets from the judges," he said.
Photos courtesy Daryl Rembinski