VUMC Voice 4-to-7-year-olds' Halloween art contest winners announced
Witches, demons, zombies, an evilly cackling vampire -- these pictures have it all
October 26, 2018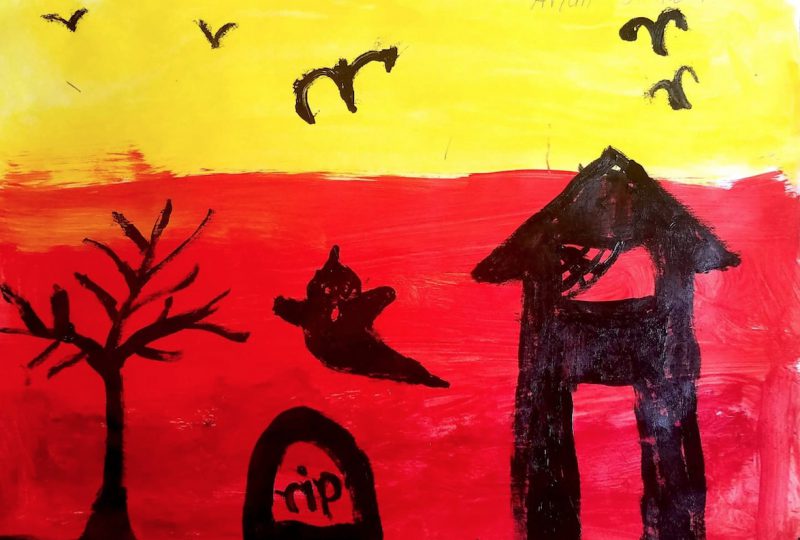 First place: Artist Aryan Sankolli, 7, son of Karuna Naik of Health IT.
The VUMC Voice's Halloween children's art contest again drew an impressive array of terrifying seasonal images. The contest was divided by the age of the artist, with 4-7 year-olds in their own category, and 8-12 year-olds in the older category. (Seven-year-olds were moved from the older to the younger group to help even out the number in each category).
The 8-to-12 year-old winners are here.
The first place winner was Aryan Sankolli, 7, son of Karuna Naik of Health IT, for his colorful scene of a ghost, a tombstone and a haunted house. First runner-up was Evie Ellis, 7, granddaughter of Carol Ellis of Hospital Information Technology Systems, for a grinning cat popping out of a jack-o-lantern, and second runner-up was Catherine Xiao, daughter of Liang Xiao of Clinical Pharmacology, for another colorful scene of scary trick-or-treaters terrifying a street. Other honorable mention pictures are below.
If all this fabulous and terrifying artwork isn't enough for you, check out last year's winners here and here.