Pets of VUMC 2018 — Collection #1: Duos
The contest that's on everybody's mind.
April 16, 2018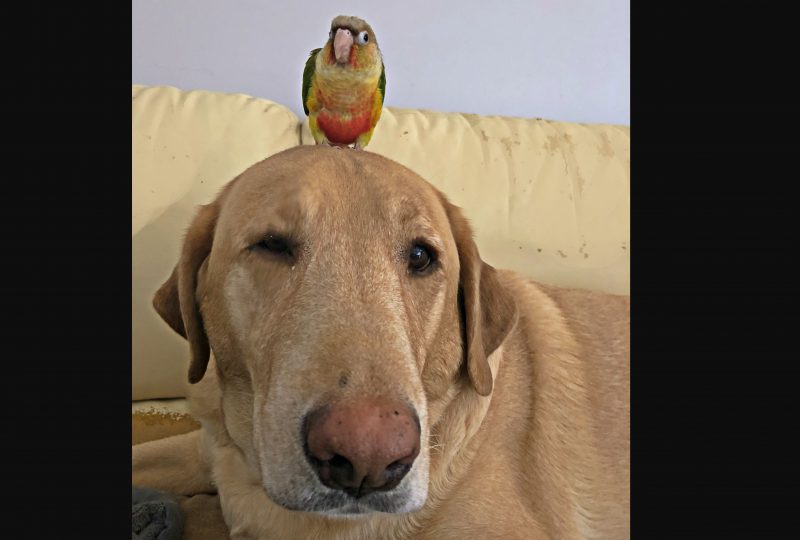 Brenda Capers, Vanderbilt Health Services. Copper and Skittle. "Copper is our failed foster-rescue.  He's six years old and is a lab mix. Skittle is a pineapple green cheek conure.  She hatched in September, 2017."
Almost 600 (!) photographs were submitted by VUMC employees to the 2018 "VUMC Voice" Pet Photo Contest, and this collection is the first of the selected pictures to be shared. (Remember — the top prize we offer in the contest is a photo of your pet shared in "VUMC Voice.")
Looking over the many, many images people sent in, it is really obvious that Medical Center people LOVE their pets. There are so many shots that are cute, goofy, cozy and lovable — sometimes all at once.
So, we were faced with a deep question — with so many great pet pictures, how can we show as many of them as possible?
Here's what we decided: some of the entries fell into natural categories, so over the course of the coming weeks, we will post different collections of selected pictures based around themes.
The theme for this first collection of photos is "Duos." Watch for more collections in coming weeks. While we won't be able to use all, or even most, of the pictures we received, we hope to showcase a good sample of the best of the beasts.
If you didn't send in an entry this year, and your pet is peeved at you about it, please reassure him or her that there will be a "VUMC Voice" Pet Photo Contest next year, but explain that the deadline for entries for this year has passed, and no more pictures will be accepted. We hope your pet understands.
And watch for the next installment of "VUMC Voice" Pets of VUMC 2018 — coming in May.