VUMC's 90 valet attendants park a half million cars annually — all with a smile
"They know the job is more than parking cars."
July 24, 2019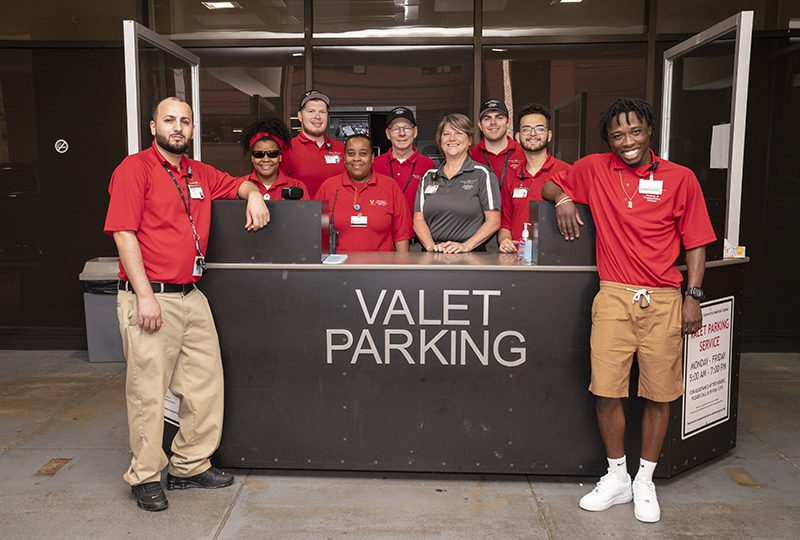 Photo by Joe Howell
Vanderbilt University Medical Center Valet Services employs 90 valet attendants at seven locations, parking more than 500,000 cars annually.
But the Valet team members represent more than cars and locations. Donning their signature red shirts, they are often the first people patients and families meet when they arrive at Vanderbilt Health clinics, the adult hospital as well as Monroe Carell Jr. Children's Hospital at Vanderbilt.
"They know the job is more than just parking cars," said Jason Bucher, director of Parking and Transportation Services. "The genuine smiles and sincere well wishes that the valet team provides patients and their families bookend the incredible care they receive at the Medical Center and Children's Hospital. The team is really dedicated to helping people and making those they serve their highest priority."
"When my mother was going through chemo and radiation, I was really thankful for the service and empathy of the valet parking staff."
That passion and dedication isn't unnoticed. The Valet Services team received the Elevate Team Award at the June 13 Leadership Assembly. The Elevate Team Award, which recognizes efforts by two or more people to improve a process, solve a problem or advance organizational culture at VUMC.
Patients and families frequently share examples about their experiences with the valet team members. The nomination letter supporting the team's selection for the Elevate award shared several patient and family member comments.
In one, a person shared: "When my mother was going through chemo and radiation, I was really thankful for the service and empathy of the valet parking staff. It was difficult sometimes to juggle the van and wheelchair, and they were always helpful and supportive with a quick hand to help or a kind word."
Another patient wrote, "I usually self-park, but I was running late and knew that I had to get in and out and get back to my office, so I got in the valet line. I was a bit stressed trying to get it together when a parking attendant walked up, introduced himself by name, was smiling, and assured me that he would take good care of my car. He was one of those people who I describe as bringing 'light' to those around him. His welcoming and positive attitude calmed me down immediately. It does not end there. When I came back to get my car, he recognized me and went to get my car immediately. He thanked me for parking there and asked if he could do anything else to help me. I felt like I was parking at a Ritz Carlton Hotel or something."
The Valet attendants learn early on to provide a "5-star" service similar to what a customer might experience at a 5-star hotel.
"We tell our staff on day one that no one comes to VUMC to park. They are coming to experience world-class health care, participate in life changing research or receive a renowned education," Bucher said.
"This excellence in health care, research and education begins at the front door. The basic role of the valet team is to provide convenient access to VUMC. By opening the vehicle door, smiling, introducing themselves and providing assistance and directions, the valet team is demonstrating its commitment to VUMC excellence. I am so proud of our team."
If you are a VUMC employee, you can nominate a colleague for an Elevate Credo Award, Five Pillar Leader Award, or Team Award. Visit the Elevate website to fill out a nomination form. Employees demonstrate credo behaviors when: they make those they serve the highest priority; respect privacy and confidentiality; communicate effectively; conduct themselves professionally; have a sense of ownership; and are committed to their colleagues. Elevate award nominations are accepted year-round. If a nomination is received after the cut off for an award selection period, the nomination will be considered for the next period. VUMC Voice will post stories on each of the award winners in the weeks following their announcement.