VUMC's Alex Jahangir became Nashville's coronavirus czar, all while never missing a beat in his day job.
"He has served VUMC and our community as the coronavirus czar selflessly and voluntarily while not decreasing by one clinic visit or call night his load or work productivity."
June 9, 2021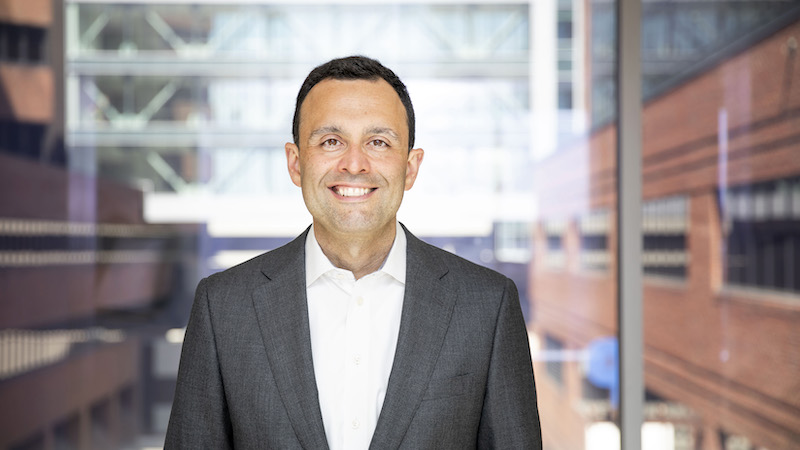 Photo by Susan Urmy
If you've lived in Middle Tennessee over the last year, it would've been hard to miss Alex Jahangir, MD, MMHC, in the news or on TV. As the chair of the Metro Nashville Board of Health and the Metro Coronavirus Task Force, Jahangir has made hundreds, if not thousands, of media appearances to talk about COVID-19, including at Metro Nashville's near-daily updates for months.
Jahangir maintained those responsibilities on top of his regular day job as executive medical director of the Center for Trauma, Burn and Emergency General Surgery at Vanderbilt University Medical Center and continued his regular practice as an orthopaedic trauma surgeon.
To the many people who nominated him, it is no surprise that Jahangir is the latest recipient of the Five Pillar Leader Award, presented at the May 2021 virtual Leadership Assembly.
Jahangir said he is humbled to accept the award.
"I've been on the faculty (at Vanderbilt) now for 12 years," he said. "I have seen some amazing people get this award, and I think there are a lot of people currently who are doing some amazing work who probably deserve this award even more than I do. I don't care what you've done in your past or who you are, this kind of recognition is really humbling and lifts you up."
Jahangir's path to becoming the city's coronavirus czar involved a bit of happenstance. He received an unsolicited phone call from a staffer of former Nashville Mayor Megan Barry in 2017, inviting him to serve a five-year term on the board of public health. He accepted and was named chair in 2019, before COVID was in anyone's vocabulary.
He expected his big project as chair would be to revise the portion of Metro Nashville's charter related to public health, last updated in 1963. He began work on that project a week before the COVID-19 pandemic hit; it was quickly tabled. On March 12, 2020, Nashville Mayor John Cooper asked if he would be willing to chair the coronavirus task force.
"Honestly, I don't think anyone really knew, but I definitely had no idea what that meant," he said. "Very quickly, I think we all realized that this was going to be a much bigger thing than anyone ever envisioned."
The task force began daily briefings on March 13, 2020, which continued for months.
"Mayor Cooper had a very clear directive," Jahangir said. "He said he always wanted me to be honest and transparent with the public and with him and allow the science to drive decisions. And so, I used that directive as my mantra. Mayor Cooper then connected me with an amazing team at the Office of Emergency Management, Nashville Fire, Metro Health and many other Metro departments so that we truly could have all the resources of the government in our response. Also, there was a remarkable partnership of nongovernmental entities including the leaders of Vanderbilt, Ascension, HCA, Nashville General and Meharry coming together in an unprecedented manner. It was truly every single person in the city working toward making this response strong."
Working 60 or 70 hours a week in those early pandemic days, Jahangir and others developed the Safer at Home order, wrote policy, organized testing sites and worked to aid unhoused, minority and immigrant populations.
"There were a lot of priorities initially, but we were able to get the work done with the help of a lot of great people," he said. "It was so amazing."
Jahangir has continued in the role to this day, encouraging Nashvillians to get vaccinated and explaining the relaxed public health measures that have resulted from the improving local situation. In so doing, he embodies the Credo and the Five Pillars — people, service, quality, innovation, growth and finance — that support VUMC's service and operational excellence.
Rick Wright, MD, professor and chair of the Department of Orthopaedic Surgery, wrote in his nomination that he "cannot imagine you have a more deserving recipient this year. He has served VUMC and our community as the coronavirus czar selflessly and voluntarily while not decreasing by one clinic visit or call night his load or work productivity."
In 2014, Jahangir was asked to lead a multidisciplinary group as the executive medical director of the Center for Trauma, Burn, and Emergency General Surgery. His mission was to maintain and build VUMC's reputation for excellence in trauma care in the face of increased market pressures.
"Coming together in this role, we were able to really streamline certain processes, build relationships with the community," Jahangir said.
As a result of this work, in three full fiscal years, the center achieved a 25% increase in trauma admissions correlating with a 15% increase in surgical cases.
Jahangir developed a relationship with the U.S. Army that culminated in March with becoming an official site of the U.S. Army Military-Civilian Trauma Team Training (AMCT3), one of only a few civilian medical centers in the nation to participate in such a program.
The people who nominated Jahangir also mention that during his term as chair of the Medical Center Medical Board, he handled a major update of the Medical Center bylaws. And he launched a multidisciplinary Geriatric Fracture Service to better serve the senior population.
"I can't think of anyone who better exemplifies the Service pillar goal than Alex Jahangir," said Seth Karp, MD, chair of the Section of Surgical Sciences, H. William Scott Jr. Professor and director of the Vanderbilt Transplant Center. "Whether providing expert consultation and clinical services for a complicated trauma patient or providing statewide leadership in crafting, advocating for, and communicating strategy to combat the pandemic, Dr. Jahangir is an indefatigable advocate for patients and our community."
All the while, he has maintained his practice.
"That is what, at the end of the day, all this is about for me," he said. "Being an orthopedic trauma surgeon is one of the coolest things I could do, and in fact it is the coolest thing I do."
If you are a VUMC employee, you can nominate a colleague for an Elevate Credo Award, Five Pillar Leader Award, or Team Award. Visit the Elevate website to fill out a nomination form. Employees demonstrate credo behaviors when: they make those they serve the highest priority; respect privacy and confidentiality; communicate effectively; conduct themselves professionally; have a sense of ownership; and are committed to their colleagues. Elevate award nominations are accepted year-round. If a nomination is received after the cut off for an award selection period, the nomination will be considered for the next period. VUMC Voice will post stories on each of the award winners in the weeks following their announcement.