Wait a minute — that sculpture outside Medical Center North was created by the guy who did the theme to "The Dating Game?"
Turns out, the guy who led the Tijuana Brass also worked in bronze
July 30, 2018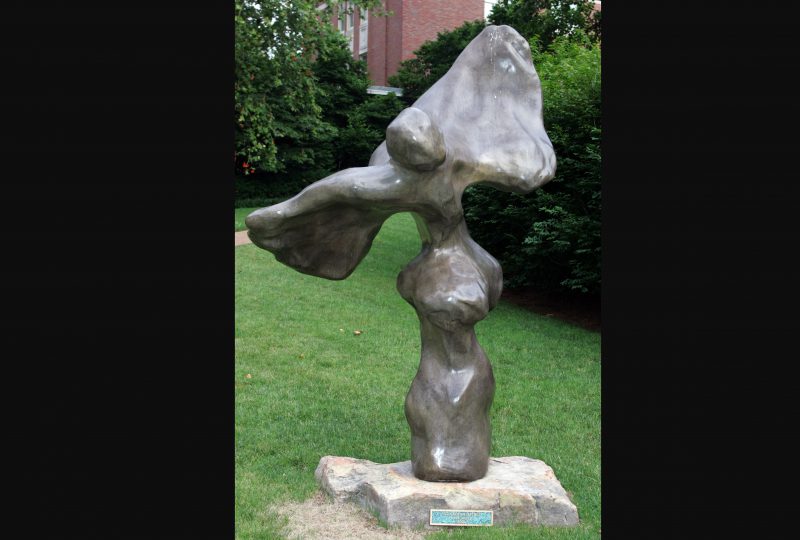 "Guardian Spirit" by Herb Alpert was dedicated in 2001. File photo by Neil Brake
Trumpet player and bandleader Herb Alpert's music has been part of the soundtrack of the past half century or so. He has had dozens of hit records, mostly with his band Herb Alpert & the Tijuana Brass, including five No. 1 albums and nine Grammy Awards.
Even people who don't know his name would likely recognize some of his hit songs, such as "A Taste of Honey," and "Spanish Flea" (also known as the theme to the TV show "The Dating Game").
He is also very successful recording industry executive, as well as a performer. (He is the "A" in the record label he helped found, "A&M.")
And, germane to today's question, he is also a painter and a sculptor.
The piece outside Medical Center North, between that building and Vanderbilt University Adult Hospital, is titled "Guardian Spirit" and was dedicated in 2001.
According to Vanderbilt's official catalog of sculpture, maintained by Campus Planning and Construction, "His pieces have soft edges that you can touch and each piece has a story within it. Music has infused his sculptures through color, concept, and form."
"Guardian Spirit" is one of four permanent installations of Alpert sculptures. The others are at American Jewish University in Los Angeles; the California Institute of Art in Valencia, California; and at the West Hills Community Center in West Hills, California.
(Are you curious about something around VUMC? Send your questions to VUMC Voice editor Wayne Wood at wayne.wood@vumc.org, with the word "curious" in the subject line)