What does VUMC drive?
A pink Cadillac? Nope. A little red Corvette? Nuh-uh. A black Honda? Bingo! See how your ride ranks among the most popular at VUMC. And help solve a mystery: what's the deal with that car from 1941?
November 6, 2017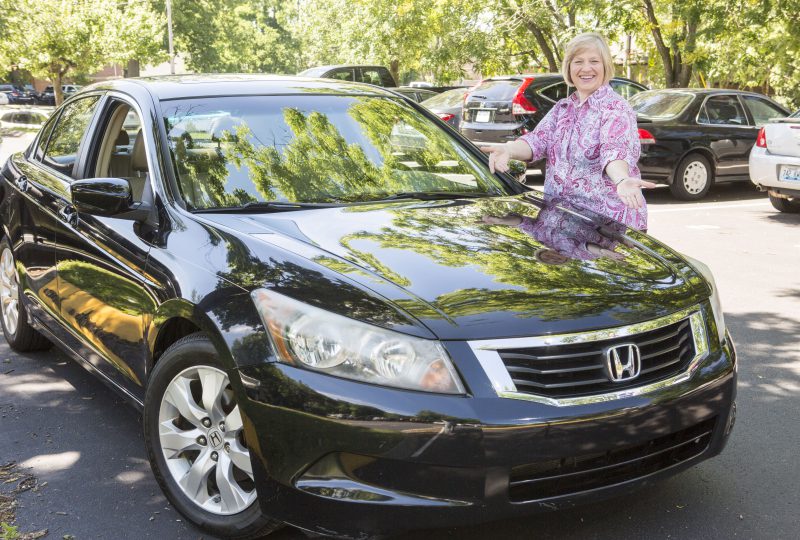 Rosemary Cope of Work/Life Connections-EAP is the proud driver—one of many— of the most common car at VUMC: a black Honda Accord. Photo by Anne Rayner.
Vanderbilt University Medical Center Parking and Transportation Services manages more than 15,000 parking spaces spread across seven garages and five surface lots, and they know a lot about the cars that use those lots.
There are more than 25,000 cars registered to employees and students at Vanderbilt University Medical Center (VUMC), and those cars range from—let's be frank here—clunkers, to new cars that were bought a couple of days ago (Those are the ones with the temporary tags, whose nervous owners park them way at the end of a row with no other cars around).
But while the cars driven by VUMC people are all makes, models, colors—and sport bumper stickers with an impressive array of political views, social causes, aphorisms, stick-figure families and school affiliations—there are still favorites.
Bethany Rosen in VUMC's Parking and Transportation Services cheerfully and diligently researched some answers to questions about the ebb and flow of sheet metal that VUMC employees drive to and from campus every day.
What is the most popular car make at VUMC?
Registration data show that the most popular brand of car at VUMC is Toyota, followed by Honda, Ford and Chevrolet. Here's the top 10 list, along with how many registrations for each make:
Toyota —3,840
Honda—3,541
Ford—2,460
Chevrolet—1,977
Nissan—1,364
Jeep—828
Hyundai—771
Dodge—720
Mazda—631
Volkswagen—583
What is the most popular car model at VUMC?
And that's where the data throw kind of a curve ball—even though Toyota is the most popular make of vehicle at VUMC, the single most popular model is the Honda Accord—more than a thousand of us alone drive that model. The Accord is followed in the standings by the Toyota Camry, Nissan Altima and Honda Civic. In fact, of the top 10 most popular models at VUMC, four of them are made by Honda, including three of the top five:
Honda Accord—1,170
Toyota Camry—913
Nissan Altima—821
Honda Civic—816
Honda CR-V—570
Ford Escape—352
Nissan Sentra—322
Honda Odyssey—310
Ford Explorer—298
Nissan Rogue—289
Little deuce coupe? Not so many around here.
The Beach Boys may sing the praises of the two-door, but a lot more of us make the scene in sedans and SUVs, which are by far the most popular body types at VUMC.
Four-door cars—10,301
SUVs—7,034
Two-door cars—1,331
Trucks—1,153
Vans—930
Hatchbacks—584
According to the data, there are even 80 of us motoring old-school in station wagons.
Can I get this in chartreuse? Never mind.
And then there's the thing that many car buyers wrestle with the most: what color to buy? While no doubt some VUMC drivers impress other motorists with tropical lizard green or Pepto Bismol pink vehicles, most of us stick to the basics:
Black—4,480
Silver—4,128
White—4,098
Gray—3,304
Blue—2,691
How old is that thing, anyway?
There are a few of us still driving around in cars that predate Madonna hitting the charts—six registered vehicles are from the 1960s and nine are from the 1970s.
1960s—6
1970s—9
1980s—82
1990s—1,864
2000-2009—9,554
2010-2017—6,231
The most typical VUMC car is…
So, if you take all this information together, that means that the most typical (is that a thing?) car driven by VUMC employee is a black Honda Accord made between 2000 and 2009. According to Parking and Transportation Services data, there are 312 of those cars registered to VUMC people. You know who you are.
The least typical VUMC car is…
Also—this is hard to believe—there is an active VUMC parking registration for a vehicle from 1941. Nineteen forty-one. That was when FDR was in office. That was before television. That was before the Internet, even. A long time ago.
Since we were only working with non-personally-identifiable data for this story, and not information on any individual vehicle, it's not clear whose car it is. It's kind of like HIPAA for cars—aggregate data is OK to release, personal data is not.
But, really—if you're driving to work every day—or even occasionally—in a 1941 car, that's a story your coworkers at VUMC will want to hear, and we'd love to get a picture of you leaning on the hood of that ride. Contact wayne.wood@vanderbilt.edu.
(Got a question for "Curious VUMC?" Click on the "Contact" link on our home page.)