"Why on earth would I not do this?"
Sarah Osman works in the Transplant Pharmacy. She heard that Nathan Horton, her boss from a previous job, needed a kidney. She immediately offered one of hers.
July 9, 2021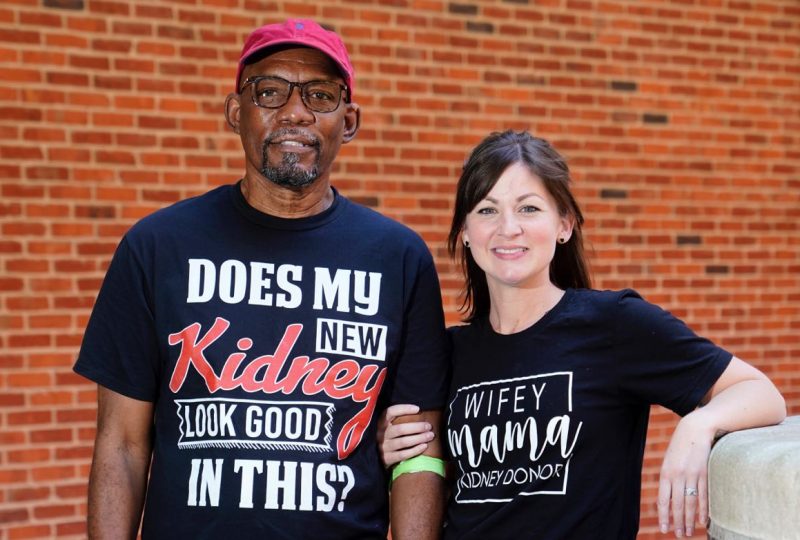 When VUMC Transplant Pharmacy technician Sarah Osman heard that her former boss, Nathan Horton, needed a kidney, she didn't hesitate to offer one of hers. She was a perfect match. Photo by Donn Jones
Over the last two years at VUMC, Transplant Pharmacy technician Sarah Osman, CPhT, has become very familiar with the process of organ transplantation; as part of her job, she helps transplant patients receive the correct medications. So when she learned last November that her friend and former boss at the Costco Pharmacy was undergoing hours of dialysis each night and needed a kidney, she knew exactly what the process of donation would be like.
And she knew the person donating a kidney to Nathan Horton would be her.
"I texted him and said, do you need a kidney?" she said. "It was a no-brainer. Why would I not do that? He's still got lots of life to live. Of course. I only need one kidney. It's fine."
Sicker and sicker
That was around Thanksgiving 2020. The story of their friendship actually begins in 2011 when Horton hired Osman to work at the Costco Pharmacy in Brentwood, Tennessee. She since moved on to the Costco in West Nashville and then Vanderbilt, and Horton transferred to a new Costco outside of Jackson, Mississippi. But they kept in touch over a group text with other Costco pharmacists and alums. "We're a big family," Osman said. "All of us are very close."
Close as they were, Horton kept a secret for months: His kidneys were failing. He was putting off the inevitable dialysis treatment. Then, one day, he found himself on the floor of Costco.
"There was one day in July (2020), and I was working and all of a sudden that morning I broke out into a cold sweat," he said. "And then after that, I was hot, real, real hot. And all of a sudden, I got cold. Real cold. And then my side started hurting, and then I started laying on the floor."
Horton had a kidney stone, spent a few days in the hospital and he would soon start dialysis. Because of the COVID-19 pandemic, he was doing little more than working 10 hours a day at his pharmacy and then doing dialysis at home for eight hours each night.
"It was becoming depressing," he said. "The longer I was on dialysis, the sicker I became because food became my worst enemy. My taste buds went bad. I didn't want to eat. If I did eat, sometimes I would throw food up. It was a mental thing. It was really bad."
He never told Osman about his predicament. She heard about his condition from another Costco friend and then offered to give him the kidney.
"I never got nervous"
Horton was blown away by Osman's offer, but also reluctant. "I didn't want someone to give me a kidney and then something happen to them," he said. "Then I would feel guilty. So that was my whole concern, because she has kids and she's young."
But Osman was adamant. She and Horton underwent months of testing to ensure they were a good match. They were.
"I never got nervous," Osman said. "It's hard to explain. I'm doing this. Of course, I'm doing this. Why on earth would I not do this?"
Osman's transplant pharmacy colleagues were thrilled to learn she would be a donor herself and eager to support her while she would be away for the surgery and recovery.
"It's one thing to talk the talk and talk about where you work; it's an entirely different thing to walk the walk," said Chelsea Ray, CPhT, clinical program manager for the Transplant Pharmacy. "I'm in awe of her."
The big day, transplant day, was May 11, 2021. It could not have gone better. Both Osman and Horton did well in surgery, and the donated kidney immediately went to work producing urine.
Both said it was simply meant to be.
"To me the whole miracle of the whole situation is that she works at Vanderbilt, she happens to be O-positive and she was a match," Horton said. "It's like lightning striking at the same place three times."
Osman added, "Had I not been hired by him (Horton), I wouldn't have met the people I knew that got me the job at Vanderbilt, that made me have knowledge of transplants," Osman said. "It went full circle. He totally is the reason that I'm at where I'm at now — and I love this job."