With winter weather is on the way, take steps now to prepare — on and off campus
Reliable sources say winter is coming. Here are some ways to prepare.
November 23, 2020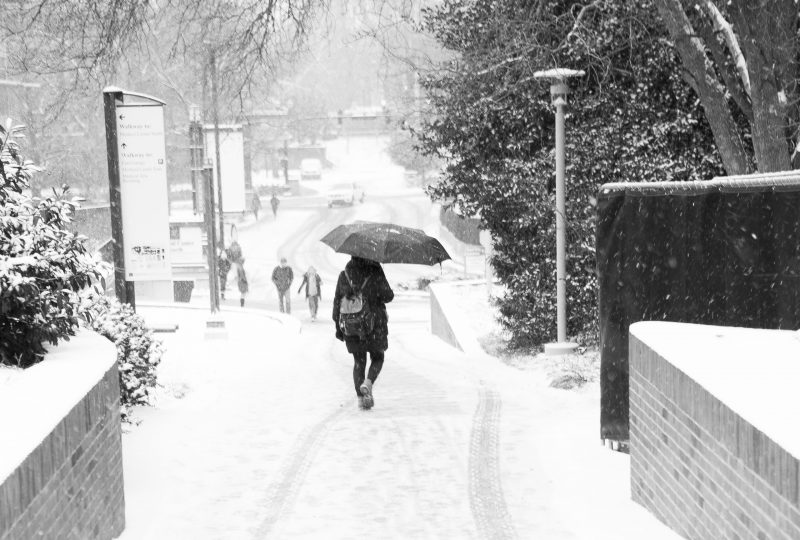 A January, 2018 snow at VUMC. Photo by Susan Urmy
As winter approaches, it's time again to prepare for colder weather and icy conditions. Preparing in advance can help to keep you and your family safe and warm.
Here are some quick safety and resource reminders for both work and home:
Get your car winter ready. Getting your car tuned up is a proactive way to ensure safety when driving on the road. Check items like tires and windshield wipers for wear and tear and if necessary, replace them.
Stock your car with the essentials. If snow or ice cause traffic incidents, having the following items will provide protection while you wait:
Half tank of gas
Ice scraper
Extra cold weather clothes and blankets
Flashlight
First aid kit
Water and non-perishable food
Reflectors
Portable phone charger
Bag of sand/cat liter
Update your family plan. Severe weather can cause school/work closings that impact your typical schedule. Create a plan and talk it about it with your family. Learn about what to include in your plan here.
Understand VUMC Alerts. VUMC's Emergency Preparedness team monitors weather throughout the week and will send out appropriate communications through VUMC Alerts to keep employees updated on latest conditions.
Yellow alerts notify employees to expect inclement weather and prepare accordingly for an orange alert.
Orange alerts notify employees that current conditions could disrupt regular Medical Center operations and employees may need to stay past their shift to meet necessary staffing requirements.
If snowy weather strikes and staff need to remain on campus, a staff accommodations plan will be activated. The plan will provide employees with a plan to stay, a bed and bedding, shower facilities, and a toiletry kit. Community service officers are also on-site to provide staff with a quiet and secure place to rest. To make a reservation call 615-936-4444.
For additional weather resources visit at https://www.vumc.org/safety/links/severe-weather-safety.