Avid runner founds "Gynecologists for Hire" to participate in Shade Tree Trot
Ob/Gyn fellow Cynthia Arvizo witnessed firsthand the good that Shade Tree Clinic does — so she formed a running team to raise funds
April 11, 2018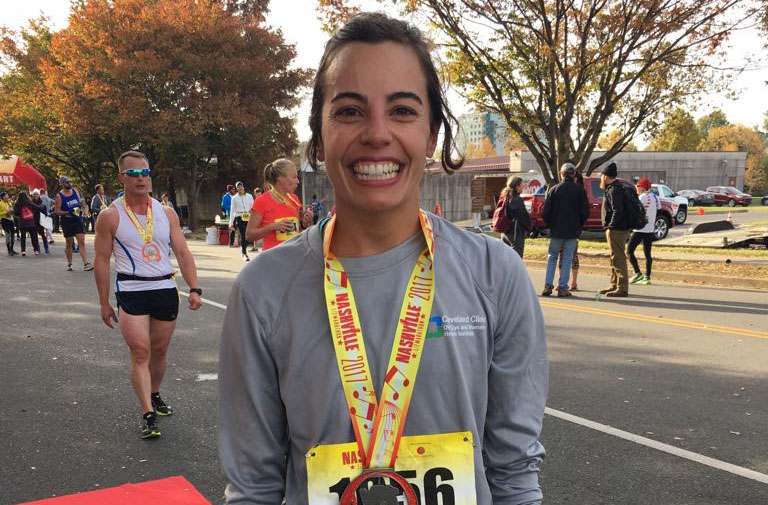 Cynthia Arvizo, MD, recently volunteered at the Shade Tree Clinic, the student-run medical clinic in East Nashville that provides free healthcare and medications for underserved Nashvillians.
As a fellow in the Department of Obstetrics and Gynecology, Arvizo felt right at home.
"I always wanted to work with this patient population," Arvizo said. "I am hoping, once I complete my fellowship, to work with uninsured and underinsured patients, much like the patient population seen at Shade Tree."
Arvizo's experience at Shade Tree was so rewarding that it prompted her to do more than volunteer as a clinician.
She created a team — Gynecologists for Hire — to participate in the annual Shade Tree Trot set for April 21. Those signing up for the race can run as part of a team (there are about 30 established so far), or individually. The 5K fun run/walk fundraiser serves as the single largest source of funding for the comprehensive primary care clinic.
The clinic serves as a hands-on educational opportunity for medical, nursing, law and pharmacy students.
"Running a free clinic is by no means an easy endeavor," she said. "I commend the students, physicians and staff who dedicate their time to ensuring this well-oiled machine continues to provide care for so many patients. It was just so refreshing."
Arvizo, who is an avid runner, is looking forward to the trot, now in its 10th year.
"I really want to raise awareness for Shade Tree and support them in providing the care for people who otherwise would not have access to healthcare."
Shade Tree Trot registration is open at http://www.shadetreetrot.racewire.com
Registration fees are $30 for students and $35 for non-students through April 21 (race day).
Participants can pick up race packets on Friday, April 20, 11 a.m. – 6 p.m. in the North Lobby of Light Hall. Same day registration and packet pick-up begins at 7 a.m. on April 21.
Signature extra-soft race-day T-shirts are given to all participants/donors.
The family-friendly, flat course will begin and end at the Vanderbilt Football Stadium at the corner of Jess Neely Drive and Natchez Trace.