Baby boom hits Emergency Room; 17 employees expecting babies this year
Fourteen nurses, two doctors and a social worker walk into an Emergency Department. They're all pregnant.
June 12, 2019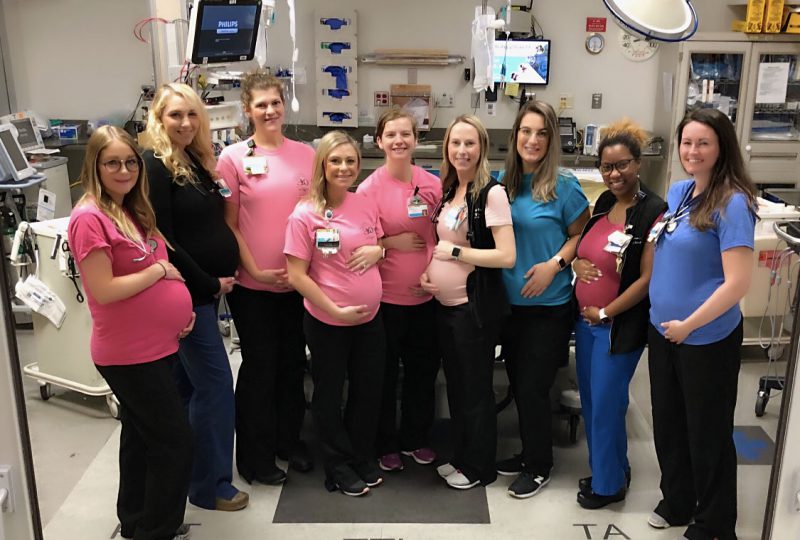 Some (but not all) of the Emergency Department employees who are expecting: (L-R) Courtney Allen, RN; Jennifer West, MD; Suzanna Jones, RN; Hillary Slusser, RN; Kate Aguilar, RN; Peyton Miller, RN; Brittany Holt, RN; Amanda Brown, LMSW; and Erin Tenneriello, RN. Photo courtesy Hillary Slusser
When Hillary Slusser, RN, of Vanderbilt's Adult Emergency Department posted recently on social media the exciting news that she was expecting her first baby, she had no idea so many of her work friends were sharing similar news of their own.
In fact, what she discovered was that a full-fledged baby boom is underway in the Vanderbilt University Medical Center Emergency Department (ED).
"I have even had patients ask if there was something in our water — and then asking if they can have bottled water instead."
"By the time I found out I was pregnant, there were five of us expecting, and before you know it, there were even more. Now there are 17 of us pregnant at the same time."
Seventeen. All due between July and December.
The soon-to-be moms on the ED staff include one social worker, two doctors and 14 nurses. While this group of employees works different shifts and has different work responsibilities, they all have the same condition — baby on board.
A few adjustments are necessary to make sure that everybody remains safe and healthy.
"We take every precaution, making sure these [employees] are protected during traumas, getting them out of a patient room when necessary, and keeping them from being exposed to X-rays," said Corey Slovis, MD, professor and chair of Emergency Medicine.
But even in this serious work environment, having a departmental baby boom underway can lead to lighter moments.
"There is a lot more laughter nowadays," Slovis said. "In fact, I keep hearing 'What's in the ED's water?'"
"I have even had patients ask if there was something in our water — and then asking if they can have bottled water instead," Slusser added.
Slusser organized a group photo and most of the pregnant staffers managed to be in the same place at the same time — not easy for people who work different days, hours and shifts.
"I did it to capture this moment in time because our department is very large, but we're very family oriented so for 17 of us to be pregnant at the same time, it's really special," she said.
While the mothers-to-be are planning their nurseries and making all the adjustments that a new baby will bring to their homes, the department is planning and adjusting, too. All the new moms will take time off to be with their babies, but patients to the ER will still be covered.
"They're already starting to prepare for [coverage]," Slusser said. "They sent us an email the other day asking us our due dates and how long are we taking off, so they can prepare for 17 of us to be out," said Slusser.
"Everyone has been super supportive," said Merakka Calderon, RN, one of the enceinte contingent. "Everyone we work with checks on us to make sure we're OK. They even bring us food from time to time. Bringing us snacks is the best part of it all."