When it comes to patients' medical mysteries, the VUMC Undiagnosed Diseases Network team is on the case
"(These patients) have been on a diagnostic odyssey and undergone countless tests without a diagnosis. They are struggling and consider the UDN their last hope."
September 4, 2019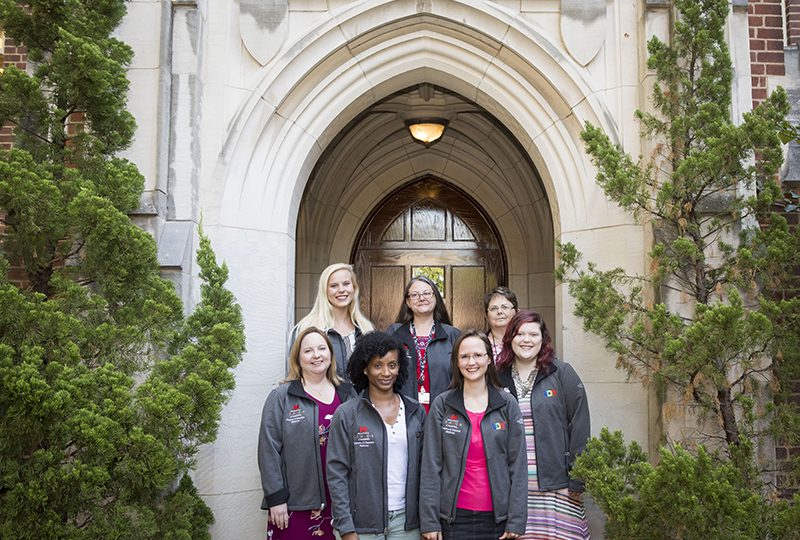 Members of the Undiagnosed Diseases Network (UDN) team: Front row, L-R: Amy K. Robertson, MSN, FNP-BC; Lynette Rives, BS; Anna Bican, BA, CCRP; Mary Koziura, DNP, FNP-BC; Back row, L-R: Beth Hilburger, BS; Bethany Nunley, BS; Patricia Clark Pollock.  Photo by Susan Urmy
Vanderbilt University Medical Center's Undiagnosed Diseases Network (UDN) team has been awarded the Elevate Team Award for the group's success over the past five years in helping diagnose individuals with previously unknown conditions.
The team award, given at each VUMC Leadership Assembly, recognizes efforts by two or more people to improve a process, solve a problem or advance organizational culture at VUMC.
VUMC is one of 12 sites around the country selected to be part of a research network to develop effective approaches for diagnosing hard-to-solve medical cases (undiagnosed diseases). The network's purpose is to bring together clinical and research experts from across the United States to solve the most challenging medical mysteries using advanced technologies.
There are an estimated 30 million people with a rare disease, many of whom don't have a diagnosis.
The UDN team is comprised of Anna Bican, site coordinator; nurse practitioners Amy Robertson and Mary Koziura, NP, research analyst Patricia Clark Pollock, senior research specialist Lynette Rives, clinical translational coordinator Beth Hilburger; genetic counselors Laura Duncan and Elly Brokamp and lab manager Bethany Nunley. The team is led by Rizwan Hamid, MD, PhD, professor and director of the Division of Medical Genetics and Genomic Medicine within the Department of Pediatrics and Dorothy Overall Wells Professor of Pediatrics; John Phillips III, MD, David Karzon Professor of Pediatrics; John H. Newman, MD, Elsa S. Hanigan Professor of Pulmonary Medicine; and Joy Cogan, PhD, professor of Pediatrics.
"The UDN program at VUMC takes a 'whole picture' approach in evaluating each patient in hopes of identifying the cause of their symptoms," Hamid said. "Our team has worked together the past five years to design methods and procedures that leverage VUMC's significant strength in genomics, precision medicine and collaborative spirit toward efficient evaluations, novel DNA analysis pipelines and resultant high diagnostic rate in these previously undiagnosed patients."
The team's goal was to see 135 patients over a four-year period. They have seen 139.
Each UDN site starts the work the same way, with a chart review, but beyond that, each goes about evaluating patients in a different way. At Vanderbilt, accepted patients consent to clinical testing and genomic sequencing, as well as an extensive inpatient clinical evaluation, which, in many cases, can take five days. The patient's DNA is analyzed either by whole exome or whole genome sequencing.
For each patient evaluation a lifetime of medical records needs to be collected from across the country and reviewed, a clinical evaluation plan devised and the patient evaluated over a two- to five-day visit to VUMC. Care must be coordinated among many consultants as well as lab draws and imaging, while making sure that the family can travel to VUMC on time, that they have a place to stay and a way to get back and forth from their hotel room to VUMC.
"Our patients have complex medical presentations," Bican said. "They each have been on a diagnostic odyssey and undergone countless tests without a diagnosis. They are struggling and consider the UDN their last hope. While we knew finding answers for these patients would be a challenging task, we didn't anticipate how daunting it would turn out to be in practice.
"The efforts of our UDN team have been extraordinary. We have grown from a team of two to a team of nine, and I'm so proud of our spirit of collaboration. In one instance, our research assistant, Pat, spent hours on the phone for a patient arranging for her to fly to Nashville from Canada on a direct flight equipped with constant oxygen because of her condition. This saved her several days' drive with multiple stops for new oxygen tanks along her route. Pat had to negotiate back and forth between four different airlines and request a waiver of the Fly America act just to be allowed to book the plane tickets. The family was so grateful. This patient, who received an answer for the condition she now lives with, is thriving and receiving treatment back home."
If you are a VUMC employee, you can nominate a colleague for an Elevate Credo Award, Five Pillar Leader Award, or Team Award. Visit the Elevate website to fill out a nomination form. Employees demonstrate credo behaviors when: they make those they serve the highest priority; respect privacy and confidentiality; communicate effectively; conduct themselves professionally; have a sense of ownership; and are committed to their colleagues. Elevate award nominations are accepted year round. If a nomination is received after the cut off for an award selection period, the nomination will be considered for the next period. VUMC Voice will post stories on each of the award winners in the weeks following their announcement.