Katonya Graham's dedication and persistence saved a patient's life
For her diligent efforts on behalf of patients and providers and her always-positive disposition, Graham received a Credo Award during the November 2022 virtual Leadership Assembly.
December 29, 2022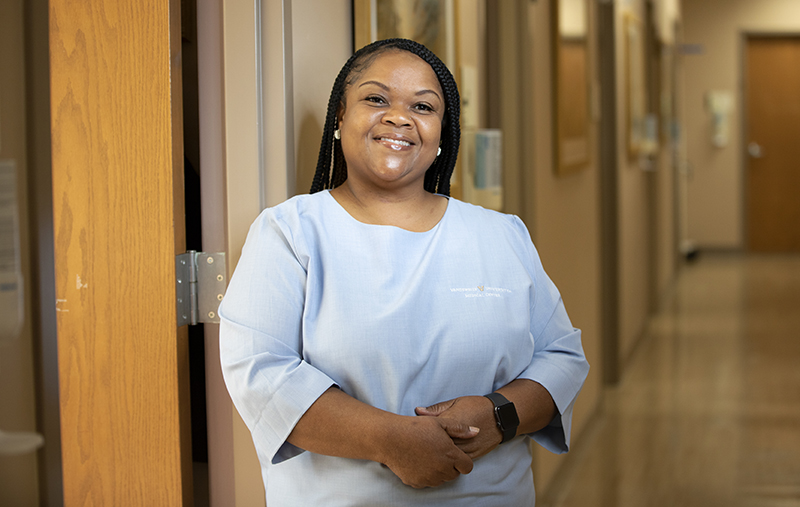 Katonya Graham. Photo by Erin O. Smith 
Katonya Graham knew that the patient she was trying to reach needed to be seen urgently, but she didn't realize that any treatment delay could be life-threatening.
The patient had been referred to the Hematology Clinic at the Village at Vanderbilt for a second opinion related to relapsing thrombotic thrombocytopenic purpura (a rare disorder that causes blood clots to form in small blood vessels throughout the body), but she was hesitant to make an appointment. She was anxious about the disease, her prior treatments, and travel to Nashville.
Graham, a patient service specialist, pushed gently — calling numerous times, offering reassurance and even leaving the number for her direct line so the patient could reach her more easily.
"I'm not supposed to do that, but when I need to reach a patient immediately, it helps to cut out the middleman," Graham said. "I do let my manager know when I give out my direct number for a special reason."
The patient came to the clinic and is now being successfully treated and doing well.
For her diligent efforts on behalf of patients and providers and her always-positive disposition, Graham received a Credo Award during the November 2022 virtual Leadership Assembly.
"Without Katonya's efforts, the patient would not have seen us in a timely manner," wrote one of her nominators. "This is condition where any delay in treatment can result in death or disability. The patient reports that Katonya is 'the most wonderful person' and went out of her way to make sure the patient got the care she needed. I definitely agree."
Graham shakes her head in disbelief when she remembers the physician telling her that she had saved the patient's life by talking to her and making sure she got to the clinic.
"That was something to hear," Graham said. "It made me feel really good."
Graham began working as a patient service specialist in the Hematology Clinic in February 2017. She has an associate's degree in Early Childhood Education and was caring for infants at the Vanderbilt Child and Family Center when conversations with parents who worked at the Medical Center got her interested in trying something different.
"I'm so glad I took this position," Graham says. "I love the interactions with my patients — I call them 'my patients.' I try to make it easier for them by coordinating their appointments if they need to see other specialists or get labs or have iron infusions. I try to make them feel welcome and important, to let them know that we understand, that we hear them, that we care about them.
"I also love, love, love my providers and work hard to be sure their schedules work and everything flows well."
Another nominator wrote, "Katonya and her fellow patient service specialists are the voice and face of our clinic. There is no hiding from patients at the front desk. No matter the weather or state of the world, I know I can rely on Katonya. In addition to being a valuable resource and liaison for our patients, Katonya's spirit and humor make the office a better place for all of us."
Patients appreciate Graham's positive spirit and kindness.
"Several of my co-workers have told me that patients call and only want to talk to me," she said with a big smile.
"You have to be kind and positive. I just like to try to make sure everybody is OK, because you never know what people are dealing with. A kind word and a smile can go a long way."
If you are a VUMC employee, you can nominate a colleague for an Elevate Credo Award, Five Pillar Leader Award, or Team Award. Visit the Elevate website to fill out a nomination form. Employees demonstrate credo behaviors when: they make those they serve the highest priority; respect privacy and confidentiality; communicate effectively; conduct themselves professionally; have a sense of ownership; and are committed to their colleagues. Elevate award nominations are accepted year-round. If a nomination is received after the cut off for an award selection period, the nomination will be considered for the next period. VUMC Voice will post stories on each of the award winners in the weeks following their announcement.