All over the Medical Center, and all over the world
August 26, 2017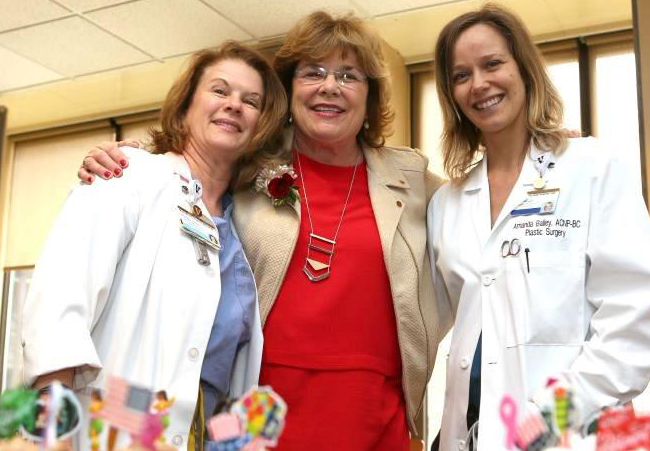 Debby Booth, center, at a party in her honor, with well-wishers Melinda Cornelius, MSN, RN, CNS and Amanda Bailey MSN, APRN, both of Plastic Surgery (photo by Anne Rayner).
When Debby Booth started college in the early 1970s, she didn't want to be a nurse. That was something her older sister did.
But while studying accounting, the second-oldest of eight children increasingly felt something was missing. "One day I'm sitting at a keyboard and I thought, 'oh my gosh, I want to be with people,'" she said. "I wasn't getting fulfilled."
After praying about it, Booth felt that nursing was her calling. She graduated from Western Kentucky University and spent a year at Daviess County Hospital in her hometown of Owensboro, Kentucky. She then set her sights on Vanderbilt University Medical Center. The year was 1974.
Booth, BSN, R.N., retired recently after 43 years as a Vanderbilt nurse, having retired earlier as a flight nurse in the U.S. Air Force Reserve for 22 of those Vanderbilt years.
Her most recent tour of duty was as a case manager in the Transition Management Office, ensuring patients' smooth discharge from Vanderbilt. But her nursing career has taken her all over the Medical Center, and the world.
"Vanderbilt has always been home to me." she said. "I love Vanderbilt. I've gone through hard times and changes, but it's like a roller coaster, you just ride it. It always smooths out eventually."
"I love the autonomy, where I could plan my day, I could spend my time with the patients, go see them get to know them plan their discharge get what they need," she said.
She started working nights, much like many new nurses, on the orthopaedic unit in S-6400 of the old Vanderbilt Hospital, currently Medical Center North. After a brief stint, she learned she could work days if she switched to the clinics, starting in the eye clinic.
"During that time in the clinics, I think most of the clinics were run by Vanderbilt's techs that they trained, and I think they were trying to shift to RNs," she said. "And I was like one out of four RNs in the whole outpatient department. So, you knew everybody, you got to know everybody, and it was just a different time."
She transitioned from the eye clinic, to adult and pediatric oral surgery, dentistry, endoscopy and plastic surgery. When the latter became its own clinic, Booth moved there. She would spend most of the next two decades of her career in that area, under her mentor, Bruce Shack, M.D., former chair of the Department of Plastic Surgery.
"I just fell in love with plastic surgery," she said. "We took care of the little babies with the cleft lip and palates and cranial facial anomalies. I was exposed to a lot… I loved the variety. I found it very challenging. It kept you engaged."
Booth joined the American Society of Plastic Surgical Nurses (ASPSN) and became a Certified Plastic Surgical Nurse (CPSN), serving as treasurer of the ASPSN for four years. She recruited her replacement, Amanda Bailey McNeely, R.N., a nurse practitioner who is now president-elect of the organization.
A year after she began her two-decade stint as a nurse in plastic surgery, she would begin a 22-year side career in the U.S. Air Force Reserve. She found support in her superiors, such as Adrienne Ames, R.N., who had been a flight nurse, and John B. Lynch, M.D., chair of Plastic Surgery, who had been a flight surgeon.
Booth started as a flight nurse examiner, testing flight nurses for certification, and retired as a lieutenant colonel, where she had doctors who reported to her. In between, she served in the first and second Iraq wars. In the first, her unit airlifted injured soldiers from Baghdad to a base in Germany. In the second, she returned to Germany, this time as lieutenant colonel and the commander of the 791st unit.
"I felt like I was a part of history," she said. "I'm grateful to Vanderbilt to allow me to do that."
In 2001, Booth stepped into her most recent role, as interim, and then case manager in the what is now the Transition Management Office, a return to inpatient work.
"I love the autonomy, where I could plan my day, I could spend my time with the patients, go see them get to know them plan their discharge get what they need," she said.
Now, Booth has a chance to spend more time with her mother and family in Kentucky. "My mother is 86 now and she raised eight kids and was a wonderful mother and now it's time, I feel, to give back to her," she said.
Her colleagues will miss her.
"It has been a joy to know and to work with Debby during my entire career at Vanderbilt," said Marilyn Dubree, MSN, RN, NE-BC, Executive Chief Nursing Officer, who went to nursing school with Booth at Western Kentucky University. "Her positive attitude and work ethic has been an inspiration to her colleagues. I salute her for her accomplishments, and I wish her all the best in her well-earned retirement."
"It has been a pleasure to know Debby over the last 25 years of my career at Vanderbilt," added Lenys Biga, who was interim director of the Transition Management Office.
"Debby has been a tremendous contributor to case management and the TMO," added Joshua Owens, LCSW, director of Transition Management. "She has consistently practiced at the highest level and we will miss not only her work contributions, but her energy, positivity, and love for her patients and colleagues."
Booth wanted to leave her heartfelt gratitude to her colleagues, mentors, leaders and physicians.
"We're always growing here. That's what I love. There's always change and growth and you always have such a network of colleagues. You work with the best in the country, and you can only learn."