The Monoclonal Antibody Infusion Clinics team makes COVID-19 health care personal
"I don't know that you get any more personal than giving somebody back their life."
June 8, 2022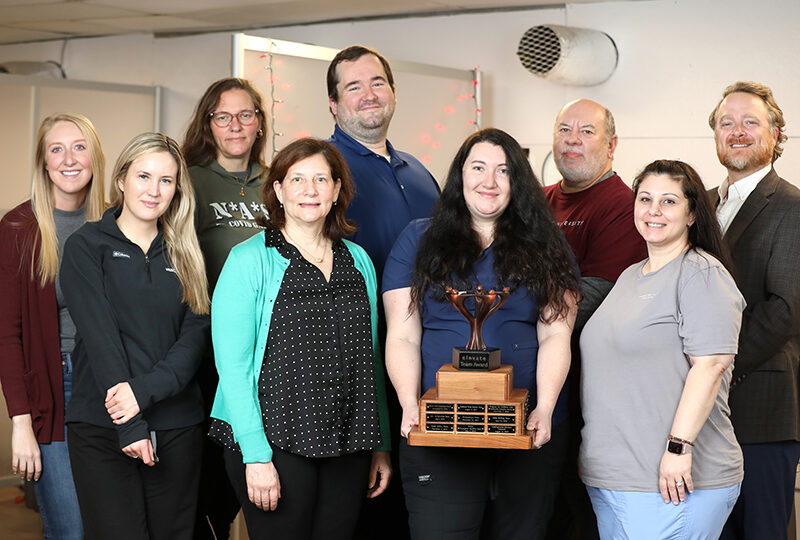 Monoclonal Antibody Infusion Clinic team. Photo Erin O. Smith
At the height of the COVID-19 pandemic, in November 2020, a new clinic opened at Vanderbilt University Medical Center to provide intravenous infusions of an investigational monoclonal antibody treatment for emergency use to protect newly infected, high-risk patients from becoming acutely ill and requiring hospital care.
The COVID-19 Monoclonal Antibody Infusion Clinic was set up in a contained space in the Medical Center East parking garage, away from other patient care areas. At the peak of the delta surge, RNs wearing personal protective equipment were providing hour-long infusions to more than 80 outpatients every day.
Advanced practice providers worked 60 to 70 hours a week to contact, screen and schedule patients within an average of three days after they tested positive for COVID-19. Pharmacists updated the infusions to meet each new variant of the virus. To date more than 5,700 outpatients have received antibody infusions.
The impact has been profound. Rates of COVID-related emergency department visits and hospital admissions dropped markedly, according to a review of the first 1,000 patients. They included dozens of transplant patients who, because of the immunosuppressive drugs they take, cannot mount an adequate immune response to infection or vaccination.
For their efforts, team members led by the clinic's medical director Karen Bloch, MD, MPH, professor of Medicine, and Kim Lippard, MBA, MSN, administrative director of clinical operations, were honored with an Elevate Team Award during the May 2022 virtual Leadership Assembly.
"I'm really proud of this team," Bloch said in a video prepared for the Leadership Assembly. "These are … health care heroes."
"One of the reasons I've been extremely proud to be a part of this team and work at Vanderbilt is the whole organization in some way has been involved with this," Lippard added.
At one point, members of the Tennessee National Guard helped patients check into the clinic "so our nurses could do the work we needed (them) to do … providing the infusions," said Michele Hasselblad, DNP, RN, Vice President of Adult Ambulatory Nursing.
Mike Philpott, one of the clinic's associate patient service specialists, said he has received "a lot of happy phone calls" from grateful patients who, prior to their infusions, had self-quarantined for two years because their immunosuppression left them particularly vulnerable to severe COVID-19 disease.
"I don't know that you get any more personal than giving somebody back their life," he said. "That's the very definition of making health care personal."
Added Pharmacy Manager Deidre Dickerson, PharmD, "It was really a sign of hope for the community that here's this thing that can take you from your sickest day and really be able to bring life back into you."
Opening just nine days after the U.S. Food and Drug Administration authorized emergency use of the investigational therapy, the COVID-19 Monoclonal Antibody Infusion Clinic was the first in Nashville, and among the first in the country, to offer it. Team members effectively implemented a totally new treatment regimen in record time.
In December 2021, when the FDA approved Evusheld, a long-acting antibody combination that can protect high-risk patients from being infected by the COVID-19 virus, the clinic began to offer that preventive treatment as well. Discovered at VUMC, the antibodies were optimized by the global biopharmaceutical company AstraZeneca.
"It's fantastic when we can see something that really starts at the bench, and so quickly to be able to get it into patients at Vanderbilt, and see it making a difference in preventing COVID infections," Bloch said. "It is really an amazing thing that you won't see in a lot of other places."
If you are a VUMC employee, you can nominate a colleague for an Elevate Credo Award, Five Pillar Leader Award, or Team Award. Visit the Elevate website to fill out a nomination form. Employees demonstrate credo behaviors when: they make those they serve the highest priority; respect privacy and confidentiality; communicate effectively; conduct themselves professionally; have a sense of ownership; and are committed to their colleagues. Elevate award nominations are accepted year-round. If a nomination is received after the cut off for an award selection period, the nomination will be considered for the next period. VUMC VOICE will post stories on each of the award winners in the weeks following their announcement.