The MyHealth Bundles Team transforms and innovates health care to create a better patient experience.
MyHealth Bundles Team recognized for value-based care model and meaningful impact to patients' lives.
September 22, 2023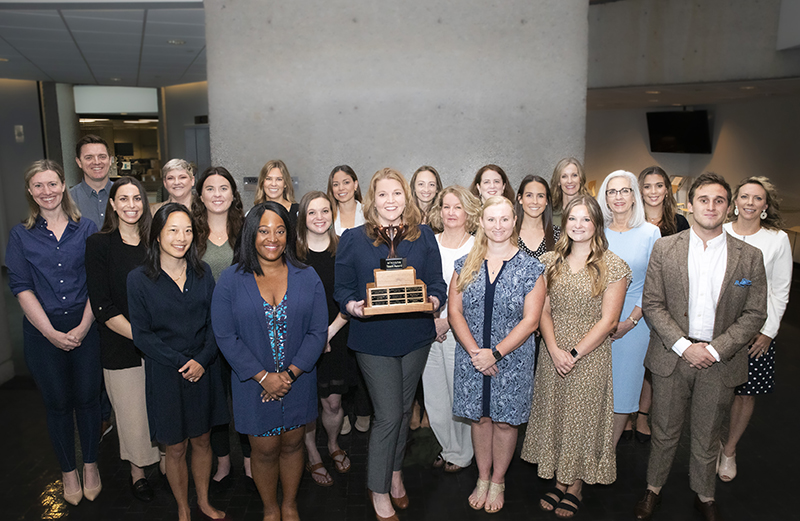 The MyHealth Bundles Team is comprised of health care professionals from 25 different areas across VUMC. Photo by Susan Urmy.
We've all heard the saying, "teamwork makes the dream work." Often used as an inspirational team-building quote, it also perfectly describes the MyHealth Bundles team mission.
This passionate group of health care professionals came together four years ago with one lofty goal — to deliver the best personalized patient health care experience. And through hard work and collaboration with 25 different teams across Vanderbilt University Medical Center, representing colleagues from multiple clinical and administrative departments, they designed new payment and care models to create an innovative program of care called MyHealth Bundles. These "bundles" produce exceptional clinical outcomes for patients and lower costs for both employers and their employees by grouping care for many common conditions.
For their collaboration and commitment to delivering superior personalized health care, the MyHealth Bundles team was honored with the Elevate Team Award during the August 2023 Leadership Assembly.
"We want every patient to feel like they are getting a seamless experience with someone walking alongside them, instead of having to navigate by themselves," says Brittany Cunningham, DNP, MSN, RN, CSSBB, Vice President of the Office of Episodes of Care, which oversees the MyHealth Bundles program.
VUMC was the first health care system in the region to offer bundled services directly to employers and patients beginning with MyMaternityHealth in January 2020. Bundles cover imaging, labs, physician visits, hospital stays, related ER visits and more. There are low-to-no out-of-pocket costs for the employees, and each person is assigned a patient navigator who offers guidance and support throughout the entire process.
The program has rapidly grown to seven more bundle programs offering more than 40 bundled packages, including MyHearingHealth, MyOrthoHealth, MyRecoveryHealth, MyUrologyHealth, MySpineHealth and MyWeightLossHealth. Several more bundles are in the planning stages as well. And because MyHealth Bundles provide a single predictable cost for health care, both employers and their employees have saved millions of dollars. In its first year alone, the MyMaternityHealth Bundle saved two employers more than $1.2 million in medical costs, and plan members saved an additional $1.2 million in out-of-pocket costs.
In an extremely competitive labor market, attracting and retaining talent can be challenging. And the team knows that having a quality and affordable benefits program can be a determining factor for applicants. "We want to make employers heroes to their employees. By offering MyHealth Bundles, employers are telling their teams, 'I care about you,'" says C.J. Stimson, MD, JD, Chief Medical Officer, VUMC Employee Health Plan.
MyHealth Bundles have also increased the number of patients choosing VUMC for their care. "VUMC's Finance pillar has been boosted by the work of the MyHealth Bundles team. We're seeing an increase in commercial patients, with one employer alone going from sending 14% of its patients to VUMC for care to now sending 43%. The market share growth and the incredible patient experience metrics bundles patients report have made MyHealth Bundles a standout program worthy of enterprise recognition."
The MyHealth Bundles team is passionate about their mission of transforming health care, and they recognize that this can only be accomplished through direct collaboration with providers, patients and employers, as well as other VUMC departments.
"It's truly a Win-Win-Win situation, and thanks to this team, VUMC is leading the nation in commercial bundle arrangements with employers," said David Posch, Executive Vice President of Population Health at VUMC.
"Improving patient care by changing the care model and payment model was the singular focus of the MyHealth Bundles team. To be able to pull this off, employees from several teams came together as a single team with a single goal, communicating with respect and clarity with one another at all times," said Megan Pruce, Vice President, Business Engagement Strategies. "Each team member valued the contributions of their fellow team members, and that allowed everyone to do their best and highest work."
The success of the MyHealth Bundles may best be summed up by Lynn Garrett, a recent patient who used the bundled orthopaedic care program for a hip replacement. "Now I can do everything," said Garrett, who has recommended the program to five people, two of whom have already scheduled surgery. "I can truly enjoy my grandchildren and go to all their sports activities without fearing walking up and down bleachers. I can walk at the zoo or on trails and not feel I must stop and sit down. I feel like my life is back." And, she adds, "I'll be able to do the mother/son dance at my only son's wedding."
If you are a VUMC employee, you can nominate a colleague for an Elevate Credo Award, Five Pillar Leader Award, or Team Award. Visit the Elevate website to fill out a nomination form. Employees demonstrate credo behaviors when: they make those they serve the highest priority; respect privacy and confidentiality; communicate effectively; conduct themselves professionally; have a sense of ownership; and are committed to their colleagues. Elevate award nominations are accepted year-round. If a nomination is received after the cut off for an award selection period, the nomination will be considered for the next period. VUMC VOICE will post stories on each of the award winners in the weeks following their announcement.