Whittney Ransom brings infectious positivity and exemplary work to her pharmacy job. She tells jokes too.
"Her level of commitment to her colleagues is amazing and something we should all strive for."
March 24, 2023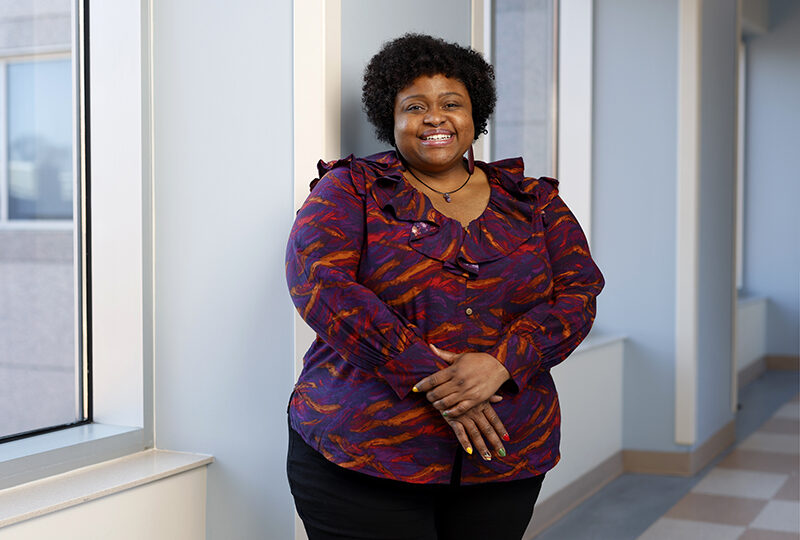 Whittney Ransom, CPhT, system support pharmacy technician. Photo by Donn Jones.
Whittney Ransom has a busy job as a system support pharmacy technician at Monroe Carell Jr. Children's Hospital at Vanderbilt. She checks reports, runs audits, and monitors controlled substance activity for the hospital. Her pharmacy colleagues call her a "beacon of light," an employee "whose presence alone changes the tone of our pharmacy, and in turn, improves the work we do."
Ransom may be best known for her "Whittney notes," printed notes of positivity and encouragement or silly jokes that she leaves "anonymously" posted around the pharmacy, at workstations and in the breakroom.
For her hard work, positivity and support of her colleagues in the busy Monroe Carell pharmacy, Ransom received a Credo Award at the February 2023 Leadership Assembly.
"She makes us better as a department, not just due to her exemplary work as a member of our staff, but also that rarest of qualities nowadays: truly caring about others more than oneself. Her level of commitment to her colleagues is amazing and something we should all strive for," one of her colleagues wrote in the nomination.
Ransom, who has worked at Monroe Carell for four years, with two years in her current position, said that being positive comes naturally for her, a personality trait instilled in her by her father, who died in 2021.
"He was the person in my life who was funny," Ransom said. "He was always random and doing silly stuff and motivating people. I guess that's where I get a lot of my traits from," she said. "He had a lot going on. He had been on dialysis for 21 years, but when you met him, you would never know he was sick. He uplifted people and had a positive attitude, always telling little jokes and bringing humor. It just showed me that you can be going through a tough time, but at the same time, you can still be that person that God has designed you to be."
Ransom embodied that life lesson when her father died, and she moved her mother, who has health issues, from Chattanooga to Nashville to care for her.
"Whittney had a particularly challenging year, personally, in 2021, but she continued to smile despite her challenges," one colleague wrote. "Many of us carry our struggles with us to work, and you can see it in our faces and body language. Not Whittney. When she is at work, she gives 110% to make sure others receive encouragement and positivity regardless of the tough day she may have had at home. Whittney sets an example for us all…this is a constant, daily behavior. This is not a nomination resulting from a single act of kindness. This nomination is for a person whose presence alone changes the tone of our pharmacy, and in turn, improves the quality of the work we do."
Ransom said she loves seeing other people, especially her colleagues, smile.
"I'm the type of person who's never met a stranger. I love people. I pay attention to the little things and try to uplift people any way I can. I like making sure, even if they're having a hard time, that they know someone is here and someone is paying attention to them, to give them brief moments to stop and smile and laugh, to build morale a little bit," she said. "I do it because that's what has gotten me through a lot of hard times, knowing there's always something to smile about and something to give you a positive outlook on life. The world may be falling apart around us, but focusing on the positive things can pull you through any situation."
Ransom said although her work is very much behind the scenes, she knows that it impacts her staff, nurses and the children who receive health care at Monroe Carell.
"We have a lot of staff in a very small space. That's one reason I like to keep people uplifted. We're always so busy, and we have a huge job to do. A hospital can't run without medications," she said. "If I'm not at 100%, that could cause kind of a domino effect. I'd rather come in and give it my all. You need all the parts to work, whether it's the person cleaning the bathrooms or the person performing heart surgery. Without one part or the other, it (the hospital) can't operate."
If you are a VUMC employee, you can nominate a colleague for an Elevate Credo Award, Five Pillar Leader Award, or Team Award. Visit the Elevate website to fill out a nomination form. Employees demonstrate credo behaviors when: they make those they serve the highest priority; respect privacy and confidentiality; communicate effectively; conduct themselves professionally; have a sense of ownership; and are committed to their colleagues. Elevate award nominations are accepted year-round. If a nomination is received after the cut off for an award selection period, the nomination will be considered for the next period. VUMC VOICE will post stories on each of the award winners in the weeks following their announcement.