ATV injuries continue to send children to the hospital. How they can more safely ride.
Head injuries are the leading cause of death and disability in ATV-related crashes
December 14, 2021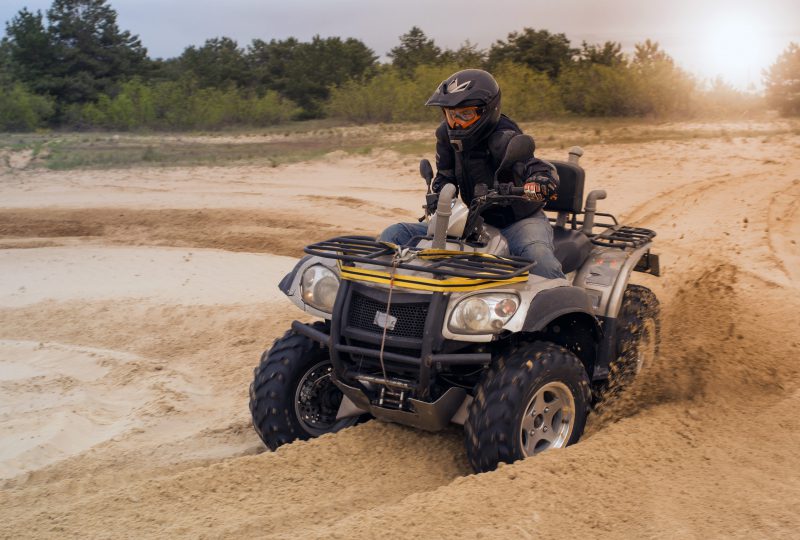 All-terrain-vehicle (ATV) injuries are the fourth leading cause of trauma admission at Monroe Carell Jr. Children's Hospital at Vanderbilt.
According to hospital records, there were 100 ATV-related trauma admissions between July 2020 and August 2021. That is up from 2017 when injuries accounted for 69 admissions and were the fifth leading cause of trauma admissions at Children's Hospital.
"Two common things we see with our ATV trauma patients – they are not wearing helmets, and they are either carrying passengers or are a passenger themselves," said Purnima Unni, MPH, manager, Pediatric Trauma Injury Prevention Program at Children's Hospital. "Both can result in serious injuries. Head injuries are the leading cause of death and disability in ATV-related crashes."
Launched in 2018, the Ride on TN-ATV Safety Program, partnered with Tennessee 4-H and Tennessee Future Farmers of America to arm high school students with information about ATV usage.
This year the Polaris Foundation joined Ford Motor Company Fund to support the ongoing efforts of the three-year-old program.
"Educating youth on the importance of safe and responsible riding practices is a key focus area of the Polaris Foundation, and we are grateful to see Children's Hospital support those education efforts through its Ride on TN-ATV Safety Program," said Dana Anderson, senior manager, Polaris Foundation.
Five counties — Cheatham, Giles, Putnam, Roberts and Smith — will participate in the yearlong program to raise awareness of safety practices among youth in Tennessee by developing a peer-to-peer driven ATV safety education program for both their school population and the community.
"Just like driving a car, teens are more prone to ATV injuries because of their lack of experience, coordination and judgment," said Nolan Katerberg, manager of Ford Motor Company's award-winning Driving Skills for Life program. "Working together with Children's Hospital and other organizations, we can make a big impact on the well-being of children and their families across Tennessee."
Findings from a recent study, "The Impact of Helmet Use on Neurosurgical Care and Outcomes after Pediatric ATV and Dirt Bike Crashes: A 10-year, Single-Center Experience" showed that 78 percent of patients admitted to Children's Hospital at Vanderbilt for ATV-related injuries were not wearing a helmet.
"That research highlighted the importance of educating youth on safe riding practices, particularly the significance of wearing a helmet," said Unni. "It is our hope that through this peer-to-peer initiative, we can foster an environment where students can help spread the known risk that these vehicles pose and encourage safe driving and riding practices."
According to the American Academy of Pediatrics and the American College of Surgeons the following safety measures are strongly recommended:
Children ages 16 and younger should not ride ATVs due to the high risk of injuries
Always wear protective gear, especially a helmet
Avoid driving ATVs with a passenger or riding as a passenger
Do not drive ATVs on paved roads
Do not permit children to drive or ride adult ATVs
To learn more about the Ride on TN-ATV Safety Program visit: https://www.vumc.org/injuryprevention/ride-tn-atv-safety-program-0