Even on a Zoom call, Christi Gray's friend Erica Luhrs could tell she was sick. After life-saving treatment, Gray returned to SICU to thank the people who cared for her.
A week in intensive care later, Gray is back at work and doing well. Her message: Listen to your body and practice self-care.
April 13, 2022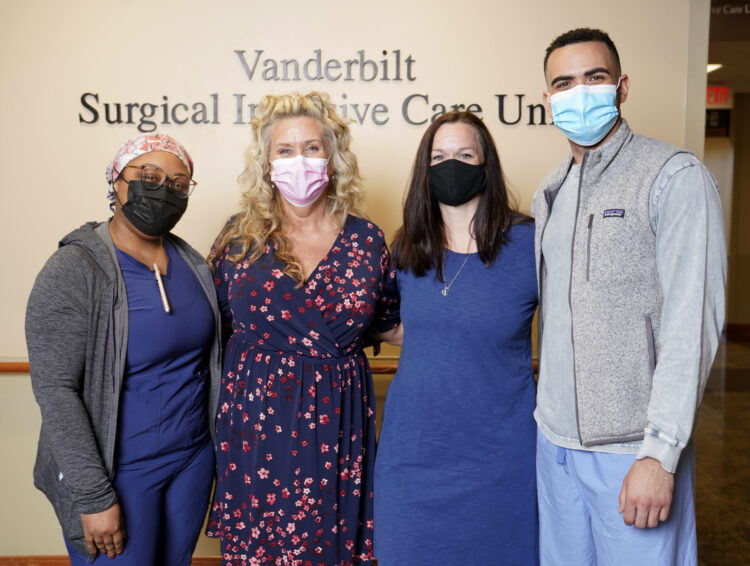 Deia Cooper, RN, BSN, left, and Wilson Fernandez, RN, BSN, right, cared for Christi Gray, second from left, when she was a patient in Surgical Intensive Care. Gray's friend Erica Luhrs, third from left, was credited with saving her life. Photo by Donn Jones
Christi Gray said she was just having a backache.
Her friend and co-worker Erica Luhrs wasn't buying it.
Luhrs turned out to be right, and she saved Gray's life.
Gray, manager of the clinical administrative team for the Department of Anesthesiology, was working from home, leading a Zoom meeting in February when she experienced "this incredible sharp pain" in her lower right back. She'd had the pain before, but ignored it. The pain turned into nausea and only got worse.
Luhrs, a lead administrative assistant in the department, got on the phone with Gray afterward and was becoming very concerned.
"I said, 'well, why don't you take a bath? Why don't you put on a heating pad? Something, anything,'" Luhrs said.
Gray said it was not a big deal. "I just remember saying 'I'll be fine, I'll take a nap, I'll wake up, everything will be fine,'" she said.
But she wasn't fine after a nap, and she wasn't fine after a full night of sleep. Meanwhile, Luhrs was becoming increasingly uneasy.
"Something didn't feel right," Luhrs said. She decided to drive over to Gray's home the next morning and let herself in with the spare key Gray gave her — even though it meant scuttling a full day of plans including a birthday party and her son's karate event.
"And I got to her house and she was as white as a sheet, and at that point I told her there is no getting over this, we're going," Luhrs said. "We're going to the hospital, and that's just the bottom line."
"They all told me, 'you know, your friend saved your life,'" Gray said. "She's by far one of my favorite people. And that's before this."
Gray picks up the story from here. "So she let herself in and forced me to get dressed and drove me to the emergency room," she said. "And my blood pressure was like 40-something over 30-something. I saw the look on the nurses' faces. And then they put smelling salts under my nose, and said 'we need to move her now.'"
It turned out Gray had a kidney stone, but worse yet, she had sepsis because of the fluid built up behind the stone and was dangerously close to death. Gray, who has worked for Vanderbilt on and off for 32 years and had never been an inpatient, spent the better part of a week in Vanderbilt University Hospital, most of that time being treated by the medical professionals in the Surgical Intensive Care Unit (SICU).
"They all told me, all along the way, 'you know, your friend saved your life,'" Gray said.
Gray agrees that Luhrs is the reason she's alive. "She's by far one of my favorite people," she said. "And that's before this."
Luhrs does not. "I don't feel I did, and I stand by that to this day," she said. "I feel like any one of her friends would have done that.
"She (Gray) is an amazing person. She's so used to helping everyone… She's not used to accepting help from other people."
Gray wanted to share her story because she feels it's a message that other women should hear: that it's OK to listen to your body and not minimize the symptoms you're feeling. That self-care is important.
"When my children were little, I always had to make sure they were OK," she said. "My health was kind of put on the back burner. And it becomes a habit. You just think, 'tough it up, nobody wants to hear somebody whine that they don't feel well.'"
In hindsight, Gray realizes she should have sought care as soon as she felt symptoms, but all she could think about was doing her job. "I thought 'I'm letting them down by not coming to work.'"
Gray also wanted to thank the many medical professionals who took care of her, too many to name.
"She was really sick. She was a completely different person, and just to see her like this, it warms our heart. This is why we became nurses"
About a month after her medical episode, she returned to the SICU to thank the nurses who took care of her. It was a most pleasant surprise.
"I don't think words can really describe just how excited we are to see her like this because it's a brand-new person in front of us now," said Deia Cooper, BSN, RN. "When she was in the hospital… she was really sick. She was a completely different person, and just to see her like this, it warms our heart. This is why we became nurses. This is why we're here. And a lot of times in the ICU, we don't get to see our patients come back, especially at this level, in this capacity. It's a nice change of events to see our patient come back like this."
Wilson Fernandez, BSN, RN, added, "You kind of see all the hard work you're putting forward. To see her come out on the other side, it just makes it all worth it."