Kristen Kerkhove aims to ease the transition home for palliative care patients
"My goal is to make sure our patients have everything they need when they leave the hospital so they can spend their time focusing on what's important to them."
June 21, 2022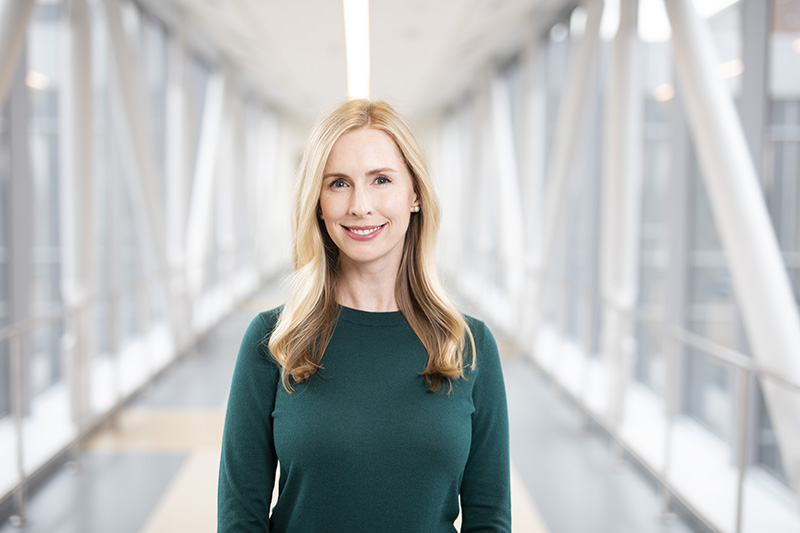 Kristen Kerkhove. Photo by Susan Urmy.
When Kristen Kerkhove, RN, is arranging discharge for a patient in palliative care, she keeps the fact that many of her patients have limited days or weeks left at the forefront.
"I work with a sense of urgency and purpose," says Kerkhove, a nurse case manager in the Transition Management Office working with the Palliative Care Team.
Kerkhove, who joined Vanderbilt University Medical Center in 2015 as a nurse resident, was named a Credo Award winner during the May 2022 virtual Leadership Assembly. She has been in her current role for almost four years.
"In my 20 years of study and work at Vanderbilt, I cannot think of another member of the staff being as kind, dedicated and valuable to a team as Kristen Kerkhove," one nominator wrote, going on to say that Kerkhove engages patients closely and evolves the plan of care for VUMC's most complex patients.
The nominator remembers Kerkhove going "above and beyond" to make a meaningful difference for a patient waiting to go home on hospice to spend her final days before Christmas with her family. The patient needed complex care and special equipment in order to go home. Kerkhove worked with others at Vanderbilt and outside vendors who needed to deliver the proper equipment, working late into the night so that the patient could be discharged the next morning.
"The thing that's so wonderful is that it wasn't just me," Kerkhove said. "There were many people who came together to help, some staying late, some coming in early, to make sure that this patient could be discharged the next morning. One of the reasons why I enjoy working here is that as a team, we work together to do what is right for the patient. My goal is to make sure our patients have everything they need when they leave the hospital so they can spend their time focusing on what's important to them," she said.
Another nominator calls Kerkhove "one of the best cases managers I have ever worked with" and remembers a patient in the emergency department with only days left to live who wanted to return home. As the caregivers were getting her ready to leave VUMC, Kerkhove realized that the woman's pain pump was about to run out of opioid medication. She arranged for the pump to be refilled by a pharmacy and coordinated with her bedside nurse and the hospice infusion nurse before the woman was transported home over an hour away.
"If Kristen had not noticed that the (pain pump) was out of medication, this young woman would have gone into pain crisis and likely ended up at her local hospital that evening rather than resuming home hospice and spending the last days of her life with her family at home for the holidays.
"I cannot express how grateful I was for Kristen's excellent care and diligence," the nominator wrote. "When I work with her, I know our patients will get a well-thought-out and meticulously coordinated plan. She is smart, kind, diligent and one of my favorite people to work with."
If you are a VUMC employee, you can nominate a colleague for an Elevate Credo Award, Five Pillar Leader Award, or Team Award. Visit the Elevate website to fill out a nomination form. Employees demonstrate credo behaviors when: they make those they serve the highest priority; respect privacy and confidentiality; communicate effectively; conduct themselves professionally; have a sense of ownership; and are committed to their colleagues. Elevate award nominations are accepted year-round. If a nomination is received after the cut off for an award selection period, the nomination will be considered for the next period. VUMC VOICE will post stories on each of the award winners in the weeks following their announcement.