The Wild Kingdom guy thought it would be a good idea to bring a python into the hospital. He was right.
It's cold-blooded, check it and see
July 25, 2023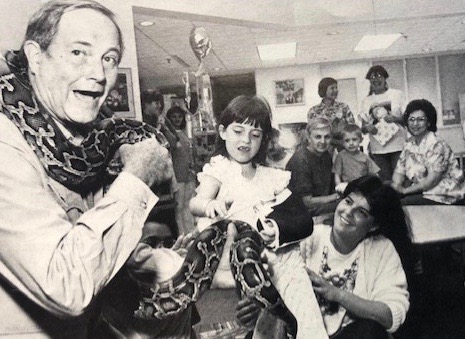 Zoologist and television host Jim Fowler wowing over the crowd with his cold-blooded sidekick. Photo by John Howser.
"Mutual of Omaha's Wild Kingdom" was one of the most popular nature shows ever to air on television. It was on the air in its original form from 1963 to 1988, and a reboot continues today. Its main host was the director of the St. Louis Zoo, Marlin Perkins, and Jim Fowler and Stan Brock were co-hosts.
In 1991 Fowler made a stop at Vanderbilt University Medical Center to visit children (and the adults who also were fans of the show). He brought an entourage of several animals, and the fifth-floor playroom was standing room only, but everybody still managed to give plenty of space for one of the guests: a 12-foot Burmese python.
Even though there was some general reluctance to get too close to the giant reptile, Fowler won over some converts by showing how it could be petted and how he even felt safe wrapping the snake around his neck. Several sets of tiny hands eventually reached out to touch the snake's sleek back.
Over the years, VUMC patients have been visited by a wide variety of entertainers — which makes sense, since VUMC and the entertainment industry are two of the signature institutions of Nashville.
Dolly Parton helped fund vaccine research at VUMC and her visits helped promote the importance of being vaccinated against COVID-19. Minnie Pearl and Taylor Swift have come calling. Rascal Flatts has a surgical center that bears the band's name, and Ryan Seacrest has a studio named after him in Monroe Carell Jr. Children's Hospital at Vanderbilt. Pat Boone came by in 1959 and hung out with patients who were in iron lungs.
There have been hundreds of other famous entertainers and athletes who have given their time to visit patients and families, speak to employees caring for patients, and to generally raise spirits.
But as far as anyone knows, only one celebrity guest came along with a giant python, and for that Jim Fowler will go down in VUMC history.