Thomas Akins recognized for his compassionate spirit in the Emergency Department
"It really is a calling … I believe I was meant to be right here."
June 15, 2022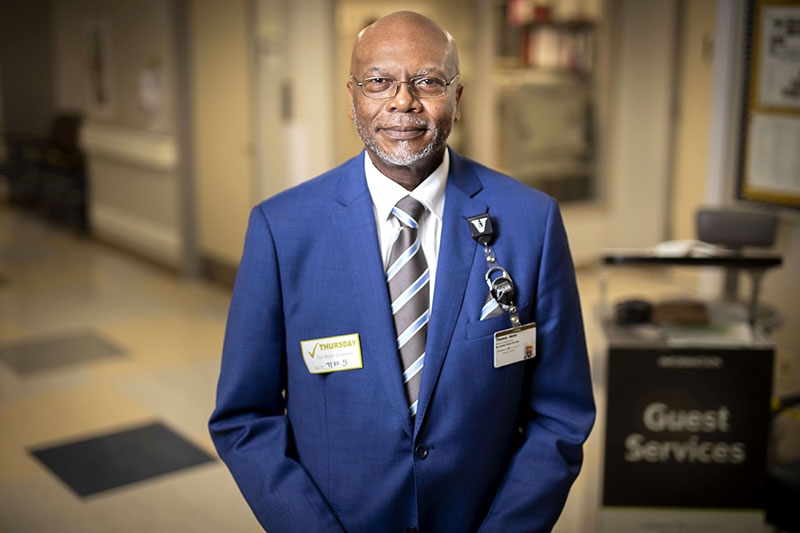 Thomas Akins. Photo by Susan Urmy
Thomas Akins is a "glass half full" kind of man.
For example, when a devastating tornado hit his East Nashville home in March 2020, Akins came to view the storm as a blessing in disguise. It had ripped off his roof, smashed windows, and damaged a deck and gazebo. But Akins reasoned the storm had done demolition work for projects he'd been meaning to start.
Akins' peaceful spirit is the perfect presence to greet individuals entering the Vanderbilt University Hospital Emergency Department (ED) for treatment or to be near loved ones receiving care there.
From his sentry post just inside the doors, he recognizes the worry and fear etched deeply into their faces, and he knows they would rather be anywhere else. He quickly and unobtrusively steps forward with an offer of assistance and a kind smile. Akins is a man of faith, and if a patient or visitor requests a prayer, he's ready. But if they need to find a bracing cup of coffee, he's happy to make that happen as well.
Since 2018, Akins has worked as a senior family/guest services representative at the Emergency Department, a role he believes he's been preparing for his entire life.
"It really is a calling," he said. "In the jobs I did in the past, I was often alone. I mixed chemicals at DuPont. I was a meter reader. It was good money, but I didn't get a chance to minister to people. I believe I was meant to be right here. And I feel a responsibility to be an example for the generations that came before me and to the ones that follow."
Akins was honored recently with an inaugural Patient and Family Choice Award which recognizes VUMC staff who act with compassion and excellence to provide an exceptional experience for patients and their families.
The Medical Center's patient and family advisory councils will give annual awards to four individuals from Vanderbilt University Hospital, Monroe Carell Jr. Children's Hospital at Vanderbilt, Vanderbilt Psychiatric Hospital and Vanderbilt Adult Ambulatory Clinics. The recipients are nominated and selected by patients and family members.
"We received over 1,600 nominations," said VUMC Patient & Family Advisory Council Chairperson Pam James. "We narrowed it down to the top four, and the entire council decided who exhibited the spirit of the Patient & Family Promise. We'd like to acknowledge council member Dianne Denton who came up with the excellent idea for these awards."
The individual who nominated Akins was impressed by how he interacted with everyone in the ED.
"I watched him handle difficult patients in the waiting room with such compassion," read the nomination. "You could tell he was a favorite among the staff! Everyone that passed him stopped to talk for a minute. He is an amazing addition to the ER staff … the world needs more people like Mr. Akins."
Tyler Barrett, MD, executive medical director of Emergency Services, couldn't agree more.
"'Mr. Thomas,' as he is known to the entire ED team, is always going above and beyond," Barrett said. "His warmth and overflowing empathy is the perfect start for the VUH emergency experience. He is frequently grabbing a wheelchair for someone in need and alerting our triage team when there is a patient who needs more urgent attention. As a department leader and a physician who works frequently in triage, I can tell you that the ED is a different place when Mr. Thomas is working. He is a patient and family advocate first and foremost and well deserving of this award."