Tornado warnings are coming — what you need to know to be safe at work and at home
If the sky above you grows dark and full of clouds, keep your head together
March 18, 2022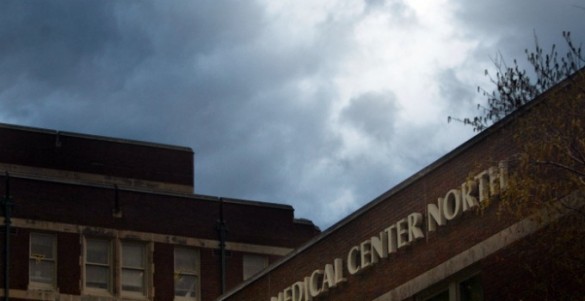 When ominous weather is in the vicinity, having a plan helps you take care of yourself and others.
Spring is here and that means it's time to prepare for spring storms, including tornadoes. Tornado season in Tennessee starts in March when changing temperature conditions that create tornadoes are most frequent.
In the event a storm is moving closer to VUMC, a severe weather warning system will be broadcast through Vanderbilt University Hospital, Monroe Carell Jr. Children's Hospital at Vanderbilt, Vanderbilt Psychiatric Hospital and One Hundred Oaks, and emergency notifications will be sent notifying staff of the incoming weather. For all other VUMC locations including offsite clinics, Vanderbilt Wilson County Hospital, Vanderbilt Bedford County, and Vanderbilt Tullahoma-Harton please continue to use your standard tornado protocol.
Yellow alerts inform staff to prepare for potential inclement weather. Orange alerts tell staff to activate their emergency operation plan and keep staff on duty until released by the Incident Commander.
Knowing what to expect and how to safely react can help you stay calm and safe if a tornado approaches VUMC's campus. The following are best safety practices to apply for a tornado at VUMC:
Employees that are outside should seek shelter in the closest building and head to designated tornado shelter areas or an interior room.
Medical staff within departments should assign a staff member to monitor medical center communications and weather reports.
Staff and patients who can move should congregate in the most interior section of the floor away from exterior walls and windows, crouch down and cover their head with their hands.
Patients who cannot be moved should be turned away from windows and covered with blankets to protect them.
Wait for communication from the Emergency Operations Center that the situation is safe before returning to normal operations.
Use stairs instead of elevator in case of power failure.
Preparation for tornadoes and other disasters at home is also vital. The VUMC Office of Emergency Preparedness offers these tips for home safety:
Know where you plan to go if the sirens sound.
Practice a "tornado drill" at least once a year.
Use the buddy system to check in after an incident to keep others from worrying and have a pre-determined place to meet after an incident occurs.
Make your friends and family aware of the potential for tornadoes in the area.
Get informed about upcoming severe weather and stay alert for severe weather Watches and Warnings:
More information on severe weather events can be found at https://www.vumc.org/emergency.