Troy Hamm says he 'happened to be in the right place, at the right time' when he saved a patient's life. It was anything but chance.
"Troy is a true professional, and his consistent actions and behavior not only make him a front-line hero, but a shining example of our Credo behaviors."
December 3, 2021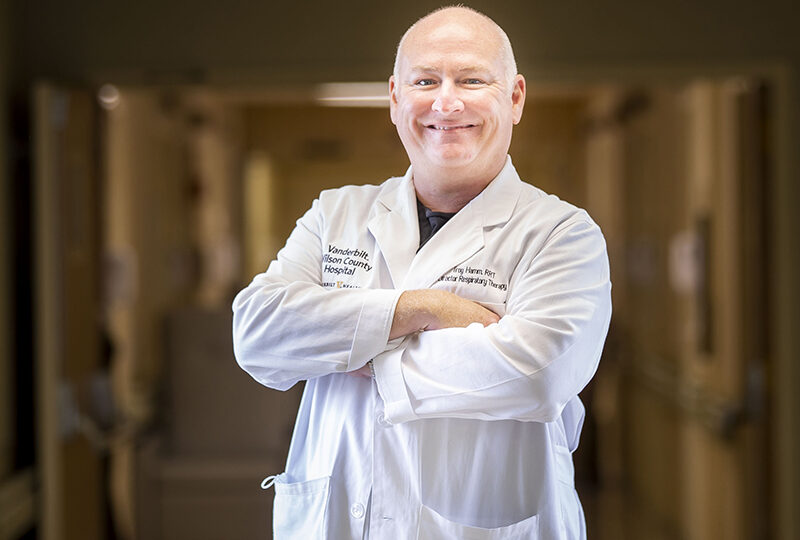 Photo by Susan Urmy
It was the end of his workday at Vanderbilt Wilson County Hospital (VWCH), and Troy Hamm, director of Respiratory Therapy, was heading home.
He didn't expect that his route out of the hospital would have him performing CPR and helping save a patient's life, but he "happened to be in the right place at the right time," he said, "And honestly, I was just doing my job. That's what I do."
For his unfaltering positivity and willingness to jump in and help in any situation, Hamm received a Credo Award during the November 2021 virtual Leadership Assembly.
At the end of that particular day, he walked past the radiology inpatient CT area, where two technicians were moving a patient from a stretcher bed onto the CT table. They asked Hamm to help.
"I said, 'Sure, absolutely,'" Hamm recalled. "That's what we do here at Wilson County."
Hamm sanitized his hands and put on gloves, and as they moved the patient, he noticed that the patient had agonal breathing — an abnormal breathing pattern with episodes of apnea. Hamm asked for a pulse oximeter, which revealed a low oxygen saturation. Noticing other changes, he directed the team to initiate a STAT medical emergency. Hamm and the CT team performed CPR while a responding physician intubated the patient, who ultimately recovered.
"I have to tell you that my CT techs would not have recognized the changes in the patient's medical condition as quickly as Troy did, and his accurate assessment of the patient and his actions after helped to save that patient's life," wrote Juan Sepulveda, director of Radiology at VWCH, in his nomination of Hamm for the Credo Award. "Troy is a true professional, and his consistent actions and behavior not only make him a front-line hero, but a shining example of our Credo behaviors."
Hamm, who has been a registered respiratory therapist for more than 25 years, has worked at the Wilson County hospital for 12 years. He enjoys being at a community hospital, where respiratory therapists manage breathing-related care for patients spanning the entire life spectrum.
"We attend high-risk births and care for patients who are 100 years old taking their last breaths, and everything in between," Hamm said.
Respiratory therapists have been heavily involved in the care of patients with COVID-19, managing administration of bronchodilators, oxygen therapy, high-flow oxygen therapy, BiPap ventilation, intubation, and liberation from mechanical ventilation. The team at VWCH also performs cardiac and neurological assessments (EKGs and EEGs).
"Troy lives our leader Credo every day," wrote Scott McCarver, MHA, president of VWCH. "He supports his team in their work, including taking shifts on nights and weekends to allow his team to get their PTO."
And he jumps in wherever he's needed each day, including to help with tasks like moving patients to CT tables.
"I'm basically a utility player, and whenever there's a hole, I fill it," Hamm said. "It's very humbling to receive this Credo award, and I'm very grateful."
If you are a VUMC employee, you can nominate a colleague for an Elevate Credo Award, Five Pillar Leader Award, or Team Award. Visit the Elevate website to fill out a nomination form. Employees demonstrate credo behaviors when: they make those they serve the highest priority; respect privacy and confidentiality; communicate effectively; conduct themselves professionally; have a sense of ownership; and are committed to their colleagues. Elevate award nominations are accepted year-round. If a nomination is received after the cut off for an award selection period, the nomination will be considered for the next period. VUMC Voice will post stories on each of the award winners in the weeks following their announcement.